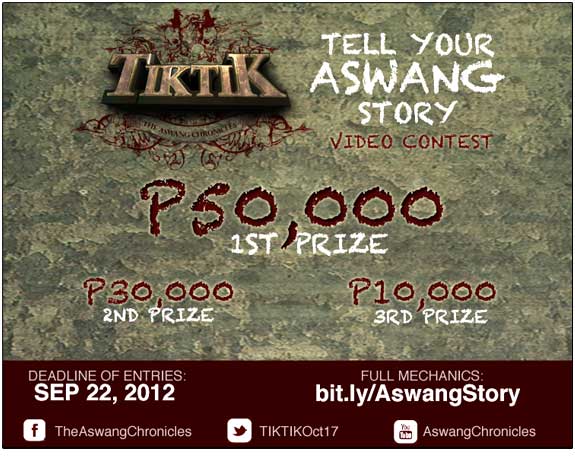 Are you excited to see
Tiktik: The Aswang Chronicles
on the big screen? While you're waiting why not create your own scary film for a chance to win cool cash?
The TIKTIK: The Aswang Chronicles: Tell Your Aswang Story Video Contest is open to all living creatures with a talent sharing their most interesting aswang stories. This is your chance to tell the world about your grisliest and most terrifying experience!
Are you ready to make your own chronicle? All you need is a camera and an original aswang story. It can be your own or one handed down to you by your yaya, family, or friends, and you're good to go! You have a maximum of three minutes to share your story in the scariest, most creative, and inventive way!
Just remember that the video must end with a 10-second title card showing the TIKTIK website (www.theaswangchronicles.com) and the TIKTIK Facebook page URL (www.facebook.com/theaswangchronicles). Deadline of entries is on September 22, 2012.
Winners will receive awesome cash prizes: P50,000 for the first prize, P30,000 for the second prize, and P10,000 for the third prize. A panel of esteemed aswang experts, film and video professionals, and TIKTIK producers and cast will judge the entries.
To learn more about the contest and the mechanics, please visit: http://bit.ly/AswangStory. So what you are waiting for? Pick up your camera and get filming!