Magpakailanman returns to Philippine TV this November
November 09 2012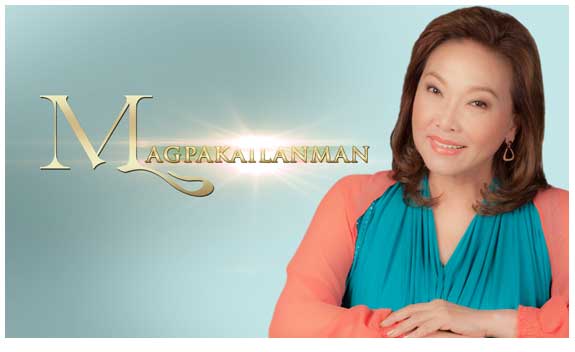 GMA Network brings back the award-winning drama anthology
Magpakailanman
to inspire the lives of the Kapuso viewers once more. It will be hosted by multi-awarded broadcast journalist Ms. Mel Tiangco.
Magpakailanman, an original concept and creation of the GMA Entertainment TV Group, initially ran from 2002 to 2007 and has twice been awarded the Best Drama Series category at the Catholic Mass Media Awards. it also garnered the 2008 and 2009 Anak TV Seal. Actor Noni Buencamino won the 2005 Asian TV Best Actor award and actress Sunshine Dizon won the 2004 PMPC Star Awards for TV Best Actress award for their outstanding performances in the program. During its five-year run, the program, which was a consistent top-rater, inspired the lives of many Filipinos and promoted good family values to its viewers.
Because of the growing clamor to revive the program, Magpakailanman returns to Philippine TV but with new elements such as more in-depth investigation and dramatization of real-life inspired stories. The show will bring in Mel Tiangco's broadcast journalism expertise in each story by not only presenting what happened in the story but also examine some aspects as why it can happen, how can it be prevented from happening again and what concrete moves or steps can be done for it not to occur again.
"I wanted to add some new elements into the show. I told the staff that they should put my elements, my persona in the show. I told them that they should put it into the context that I am Mel Tiangco. I am a news personality. I am a public servant...all these things should be incorporated in the show," said Mel Tiangco.
Aside from merely telling and narrating the story, Mel Tiangco will take a more participative role in making each story not only inspiring and uplifting but also informative and interesting. This will be about "the real story behind the story."
Thus, one can already perceive the new kind of stories that Magpakailanman will be delivering. Keeping the primary objective that the stories will be inspiring and should uplift the human spirit, the new stories of Magpakailanman will be provocative, exceptional, arresting and even sometimes sensational. Tiangco's spiels and interviews will serve as the thread that will bring all these elements together.
Entertainment TV's AVP for Drama Redgie Acuña-Magno says Mel Tiangco remains to be the ideal host of the well-loved drama anthology. "There is really no better person to host the show except Mel Tiangco. She is already identified with the show and the show reflects her true persona."
"Mel Tiangco is a multi-awarded journalist that delivers investigative and informative news and at the same time a woman with a soft spot and of substance that a lot of people can relate and look up to - a perfect combination for Magpakailanman's new offering," said Magno.
Magpakailanman premieres on November 17 and will air every Saturday at 8:30 p.m. only on GMA 7.