Jennylyn Mercado, Mark Anthony Fernandez, Mark Herras and Yasmien Kurdi topbill GMA Network's newest drama series 'Rhodora X'
January 20 2014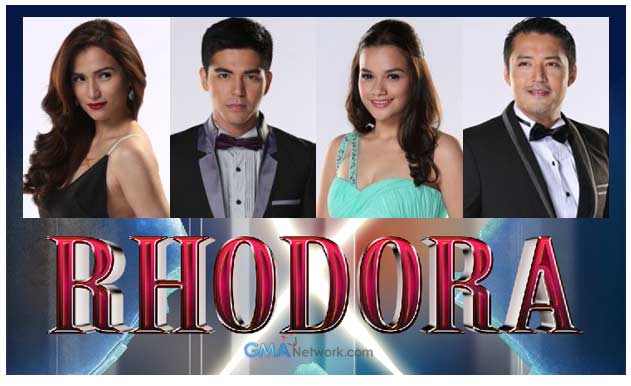 GMA Network is once again innovating content as it showcases an edgy theme, never been tackled in Philippine TV, that is living with someone with Dissociative Identity Disorder (DID).
Beginning January 27, another compelling series will captivate the hearts of the Kapuso viewers as GMA presents a highly-stimulating and thought-provoking drama through
Rhodora X
.
Rhodora X
challenges us to review how deeply we know our loved ones. It is an invitation so difficult to refuse as it ushers us to discover the nuances of our own personal relationships.
The show stars Jennlyn Mercado, Mark Anthony Fernandez, Mark Herras and Yasmien Kurdi.
Jennylyn takes on a new and challenging role as Rhodora/Roxanne. Rhodora, as a young girl, experienced extreme physical and emotional abuse when she was abducted and taken away from her family. This experience eventually led her to develop another "persona" inside of her. When she was saved and gets reunited with her family, her Dissociative Identity Disorder (more commonly known as split personality) starts to manifest. Rhodora's alter ego, Roxanne starts to emerge.
Roxanne is a confident and smart woman but also scheming and manipulative. She hates her sister Angela so much to the point that she will do everything to get what Angela has – the affection of their mother and Angela's love, Joaquin.
Meanwhile, Yasmien plays the role of Angela. She blamed herself when Rhodora was kidnapped. But when Rhodora finally gets reunited with them, Angela becomes all the more happy and content because her family is once again complete and is also set to marry Joaquin.
However, everything changes when Angela was framed up and put to jail. When she saw an opportunity to escape, she ended up in an ancestral house where she will later find out that it was Rhodora who framed her up. She did not know that it was really Rhodora's alter ego Roxanne who did it. Although she went back to prison, she vows revenge against Rhodora.
Playing the leading men in the series are Mark Herras and Mark Anthony Fernandez.
Mark Herras plays the role of Joaquin, Angela's fiancé. He was shocked when Angela allegedly killed his secretary out of jealousy. Thus, their wedding was cancelled. It was only Rhodora who was there for him in this trying time and because of her presence, he falls for Rhodora and marries her. Little did Joaquin know, Rhodora has a split personality and that alter ego Roxanne was the one who framed Angela's "murder".
On the other hand, Mark Anthony's character is Nico. He owns the ancestral home where Angela ended up. He feels for Angela since he also has a grudge against Joaquin's family and eventually he falls in love with her. When Angela is finally free, he is the one who will help get her life back on track and both of them plan revenge against Rhodora and Joaquin.
Will Rhodora overcome her illness or will Roxanne, her alter ego, take over? Will Rhodora still be loved and accepted by her family in spite of her DID? Will she and Angela be able to forgive each other?
Directed by Albert Langitan,
Rhodora X
also stars Gardo Versoza as Derick, the doting father of Rhodora and Angela; Glydel Mercado as Lourdes, the loving and affectionate mother of Rhodora and Angela; Irma Adlawan as Dr. Vivian, the doctor who diagnosed Rhodora's illness; Lollie Mara as Donya Cita, the owner of a big shipyard company and grandmother of Joaquin; Frank Magalona as Santi, the cousin and best friend of Joaquin; Vaness del Moral as Pia, the cousin of Angela and Rhodora, she is also Angela's best friend; and with special participation of Ms. Boots Anson-Roa as Panchang, the grandmother of Rhodora and Angela and the one who had doubts about Rhodora's return.
The creative team is composed of Creative Director ­­­­RJ Nuevas; Creative Consultant Denoy Navarro - Punio; Headwriter Des Garbes-Severino; Writers Onay Sales, Ken de Leon, and Jules Katanyag; and Brainstormers Rey Leoncito, Borj Danao and Dode Cruz.
Rhodora X
, created by the GMA Drama Group, is supervised by the SVP for Entertainment TV Lilybeth G. Rasonable; VP for Drama Redgie Acuña Magno, AVP for Drama Cheryl Ching-Sy, Program Managers Nini S. Matilac and Hazel F. Abonita and Executive Producers Rebya Upalda and Arlene Pilapil.
Find out how this intriguing story of
Rhodora X
unfolds starting January 27 only on GMA Telebabad.