Mga Kuwento sa Likod ng My Husband's Lover: "The Call"
August 16 2013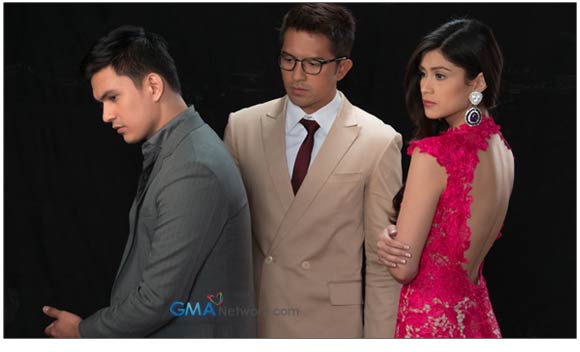 It's too much. My mind says Lally, but my heart screams for Eric. I don't know what to do. I've already lost Eric. I can't lose Lally and my family. All these years, I've kept it all inside, and in the process, I lost myself.
Kailangan kong lumayo sa lahat ng ito. I'm tired of explaining myself to Lally, and I'm tired of hurting. Hindi naman ganun kadaling kalimutan na lang si Eric, but this is the right thing to do.
Nagpasama sa akin si Lally to pay her tuition fee since she's going back to school. I'm happy for her, but what about me? I told her that I'll be away for three or maybe four days. May pagdududa sa mga mata niya, pero hindi niya ako pinigilan. Eventually, nalaman din niyang wala ako sa Cebu but she gave me the space I needed.
I found myself back in room 1720, the place where I belonged the most. Nandoon pa rin 'yung Zen furniture, 'yung aquarium, lahat. Kulang na lang si Eric. Ang bigat ng pakiramdam. I sat down in the dining area where we used to eat together. I couldn't help but reminisce our happier days. He used to cook for me, tapos maglalaro kami ng Playstation. Inaasar ko pa nga siya kasi lagi siyang talo, then mauuwi sa pillow fight ang asaran. Those were the days. God, I love Eric.
I took a deep breath and stared at my cellphone for a long time. Ito na 'yun. It was time to make the big decision. It was time to make that call....THE call.
I dialed Mommy's number. Sumagot siya agad. I tried to mask the sadness in my voice by asking about our kids, Hannah Munchkin and Baby Boy Diego. Okay naman daw sila. Then, tinanong ako ni Lally kung nakapag-isip na ako. I never thought that I could utter thise words to her, but I went on and said, "Maybe we should give each other some space." Hindi niya naintindihan ang gusto kong mangyari. It was also painful for me, but I had to let her know that I wanted us to separate.
Hindi makapaniwala si Lally sa sinabi ko. I got a barrage of questions. Paano ang mga bata? How will we explain this to my parents? Si Lally ang magmumukhang masama. I may be selfish, but I cannot live a lie any longer.
Nainsulto si Lally at gusto niyang sabihin namin sa parents ko na bakla ako. Bakla. I still cannot bring myself to say the word, more so, confess about who I really am. Hindi ko po kaya.
I let her talk. I left her hanging. Ganyan din ako, walang kasiguruhan, walang kasagutan. The call ended, and nothing was resolved. I hope that one day, the pain and uncertainty will end.