Gloria and cha-cha
Senator Gloria Macapagal-Arroyo: Anti-Cha-cha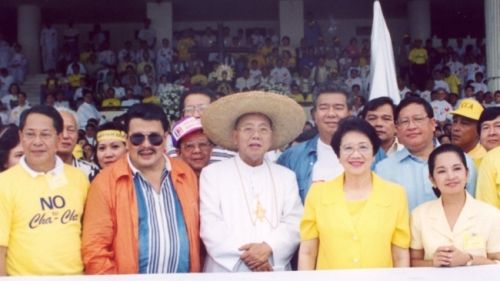 (Photo courtesy of Archdiocesan Office of Communications / Noli I. Yamsuan)
Then Senator Gloria Macapagal-Arroyo is shown in this photo of anti-Charter Change rally in 1997 with Jaime Cardinal Sin, former President Corazon Aquino, and then Vice President Joseph Estrada, among others. They were opposing the charter change moves by supporters of then President Fidel Ramos.
President Gloria Macapagal-Arroyo: from anti-to-pro cha-cha; from con-con to con-ass
Dec. 7, 2001 
"Going to a constitutional debate is really only going to distract us from what we need to do to survive and meet the challenges of the global uncertainty." (Gov.ph)
May 3, 2002
She cited certain prerequisites to constitutional changes:

On federalism: the issue of economic viability and the preparedness of a component state should first be tackled


On the proposed shift to the parliamentary system: there must be meaningful political reforms that would include a law on political parties, rehabilitation of societal organizations and mass movements, and the cleaning of the country's electoral processes. (Gov.ph) 

May 6, 2002
Although she was against any charter change at this stage, she would allow a debate on the issue, according to a Gov.ph news release. 
Jan. 16, 2003
"Considering the divisiveness in our country, this issue is bringing about even more divisiveness. Perhaps the constitutional convention will be the least divisive way of bringing about fundamental changes in the political system." (Gov.ph)
May 5, 2003
Presidential Spokesman Ignacio Bunye said "the President remains neutral" on proposals to amend the Charter and is bent on giving her focus on "other more pressing issues." (Gov.ph)
Oct. 6, 2003
To hasten economic development and strengthen the Republic, Mrs. Macapagal-Arroyo said that "kailangan … na palitan ang ating sistema at kung kailangan palitan maging ang ating konstitusyon." (Gov.ph)
Jul. 6, 2004
"Charter reform is our strategic hope for change." (Gov.ph)
Jul. 25, 2005
"The system clearly needs fundamental change, and the sooner the better. It's time to start the great debate on Charter Change. 

"The mode of Charter Change is the exclusive prerogative of Congress. But a constituent assembly may well give our people the quickest reforms." (SONA 2005)
Aug. 19, 2005
Arroyo signed Executive Order No. 453, "creating a consultative commission to propose the revision of the 1987 Constitution in consultation with various sectors of society." Executive Order No. 453-A, signed October 24, increased the number of members of this commission.
Jan. 23, 2006
Arroyo signed Executive Order 495 that created a charter change advocacy commission.
Oct 26, 2006
Arroyo issued  this statement a day after the Supreme Court junked the people's initiative petition of Sigaw ng Bayan:

"We bow to the rule of democracy and the rule of law; and call upon the people, especially the strong and committed supporters of the people's initiative, to join hands in supporting the close decision of the High Court. This is democracy in action and we must uphold it."

Aug 11, 2008
"We advocate Federalism as a way to ensure long lasting peace in Mindanao." - Speech during a state luncheon in Honor of the visiting Swiss president.

A day later, Press Secretary Jesus Dureza announced the President's support for a Senate resolution calling for a constituent assembly to revise the Constitution and adopt federalism.
(Sources: Official Government Portal of the Republic of the Philippines, GMA News, Philippine Headline News Online)