Lawmakers, labor dept seek deferral of order that will reduce govt jobs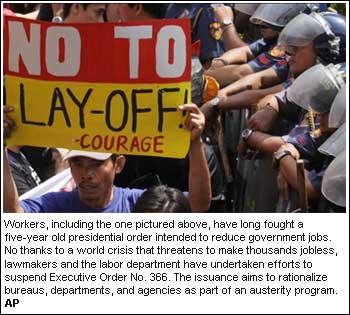 MANILA, Philippines -
Philippine lawmakers, with the labor department's support, have asked President Gloria Macapagal Arroyo to suspend an order that intends to cut government jobs in light of the global financial crisis.
To this end, 12 members of the House of Representatives have co-authored a resolution calling on the president to temporarily suspend Executive Order No. 366. Known as the Government Rationalization Program, the order is expected to put thousands of state employees out of work.
Issued in October 2004, the presidential decree intends to rationalize bureaus, departments, and agencies as part of government austerity measures to further reduce the fiscal deficit.
But now, with a brewing global crisis that may bring detrimental economic effects, closing the deficit gap, reducing costs, and – most importantly – cutting jobs shouldn't exactly be the government's top agenda.
This is according to Iloilo City Rep. Raul Gonzalez Jr., one of the 12 lawmakers who filed the resolution.
"It is more prudent for government not to add to the atmosphere of economic uncertainty by cutting jobs. On the contrary, the current economic downturn necessitates not only increased government spending to spur development but more importantly the creation of more jobs," Gonzalez said in a statement.
Agencies will be able to perform better if these do not terminate their workers' services because the crisis will create a greater demand for public services, Gonzalez, chair of the House committee on Civil Service and Professional Regulation, added.
Next: Govt may cut more jobs under rationalization plan

Govt may cut more jobs under rationalization plan

An estimated 7,898 regular and 1,189 casual or contractual positions are being eyed for abolition under the government's rationalization scheme, Gonzalez said.

However, the actual figures may be higher as most Cabinet Secretaries have yet to submit their rationalization plans to the Department of Budget and Management (DBM), which has yet to approve the plans, the lawmaker said.

Under Gonzalez's resolution, a panel comprised of high-ranking government officials will be created to assess the effectiveness of EO 366, which directs all department secretaries to "conduct a strategic review of their agencies' operations and organizations in order to improve efficiency and quality of services."

The proposed Rationalization Review Committee will recommend to the President whether to push through with the rationalization scheme.

It will be composed of officials from the DBM, Civil Service Commission (CSC), National Economic and Development Authority (NEDA), three representatives from the public sector labor federations, and the chairs of the House and Senate committees on civil service, Gonzalez said.

Another lawmaker also urged House members to appeal to President Arroyo for the plan's "indefinite suspension."

In an executive meeting with Labor department officials on Wednesday, Nueva Vizcaya Rep. Carlos Padilla suggested that the House committee on Labor and Employment draft a memorandum addressed to the president. The memorandum should ask for the rationalization scheme's suspension.

However, the president has already signed Executive Order No. 782 last February 10, Labor and Employment committee chair and Valenzuela Rep. Magtanggol Gunigundo pointed out.

Under the order, agencies – whose rationalization plans are still pending with the DBM – are authorized to temporarily fill up vacant positions, Gunigundo said in an interview with reporters.

The recently-issued order in effect is like a "suspension" of EO 366, Gunigundo said.

Next: Labor dept supports request to suspend rationalization scheme

Labor dept supports request to suspend rationalization scheme

For his part, Labor Secretary Marianito Roque said he will support the request for the suspension of the rationalization scheme.

"My department would be with you in writing that memo to temporarily suspend the rationalization," Roque said during the meeting, in reaction to Padilla's suggestion.

In a separate interview with reporters, the Labor chief said his department will discuss the scheme's suspension with the DBM.

"It's something that we have to discuss with the DBM," said Roque.

During the meeting, Roque said his department is prepared to offer grants and loans to workers both in the country and abroad that will be affected or displaced by the global financial crisis.

Roque said besides the P402 million in livelihood grants – P300 million of which will be allotted mainly for workers affected by the crisis – another P750 million in loans is being readied by the government.

The P750 million is part of a P1-billion package for livelihood loans that will be provided by the Land Bank and the Development Bank of the Philippines, said Roque.

Some 39,000 workers have already been displaced due to the crisis, including some 5,000 Overseas Filipino Workers (OFWs). This is on top of the 2.7 million Filipinos in the country who are unemployed and 6 million more who are underemployed, Roque said. - GMANews.TV