No rape! CA's women justices reverse Cpl. Smith conviction

Lance Cpl. Daniel Smith, the US marine convicted in December 2006 by a lower court of raping a Filipina in Subic, was acquitted ironically by the women justices of the Philippine's Court of Appeals Thursday.
The Philippines has many 'Nicoles'

The Philippines has many "Nicoles," but only Suzette Nicolas was served justice when the Makati Regional Trial Court convicted Lance Cpl. Daniel Smith of rape on December 4, 2006.

From 1981 to 1988, when the US military bases were in the Philippines, 3,274 cases of abuse of women and children were filed against US servicemen in Subic and Clark. However, not one of the US servicemen was convicted.

Data from the Olongapo City prosecutor's office showed that during the same period, cases of rape and sexual abuse involving children ages 11 to 16 were filed against US servicemen. Another 82 cases of sexual abuse involving young women were also recorded. All of these cases were dismissed.

Ninety-seven of these cases, in which 15 children were involved, were filed by the non-government Bikolana Gabriela against American soldiers in Clark and Subic.

Smith was the first-ever American military personnel who was convicted of committing a crime on Philippine soil since the establishment of the US military bases in Subic, Zambales and Clark in Angeles, Pampanga and the passage of the Visiting Forces Agreement in 1999. - GMANews.TV
"Wherefore, on reasonable ground, the accused Lance Corporal Daniel Smith is hereby acquitted of the crime of rape as alleged in the information," said the appellate court in its 71-page decision.
The ruling, penned by Associate Justice Monina Arevalo-Zenarosa of the CA's Special Eleventh Division, reversed and set aside the decision of the Makati Regional Trial Court on December 4, 2006. The Makati-RTC's decision made Smith the first-ever American military personnel convicted of committing crime on Philippine soil.
Concurring with the CA decision were two other female magistrates, Remedios Salazar-Fernando and Myrna Dimaranan-Vidal.
Not rape, just a romantic episode
The CA likewise ordered Smith's immediate release from detention unless there is another case filed against him. Smith is currently being held at the JUSMAG building inside the US Embassy in Manila.
The court said no evidence was introduced to show that "force, threat and intimidation" were used by Smith against Suzette Nicolas a.k.a. Nicole "even as prosecution vainly tried to highlight her supposed intoxication and alleged unconsciousness at the time of the sexual act."
"What we see was the spontaneous, unplanned romantic episode with both parties carried away by their passions and stirred up by the urgency of the moment caused probably by alcoholic drinks they took only to be rudely interrupted when the van suddenly stopped to pick up some passengers," the CA said.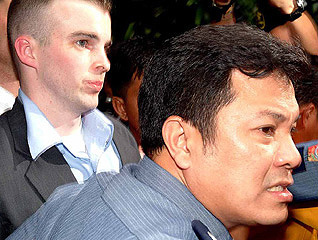 A policeman escorts US Marine Lance Cpl. Daniel Smith in 2006 after he was found guilty of raping Nicolas in Subic. GMANews.TV
Improper disclosure
Earlier, the Supreme Court ordered CA presiding justice Conrado Vasquez Jr. to conduct an investigation on the alleged improper disclosure of a draft ruling acquitting Smith, and to submit a report and recommendation within 90 days from receipt of records.
The high court also ordered the lawyers of Smith to explain why they should not be sanctioned for allegedly executing the affidavit of Suzette Nicolas a.k.a "Nicole", which in effect weakened her testimony against the US serviceman.
Last March 12, Nicole changed her statement hinting that Smith did not rape her.
In a five-page affidavit, Nicole admitted that she "possibly lost her inhibitions" and became "intimate" with Smith, after drinking "alcoholic mixed drinks" with him when they met at a bar in Subic, Olongapo City on November 1, 2005.
"Looking back, I would not have agreed to talk with Smith and dance with him no less than three times if I did not enjoy his company or was at least attracted to him since I met him for the very first time on the dance floor of the Neptune Club."
It was also on March 12 that Nicole wrote a letter terminating the services of her lawyer in the celebrated Subic rape case and signed a document attesting that she received money from Smith.
Court documents showed that Nicole wrote a "Notice of Termination" to her counsel, Evalyn Ursua last March 12. The papers also showed that on the same day, she signed a "Receipt and Release" document stating that she received P100,000 from Smith.
Her receipt of the amount was in accordance with the December 4, 2006 order of the Makati-RTC, Branch 139 to indemnify the victim with P50,000 for compensatory damages and P50,000 for moral damages.
Nicole is staying in the United States. She left for the US last month, according to her mother.
Not surprising
The militant Bagong Alyansang Makabayan (Bayan) condemned Smith's acquittal, but said that it was not surprised by the court's decision.
"This denial of justice is but the logical conclusion of the maneuvers of the US government and the Arroyo government. The Smith acquittal is exactly what Malacañang has been praying for and working for from the onset," said Bayan secretary general Renato M. Reyes, Jr.
"Everything from the Nicole affidavit, to the leakage of a draft decision acquitting Smith, up to the refusal of the Arroyo government to get back Smith despite a Supreme Court decision, these were all leading up to a Smith acquittal," Reyes added.
In Malacañang, Press Secretary Cerge Remonde said that while Palace officials had not yet read the decision, "we will respect its verdict whatever it will be."
- with reports from Carlo Lorenzo, GMANews.TV