'Alec Baldwin doesn't deserve a Filipina wife'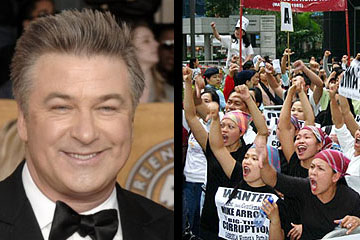 OH, NO YOU DON'T. While Alec Baldwin is thinking about buying himself a Philippine bride, migrant groups are saying Filipinas deserve better than the divorcee actor. AP/GMANews.TV File Photos
MANILA, Philippines
- First, Teri Hatcher questioned the medical certificates of Filipino doctors. Then, British show Harry & Paul ridiculed a Filipina maid as a sex symbol. And just recently, Chinese columnist Chip Tsao called the Philippines a nation of slaves.
Now, it's
30 Rock
star Alec Baldwin's turn, joining the ranks of "internationally-recognized" celebrities who have maligned Filipinos, according to critics.
Baldwin – a divorced father of a 13-year-old girl – told David Letterman in one of his last interviews on the Late Show, how he thought of getting, or buying, himself a Filipina bride.
"I think about getting a Filipino mail-order bride at this point or a Russian one, I don't care, I'm 51," Baldwin told Letterman in a May 12 interview. [See:
Alec Baldwin's Letterman interview
]
Seemingly delivered in jest, Baldwin's remark caused the audience to break into laughter and prompted the show's host, Letterman, to respond: "Get one for me [also], for later."
Totally foul
But Baldwin's joke left a bitter taste in the mouth for lawmaker and women's rights activist Risa Hontiveros.
"He totally doesn't deserve a Filipina wife," Hontiveros told GMANews.TV on Monday evening. "He meant that as a joke but it was totally foul."
Baldwin had recently ended his marriage with actress Kim Bassinger citing irreconcilable differences. He was highly criticized after a phone conversation leaked out where he screamed at his child for being hard-headed. He has since apologized and wrote a book about it.
Hontiveros, who lodged a protest against the producers of Harry & Paul last year, is worried Filipinos are being pigeonholed as either domestic workers or brides-for-hire.
"His comment is already anecdotal evidence of the growing phenomenon of mail-order-brides and the perception of foreigners that those are Filipinas."
Jean Enriquez, executive director of the Coalition Against Trafficking in Women-Asia Pacific, was also disappointed that such a "racist" comment came from an actor like Baldwin.
The 51-year-old actor is a board member of People For the American Way and a vocal supporter of the People for the Ethical Treatment of Animals (PETA).
"By joking about mail-order brides he is trivializing human smuggling," Enriquez said. "It shows that some actors portray themselves as sharp on shows but are actually not in real life." [See:
Alec Baldwin's 'RP mail-order bride remark' irks senator
]
Human smuggling
Between 20,000 and 100,000 Filipino women and children are being pushed to human smuggling, according to Humantrafficking.org.
Foreign tourists, particularly from other Asian countries, sexually exploit women and children in the Philippines, according to the group.
In 2007, the Philippines was placed in Tier 2 by the US Department of State's Trafficking in Persons Report for not fully complying with the Trafficking Victims Protection Act's minimum standards for the elimination of trafficking.
But since the late '80s the Philippine government has stepped up efforts to curb the exportation of Filipina women as brides for men in Europe and the Americas, said Ellene Sana, executive director of the Center for Migrants Advocacy.
Facilitating or arranging a marriage between a Filipina and a foreigner is prohibited under Republic Act 6955 of the Anti-Mail-Order Bride Law of 1990.
Violators face imprisonment of between six to eight years, and the payment of a fine between P8,000 and P20,000. A foreign national caught engaged in such a scheme will also be meted the same penalties then deported and barred from entering the Philippines for life.
With Baldwin's disregard, or ignorance of such problems in the Philippines, Sana hopes the veteran actor will learn his lesson the hard way.
"I hope he comes to the Philippines, meets a Pinay and gets dumped," Sana said. [See:
Ex-sexy star Aleck Bovick lightens up Senate mood
]
- with reports from Mark Merueñas, GMANews.TV