Ex-actress Barrameda seeks justice for sister's killing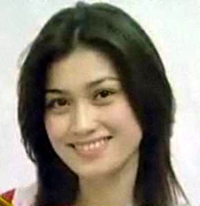 Ruby Rose Barrameda-Jimenez
MANILA, Philippines
– There's no turning back for former beauty queen and actress Rochelle Barrameda in bringing to justice the people behind the killing of her sister, Ruby Rose Barrameda-Jimenez.
"Hindi po ako uurong [I will not back down]," Rochelle said in an interview on dzBB radio on Thursday.
On Wednesday, the two-year search for Ruby Rose ended when her remains were recovered inside a drum sealed inside a cemented steel case at the Navotas Fish Port.
Rochelle had confirmed that the remains were her sister's, based on the earrings and the clothes recovered.
In a
report
on GMA's Unang Hirit, Superintendent Elma Galero of the National Police's Crime Laboratory affirmed Rochelle's statement and said the victim's dental records matched Ruby Rose's.
Authorities were able to locate the steel case through a tip from an informant, Rochelle said in Thursday's radio interview. She added that the informant admitted to being "one of those who took part in cementing the case."
Ruby Rose's remains now lie at the Manila Memorial Park in Sucat, Parañaque, Rochelle said.
Who is the mastermind?
Asked who could be behind her sister's killing, Rochelle pointed to Ruby Rose's husband, Manuel Jimenez III, father-in-law, Manuel Jimenez Jr., and Manuel III's uncle who owns the Buena Suerte Jimenez fishing company in Navotas City.
"Nagkaroon kami ng lead na ang may kagagaawan nito ay si Atty. Manuel Jimenez Jr., Manuel Jimenez III, and kasama rin dito 'yong uncle niya na may-ari ng Buena Suerte Jimenez sa Navotas. Doon ginawa at doon din itinapon," she said.
[We had a lead that the perpetrator of the killing was Atty. Manuel Jimenez Jr., Manuel Jimenez III, and his uncle who owns Buena Suerte Jimenez in Navotas, where the crime was committed and where my sister's body was thrown.]
Rochelle said her sister confessed to having marital problems and that Manuel III even threatened to kill her.
"Sinaktan siya (Ruby Rose). Sinabi na papatayin siya. Na-witness 'yon ng anak nila [My sister was physically abused and was even threatened to be killed. This was witnessed by their child]," she said.
Ruby Rose then asked a local court for a temporary protection order but her bid to secure the order was dismissed, Rochelle added.
Rochelle recounted that over the last two years, the Barramedas had repeatedly asked the Jimenez family for help in locating Ruby Rose, but "they never wanted to talk to us."
The Jimenez family, through their legal counsel, denied involvement in Ruby Rose's killing, much less having any motive behind her death.
"Walang dahilan para i-utos [There is no reason to have her killed]," said laywer Mario Aguinaldo in a separate dzBB interview.
Aguinaldo explained that the Jimenezes even wanted Ruby Rose alive because there is an ongoing child custody case between her and Manuel III. "We (Jimenez) are even winning the case," Aguinaldo added.
PNP, VACC join in
Chief Superintendent Roberto Rosales, head of the National Capital Region Police Office (NCRPO), vowed to help the Barrameda family in identifying the mastermind of Ruby Rose's death.
"Matagal naming hinawakan 'yan [We had long handled that]," said Rosales, who had assisted the Barramedas even before he was appointed NCRPO chief.
He added that the NCRPO is now readying the filing of cases against the suspects.
For his part, Volunteers Against Crime and Corruption (VACC) founding chairman Dante Jimenez (not related to the family of Ruby Rose's husband) said they would monitor the developments on the case.
Dante Jimenez, in another dzBB interview, noted that in his 19 years of anti-crime advocacy, this was the first time he encountered a grisly crime which he said was "indescribable."
"This one's almost a perfect crime," he said.
- Sophia Dedace, GMANews.TV