Robbers, thieves roam Metro Manila school areas
MANILA, Philippines
- The A(H1N1) virus is not the only risk high school and college students in Metro Manila will be facing when classes open on Monday. A far more menacing threat is waiting: crime.
A review of police crime reports done by GMA News Research reveals that more than a hundred high schools, colleges and universities are near Metro Manila's crime hotspots – a clear testament to the dangers the students are facing outside the comforts of their classrooms. The crime reports submitted by victims to the police include crime locations and a trove of other information.
Police say students are a common target of thieves and robbers, who find students' cell phones easy, lucrative pickings.
NCRPO records show that eight incidents of robbery and theft occur on Metro Manila streets every day, making it the most commonly reported crime in the region from June to September last year. Robberies involve the use of force, usually knives, ice picks and guns.
Plotting the crimes on a map, street robbery and theft cases were concentrated in five commercial areas in Metro Manila: Edsa-Monumento in Caloocan City; C.M. Recto Avenue in Manila; Ramon Magsaysay Boulevard in Sta. Mesa, Manila; Roxas Boulevard in Baclaran, Parañaque City, and Edsa-Pasay Rotonda in Pasay City.
(see map below)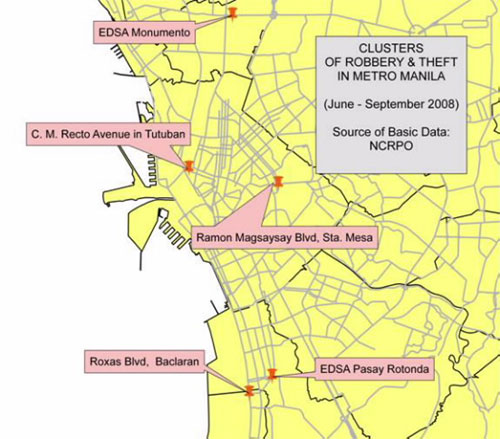 Each area reported at least five incidents of robbery and theft from June to September last year, according to NCRPO.
Our research shows that more than 100 high schools, colleges and universities are near the five robbery and theft hotspots. Overlay maps of the identified crime clusters and educational institutions identify 103 schools that are within a two-kilometer radius from the crime areas.
(see map below)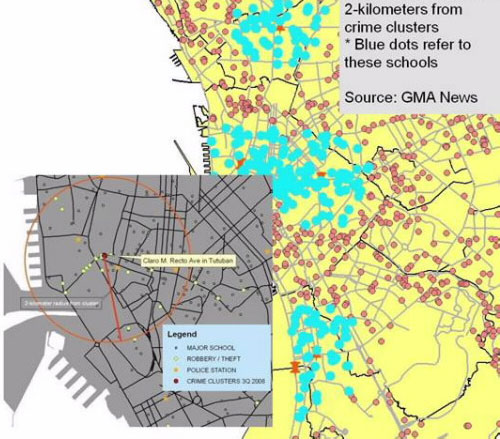 Almost 50 high schools, colleges and universities are located within two kilometers from Claro M. Recto Avenue alone, which runs through the University Belt area in Manila. NCRPO data show at least one incident of robbery or theft is reported every five days in this area.
(see table below)
Police say congestion is the main reason the stretch has been prone to robbers and thieves. "Kaya mataas ang krimen sa Maynila [kasi] nandiyan 'yung opportunity na maraming mabiktima. Doon pinakamarami ang population ng estudyante," says Chief Superintendent Roberto L. Rosales, head of the National Capital Region Police Office (NCRPO).
[Street crime is high in Metro Manila because of high student population. Students are the common targets of street criminals.]
Rosales describes students as "easy targets" for robbers and thieves. "Unang-una sa edad nila, mas madali silang biktimahin, mas madaling takutin [Because they are young, students are intimidated easily]," he said.
Lourdes, a second-year college student from the University of Sto. Tomas, for example, lost her bag to "Salisi" gang members last month while eating at a fast food restaurant along Recto Avenue.
"Pinatong ko lang yung bag ko sa table. Hindi ko namalayan na wala na pala. Nung paalis na kami saka ko napansin na nawawala na pala. May naiwan na bag sa kabilang table. Siguro, props yun nung magnanakaw," she recalled.
[I put my bag on the table, and then somebody took it. I only noticed that my bag was missing later, when we were about to leave the restaurant.]
"Salisi" gang members usually distract people to get their belongings, usually bags, cell phones, wallets or laptops placed on the tables of dining places. Another victim, Charo Bayot, got held up twice in C. M. Recto Avenue when she was still a student in a university around the area. The first time, she got victimized inside a jeep, a common crime venue.
"Pauwi na ako nu'n galing school, around seven p.m. Nakasakay ako sa jeep sa Recto, may dalawang mama nang nauna, umupo sa magkabilang estribo. Yung nasa tapat ko ang nag-declare ng holdup. May patalim sila, kinuha ang bag ko," she recalled.
[I was inside a passenger jeep in Recto when two men declared a holdup. Both of them had knives. I had no choice but to give up my bag.]
A year later, Bayot had to jump out of a moving taxi to escape from robbers. "Mula nang mangyari yun, hindi na ako sumasakay ng jeep o taxi ng mag-isa," she said. "Tingin ko that time talagang malakas ang loob ng mga holdupper kasi wala masyadong pulis."
[Since then, I was afraid to ride jeepneys and taxis especially when I'm alone. I think the robbers were brave that time because of lack of police visibility.]
Limited police visibility
Limited police visibility in theft and robbery hotspots may be a factor why street crimes continue to take place in these congested areas.
NCRPO statistics show that as of last year, 16 of the 17 Metro Manila local government units do not meet the ideal police to population ratio set by law.
According to Republic Act 6975 or the Philippine National Police (PNP) law, the ideal police to population ratio is 1:500, or one police for every 500 people. However, only the city of Manila meets this ratio.
NCRPO data also reveal that the police-to-population ratio of Metro Manila as a whole falls way below the prescribed number, with one police assigned to every 813 members of the population.
As such, schools have taken it upon themselves to address the problem of street crimes.
The University of the East, one of the schools in the Recto-Tutuban crime cluster, for example, has its own "foot patrol" to add to the number of police and barangay tanod who make the rounds in the area.
"Nababantayan ang mga estudyante kahit papasok pa lang sila," said Rolando Maglalang, UE's head of security. He added that schools in the University Belt coordinate closely with the local police.
Maglalang also said that the school is trying to install surveillance cameras on its campus.
Similarly, Far Eastern University, another school in Recto-Tutuban, plans to improve its security. The school is planning to install closed-circuit television cameras in all gates and selected sites inside the campus this school year, its official student publication wrote.
Full alert status
Rosales said at least 100 NCRPO checkpoints have already been put in place for the school opening. These checkpoints are manned by two mobile cars and supervised by an officer with a minimum rank of an Inspector.
Policemen have also been ordered to refrain from wearing jackets and civilian clothes that would hide their identities when conducting checkpoints, the official said.
"The NCRPO makes sure that their personnel are identified, seen, and experienced," he said.
He also said they been on full alert status – the highest alert status in the police force – since May 15 in preparation for the June 1 opening of classes in the elementary level.
Rosales said a total of 400 policemen have been deployed in Metro Manila to go after street criminals, particularly those involved in robbery-holdups, pick-pocketing, drug trafficking and abuse, extortion, swindling and street violence particularly members of violent fraternities and street gangs known for pestering students.
Since June 1, no crime near schools has been recorded, which Rosales attributed to the NCRPO's heightened vigilance, especially in crime hotspots, and to their early preparation.
Starting May 15, the NCRPO has started flushing out criminal elements in school vicinities. "We have served arrest warrants to suspected criminals and had conducted search operations at known lairs of criminals," he said.
He however said the police will observe procedures so as not to violate the human rights of those who will be taken in. The drive will be conducted under the watch of barangay officials.
"We have the capability to quickly verify the records of those to be questioned. Those who have no criminal records will be immediately allowed to go home while those with records will stay in jail," he said.
- with Sophia Dedace, GMANews.TV