6 students tested positive for A(H1N1)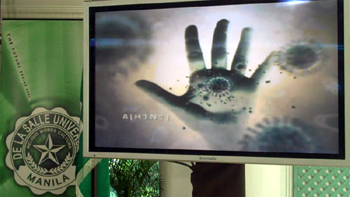 AVP. The De La Salle University in Manila, one of the schools to first report a confirmed A(H1N1) case, has already set out on an extensive information campaign against the flu virus. Mark Merueñas
MANILA, Philippines –
Classes in three schools in Quezon City and Marikina City were suspended on Tuesday after health authorities found six more students infected by the mutant A(H1N1) virus.
Dr. Antonietta Inumerable, chief of the Quezon City Health Department, told GMANews.TV that two of the students, aged seven and nine years old, were pupils of the Lagro Elementary School in Barangay Lagro.
The two kids, a boy and a girl, were brought to the Lung Center of the Philippines after displaying "mild" flu symptoms. Inumerable said the two are already "recovering."
Upon learning about the unfortunate news, the two kids' mother called up their school to report the development, which in turn forced school officials to suspend classes for 10 days beginning Tuesday. Classes will resume on June 26.
Meanwhile, GMA News reported Tuesday night that three high school students from Miriam College in Katipunan Avenue were also found to be infected by the novel virus.
Only the class from which the three students belong had been suspended, as all students would be subjected to a 10-day self-quarantine, the report said.
School officials assured that the classroom of the three students had already been disinfected.
The sixth case was recorded at the Our Lady of Perpetual Succor College in Marikina City. The school's officials assured that the infected high school student has already recovered from the sickness.
But as a precaution, OLOPSC officials still suspended their classes for 10 days starting Tuesday.
- GMANews.TV