DOH: No public health emergency yet despite 311 A(H1N1) cases
MANILA, Philippines –
The Department of Health on Wednesday ruled out calling a public health emergency throughout the archipelago even if the Philippines' tally of Influenza A(H1N1) infection has reached the 300 mark.
In a press conference in Tarlac province, Health Secretary Francisco Duque III said the total confirmed cases of A(H1N1) infection nationwide has climbed to 311 after 64 new cases have been added from Tuesday's 247.
Duque said 40 of the 64 new cases are women while the rest are men. Two of the new cases are foreign nationals.
The age bracket of the new victims ranges from three to 62 years old.
Duque also said that three provinces in Central Luzon have so far reported confirmed A(H1N1) cases. These are Bulacan with 10 cases; Nueva Ecija, 23 cases; and Pampanga with two cases.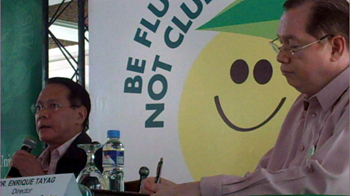 DON'T PANIC. Health officials Francisco Duque III and Enrique Tayag, shown in this file photo, had been constantly reminding the public that the A(H1N1) virus is mild. Mark Merueñas
He said the increase "doesn't mean things are getting worse" because all the new infections were mild.
After the Tarlac briefing, Duque went to Jaen town in Nueva Ecija where a state of calamity has been declared after some students at the Hilera Elementary School were found to have been infected by the virus.
The Health department is predicting swine flu will spread further. The World Health Organization declared it a pandemic last week.
"Inaasahan natin na tataas pa ang bilang natin. Kasi kapag nagco-contact tracing kami, may multiplier effect iyan [We expect the figures to rise further. The spread of the virus has a multiplier effect]," Duque said in a radio interview.
Before leaving for Japan, President Gloria Macapagal Arroyo ordered the DOH to shoulder all the hospital expenses of confirmed cases.
Duque said an infected person has to shell out around a total of P25,000 for the medicine, examinations, and doctor's fee, among other expenses.
Last Monday, eight students from the Doña Candelaria Meneses-Duque High School in Bulacan, Bulacan had been tested positive for the virus.
Duque assured that all the infected students in those schools have either recovered or are already getting well.
In its latest update, the World Health Organization said the novel virus has so far infected 35,928 people in 76 countries, with 163 deaths.
1st confirmed case in UP
In a related development, the University of the Philippines (UP) has just been added to the list of schools with a confirmed A(H1N1) case.
Elizabeth Enriquez, UP Diliman's vice chancellor for student affairs, told GMANews.TV that a female student has tested positive for the novel virus.
She said the UP student's mother approached UP officials Monday night to tell them about the condition of her daughter. The infected student's swab sample was tested at the Regional Institute for Tropical Medicine.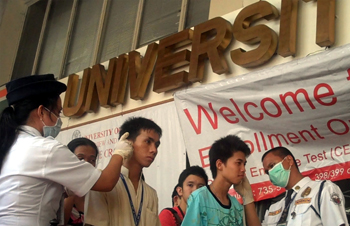 FLU-LESS. A number of schools has already rolled out massive information campaigns against the flu virus in time for school opening. Mark Merueñas
School officials are likewise awaiting the results of laboratory tests on the swab samples from five other UP students who are staying in a dormitory.
"The five are already isolated from the others. We have set up areas inside the dormitory where the five can stay," Enriquez said.
Classes in UP Diliman however were not suspended since the government has shifted to mitigating the virus instead of containing it.
Earlier in the day, UP officials held an "emergency meeting" to discuss school matters in relation to the A(H1N1) incident in the campus.
"In the meeting, we told deans to find ways to be liberal with absences. We are directing professors not to be strict with the project submission of students suspected or confirmed to carry the virus. Perhaps, they can submit their work online," Enriquez said.
Also, staff and faculty members who fall ill after having contact with an infected student have the privilege to skip work. Their absences would not be slashed from their sick leaves, Enriquez added.
To avoid possible abuse of the new privileges, necessary documents should be presented proving that a faculty has recently traveled abroad.
"With our first case, we have gone into a more aggressive information campaign against A(H1N1) and had been constantly reminding our students, faculty, and personnel to observe proper hygiene," she said.
- GMANews.TV