Prices of flu drugs, vaccine triple amid A(H1N1) crisis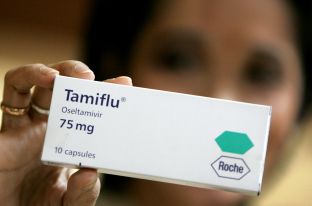 Popular anti-viral drug Tamiflu now sells at P150.50 per capsule. - AP
MANILA, Philippines –
Prices of flu drugs and vaccine have surged up to three times their normal prices, aggravating the Philippines' Influenza A(H1N1) crisis as demand from health-conscious buyers is making the product scarce and increasingly expensive.
The Philippines, which is lagging behind other countries in the race for securing ample supplies of anti-swine flu vaccine, has listed 604 confirmed cases and one A(H1N1)-related fatality so far. It is now under pressure to take decisive steps in reducing mortality related to the novel virus.
Tamiflu – a popular brand of the anti-viral drug oseltamivir used to treat symptoms of the A(H1N1) virus – now sells at P150.50 per capsule at a popular drugstore.
The Department of Health (DOH) was able to purchase its first batch of 750,000 capsules of Tamiflu at P40 each before the A(H1N1) virus started spreading across the globe, said Dr. Yolanda Oliveros, director of the DOH National Center for Disease Protection and Control.
---

The flu vaccines in the market only protect people from the regular seasonal flu viruses

– Dr. Remegio Olveda, director of the Regional Institute for Tropical Medicine
---
Another batch of 500,000 Tamiflu capsules was sold to the government through bidding at P48 a capsule after the Philippines started reporting A(H1N1) cases in the country, Oliveros said.
Since April, the DOH head office in Manila has distributed 600,000 Tamiflu capsules to its 17 regional offices and five government hospitals. The medicines are given free to patients who were infected by the new flu strain. Also, all other the medical expenses of A(H1N1) cases – from testing to hospitalization – have been shouldered by the DOH since the virus came out.
A source from the DOH told GMANews.TV that consumers have been calling the agency to inquire about the "high prices" of anti-flu medicine and vaccines.
Dr. Remegio Olveda, director of the Regional Institute for Tropical Medicine, said the flu vaccines in the market only protect people from the regular seasonal flu viruses.
"Pero maganda na rin na protected ka sa seasonal flu para maiwasan na mag-mutate pa ang A(H1N1) virus," said Olveda. He stressed the possibility that the A(H1N1) virus, when introduced to another type of flu virus, could form a new strain.
From P500 to P1,800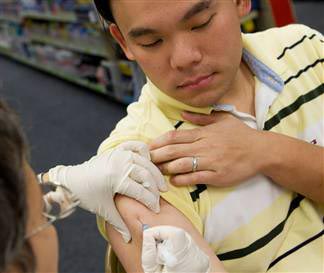 FLU SHOT. The flu scare has sent people scrambling for flu shots, which may only provide a false sense of protection from A(H1N1). AP
The exorbitant prices imposed by medical practitioners and drug firms may be considered "profiteering," and the government should find a way "to regulate" the prices of the flu products, said the DOH source, who spoke on condition of anonymity.
A health advocacy group has called for the filing of charges against doctors and drug firms suspected of jacking up drug prices for Tamiflu and flu vaccines.
In an interview with GMANews.TV, Health Alliance for Democracy (HEAD) vice chairperson Gene Nisperos said the group has received reports about some doctors charging their patients as high as P1,800 for a flu shot, in addition to their professional fee (PF).
"Nakikinabang ang malalaking companies at sinasamantala nila ang takot ng mga tao [Big companies are benefiting from the scare and are taking advantage of the situation]," he said.
"Baka plus PF ay umabot na ng almost P3,000. Overpricing na iyan," (If the PF is included, the price would reach almost P3,000. That's overpricing) he said.
A doctor who operates her own clinic in Makati City admitted in an interview with GMANews.TV that she sells anti-flu vaccines – with brand names Agrippal, Fluarix, and Vaxigrip – at P1,000 to P1,500 per dosage.
At a popular retail drug store, GMANews.TV learned that a single dose of flu vaccine is sold at P695. Most doctors recommend one to two doses per person as protection from the seasonal flu virus.
According to Oliveros, the regular price of flu vaccine is only P500. The DOH is not undertaking free vaccination for the public, but has purchased vaccine for their employees, she said.
The DOH had earlier requested P93.5 million from the national government for "anti-A(H1N1) preparation," Oliveros said. The DOH has shelled out P60 million of the funds and intends to use the remaining amount to buy personal protective equipment such as masks.
Responsible pricing

Flu vaccine manufacturers and distributors are selling their products to drug retailers at "reasonable" prices, according to Dr. Sally Gatchalian, medical director for vaccines at the GlaxoSmithKline (GSK). The company is a leading flu vaccine distributor in the Philippines, carrying the brand Fluarix.
The Department of Trade and Industry on Wednesday released the suggested retail prices (SRP) for consumer products that have recently been in demand due to the global flu scare.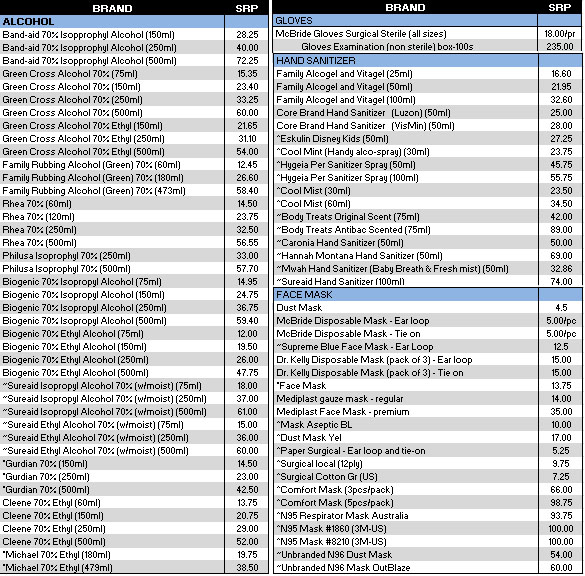 [SRP Submissions from Medical Center Trading Corp; Green Cross; Pagoda Philippines; Johnson and Johnson Phils., Inc.; Core Brand Chemical, Inc.; Philusa Corporation; Rogenson Company Inc.; Mercury Drug Corp- loose prices; PAGASA member supermarkets - prevailing prices and ~Watson SRPs]
Gatchalian told GMANews.TV that some patients probably get a steep bill for a flu shot because it includes expenses for medical examination, the doctor's professional fee, and other miscellaneous fees.
GSK and other manufacturers of flu vaccines are members of the Pharmaceutical Health Care Association of the Philippines, which said it has no control and influence over the pricing policies of member firms.
"Pricing is an individual business decision of our member companies. We however encourage members to practice responsible pricing," PHAP president Oscar Aragon told GMANews.TV Tuesday.
- GMANews.TV.