Blasts hit Mindanao again, 2 people dead, over 40 injured
MANILA, Philippines -
Two separate bombings in Jolo and Iligan City on Tuesday morning killed two people and injured around 40 others, including state security personnel, officials said.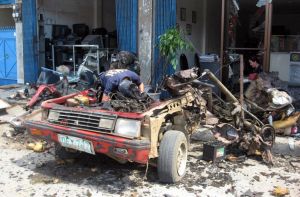 Police examine the site of a bomb Tuesday in Iligan City. Police say a bomb placed under a car exploded, wounding at least 11 people, including three soldiers.
- AP
Alert up in Mindanao after bombing attacks
MANILA, Philippines
– Government forces in southern Philippines have been placed on heightened alert following a series of bomb explosions in key areas there.
At a Cabinet meeting held at Malacañang on Tuesday, Philippine National Police chief Director General Jesus Verzosa said all government forces in Mindanao were directed to set up checkpoints and secure vital installations like pylons and communication lines.
More
Philippine Marines commandant Maj. Gen. Ben Dolorfino said the first explosion occurred when an improvised explosive device (IED) went off at 7:55 a.m. Tuesday in Poblacion village in front of the Go Teck Leng Hardware along Sanchez Street in Jolo.
Roughly three hours after the explosion in Jolo, another IED went off in Iligan City, wounding seven people including two soldiers, police said.
The blasts were the latest in a fresh wave of bombings in the volatile southern Philippines. A ranking military official, however, expressed doubts whether the incidents were related.
On Sunday morning, an improvised explosive device (IED) planted at a lechon (roasted pig) house in front of the Immaculate Concepcion Cathedral in Cotabato City, killing five people and injuring 29 others.
The night before, another blast caused by a 60-millimeter mortar explosive in Barangay Buayan in Datu Piang town in Maguindanao province injured three people.
Sulu blast
Superintendent Jose Bayani Gucela, a public information officer of the Philippine National Police (PNP) for Western Mindanao, said the IED was placed "inside" a motorcycle parked about 100 meters away from a Catholic church in downtown Jolo where a Mass was just held.
Gucela said investigators likewise recovered two unexploded IEDs, each placed in a cardboard box also around 100 meters away from the church.
A sketchy report from Autonomous Region in Muslim Mindanao (ARMM) operations chief Superintendent Danilo Bacas said a policeman was among those hurt in the explosion.
Bacas said the Sulu cathedral is located across the street where the explosion occurred. "Nasa kabilang kalye po ang simbahan [pero] medyo malayo [The cathedral is located across the street but it is somewhat far (from the blast site)]."
Philippine Navy spokesperson Lt. Col. Edgard Arevalo said most of the wounded victims in the Jolo blast were in critical condition.
"Our initial report showed that a motorcycle parked near the store allegedly with wire connected on it was noticed, prompting concerned citizens to report the sightings to the police. An explosion followed just as policemen were responding to the information," Arevalo said in a text message to reporters.
Another in Iligan City
Northern Mindanao police director Chief Superintendent Danilo Empedrad said the Iligan City blast occurred at 10:50 a.m. along Sabayle Street near the city pier.
Initial reports said the IED was placed inside a vehicle parked right beside a mini-cruiser belonging to the Philippine Army, Empedrad said.
Citing initial reports, Lt. Col. Juvymax Uy, commander of the 43rd Infantry Battalion, said 11 people - eight civilians and three soldiers - were wounded in the blast.
Uy, however, speculated that the soldiers were likely not the target of the blast, as they might have gone to the area to purchase something or have an appliance repaired.
"I think may bibilihan sila or most likely magpapa-repair ng TV kasi mga service center ito ng mga appliance, yung mga tabi-tabi...I think coincidental lang siguro, kasi, collateral damage siguro, kasama lang sila, kasi intended talaga sa area na 'to na paputukin siguro," Uy said.
[I think they were about to buy something or have a TV set repaired because there is an appliance service center around the area... I think their involvement was just coincidental, collateral damage perhaps, because the perpetrators probably meant to target the area.]
Uy said Scene of the Crime Operatives are still investigating the bomb that was used to enable authorities to determine who might have been responsible for the blast.
Not related?
Military officials ruled out the possibility that the four blasts were related.
Major General Juancho Sabban, commander of Joint Task Force Comet which is working to secure the release of Red Cross worker Eugenio Vagni from the Abu Sayyaf, said the blast in Sulu is likely the handiwork of the extremist group. Sulu is a known lair of the group, which has been linked to the international terror group al-Qaeda and the Indonesia-based Jemaah Islamiyah.
Sabban said the Cotabato and Maguindanao blasts were likely the work of members of the Moro Islamic Liberation Front (MILF), which has been negotiating peace with the Philippine government. The MILF has repeatedly denied involvement in bombing incidents attributed to them by the military.
"MILF dun sa Cotabato, Abu Sayyaf dito [Sulu]. Nakikita namin na walang link. Pero may isang common link na tinitignan kami, kasi sumasama dito sa MILF at saka dito sa Abu Sayyaf yung mga Jemaah Islamiyah," Sabban said in an interview with GMA News' Pia Arcangel.
[The MILF is in Cotabato, the Abu Sayyaf is here (in Sulu). We can see no link. But there is a common link that we're looking at: the Jemaah Islamiyah sometimes goes with the MILF and the Abu Sayyaf.]
The Jemaah Islamiyah is a Southeast Asian militant organization which authorities describe as al-Qaeda's arm in the region.
"Pumupunta sila dito, nagtuturo sila ng bomb making. So yun lang ang nakikita naming link [They go here and teach bomb-making. That is the only link we can see]," Sabban said.
As for the blast in Iligan City, Sabban pointed out that it is an area most "affected" by the MILF.
Sabban said the AFP has increased checkpoints in Sulu to intensify efforts against the Abu Sayyaf.
Following the blast on Sunday, Col. Jonathan Ponce, spokesman of the army's 6th Infantry Division, said the Cotabato blast had the signature of the MILF's Special Operations.
"They (MILF) are trying to divert attention. They do this because they need to create a scenario. They are losing and they are running out of ammunition," he said.
The MILF has denied the accusation. Late Monday afternoon, a report by the National Disaster Coordinating Council (NDCC) said a suspect taken in for questioning in connection with the Cotabato City blast was released for
lack of evidence
.
- GMANews.TV