No state funeral for Aquino
State Funeral
---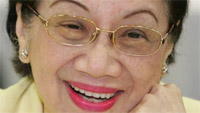 ---
These are the protocols observed when a former president of the Philippines passes away.
Presidential proclamation
The incumbent president issues an official announcement declaring a period of national mourning for the death of a former president.
During this period, Philippine flags in all buildings and places where these are displayed will be flown at half mast for 10 days.
A book of condolences is routed to different embassies to be signed by ambassadors/foreign dignitaries.
Lying in state
The Heroes Hall in Malacañang Palace may serve as a venue where the remains of former presidents may lie in state.
Casket transfer and funeral procession
The remains are transferred to a caisson/hearse or a funeral car for movement to a church and to the Libingan ng mga Bayani or to any memorial park chosen by the bereaved. By virtue of AFP Regulation 161-375 (Allocation of Cemetery Plots at the Libingan ng mga Bayani), the remains of a former president can be interred at said national cemetery.
See more

The family of former president Corazon Aquino opted for a private funeral instead of a state funeral in Malacañang.
Senator Benigno "Noynoy" Aquino III, eldest son of the late President, announced their decision at a press conference in Makati City, shortly after Aquino succumbed to colon cancer on early Saturday morning. [See:
Former President Corazon Aquino, people power icon, passes away
]
"There won't be a state funeral," he said. "We are more comfortable having it in a church."
The Aquino family chose to hold the wake at the La Salle Greenhills Gymnasium in Mandaluyong City. Starting Saturday night, a Catholic Mass on the La Salle campus will be held twice a day: one at noon and another at 8 p.m.
The announcement came shortly after Malacañang declared a 10-day national period of mourning to honor the former president's death through Proclamation 1850.
Arroyo and Aquino have not been on good terms in recent years after the latter called for the President's resignation following allegations of election cheating in the 2004 polls.
Aquino told Arroyo, who was catapulted to power in a similar EDSA revolt in 2001, to "make the supreme sacrifice" and resign.
Sen. Aquino said that the decision not to hold a state funeral for his mother was not political.
"
'Wag na nating idamay lahat ng iba pang issues of political nature
(Let's not bring up issues of political nature)," he said.
In 2001, Mrs. Aquino joined the protest movement that forced then-president Joseph Estrada from power, resulting in Arroyo's rise to the presidency.
Meanwhile, Malacañang said they respect the family's decision but reiterated the Palace's willingness to extend all courtesies to the former president.
"We are ready to extend all necessary services of the government, but we defer to the Aquino family's plans," Secretary Gabriel Claudio, officer-in-charge of the Office of the Executive, told GMANews.TV.
Claudio said the Palace has been coordinating with the members of the Aquino family through their spokesperson Deedee Siytangco regarding any form of help Malacañang can extend for Mrs. Aquino's funeral.
"
Bibigyan na lang namin sila ng suporta
(We will just give them the support), like honor guards and police forces for security and order during the funeral." he said.
A state funeral would allow Mrs. Aquino to lie in state in Malacañang and have the option to be buried at the Libingan ng mga Bayani with full military honors after a ceremonial funeral procession. [See sidebar for further details]
Shower of confetti
Amid an overcast sky and a light downpour, Aquino's remains arrived at the La Salle Greenhills in Mandaluyong City to a shower of yellow confetti.
An honor battalion from the Armed Forces of the Philippines (AFP) carried Mrs. Aquino's casket into the gym, with family members trailing. Among them were Sen. Aquino and Mrs. Aquino's brother and former congressman Jose "Peping" Cojuangco Jr.
Once the casket was taken inside the La Salle gymnasium the light rains became a heavy downpour. The cortege was met with arrival honors from the military and a shower of yellow confetti from nuns and other supporters.
Aquino is dressed in a yellow Paul Cabral dress embellished with Swarovzki crystal beads. Although visibly thinner, the former President looked serene.
In Aquino's hand is a rosary with pink beads and gold chain. Spokesperson for the Aquino family Lourdes "Deedee" Siytangco clarified that the rosary was not the one given by Sister Lucia, one of the three shepherd children who supposedly saw the Virgin Mary at Fatima in Portugal.
"That one is blue," Siytangco said, referring to Lucia's rosary.
The two-day viewing will be closed for three hours from 4 a.m. to 7 a.m. on Sunday and Monday to give way to maintenance work.
As of this posting, school officials were constructing a stage with a white backdrop, adorned with yellow chrysanthemums in front, and a crucifix and an image of Virgin Mary on both sides of the stage.
From La Salle, Mrs. Aquino's remains will be brought to the Manila Cathedral where overnight vigils and requiem masses are scheduled. A necrological Mass will be held Tuesday night.
After a 9 a.m. Mass Wednesday, Mrs. Aquino's body will be brought to the Manila Memorial Park in Paranaque for interment. No details have been disclosed yet to media about the funeral procession route.
Senator Aquino said that his mother will be buried beside the remains of his father, the late Senator Benigno Aquino Jr., assassinated upon his arrival in Manila from the United States on August 21, 1983.
"That's been my mom's plan from the very beginning," he said.
The public will have to form a line at Gate 5 of the La Salle Greenhills, while Gate 2 will be reserved for members of media. Guests, relatives, and members of the Aquino family will use Gate 6 to exit the school premises.
The Aquino family has also set up a memorial site at the historic EDSA Shrine called "The Dedication Garden for Tita Cory," where supporters can leave their flowers and notes for the former head of state.
Media
The Aquino family has also asked photojournalists to refrain from using flashes to take photographs. "The gym will be properly lighted," Siytangco said.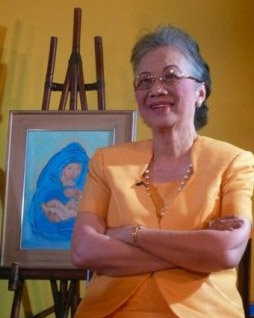 Click
here
for Aquino's last full interview with Jessica Soho.
Due to space limitations, journalists are also being asked to form groups of four, each group having a scheduled time to cover the wake.
The school gym will also be housing a "media room" where interviews for broadcast and print media can be conducted.
Senator Aquino said they chose to hold the wake in La Salle Greenhills because it is a "sizeable venue."
Each media company will be allowed to deploy a reporter and two photographers.
"We would want to spend as much time as possible as a family," Senator Aquino said.
He added that although his family's life has been "public property" for years, he and his siblings want to make the funeral as private as possible.
Senator Aquino also thanked all the Filipinos who have been supporting their family during this "difficult time" for them.
"
Taus-puso ang pasasalamat namin. Napakahirap po nitong dinadaanan naming ito, pero dahil nandiyan ho sila... hindi na namin madama na nag-iisa kami
(We are very thankful. What we are going through is very difficult but they are there... We no longer feel that we're alone)," he said, perhaps an unintentional reference to the popular protest slogan after the assassination of his father Ninoy,
"Hindi ka nag-iisa."
- GMANews.TV