'Wala bang kape?' Online mourners pay tribute at RP's first interactive 'virtual wake'
Some mourners were from faraway places. One mentioned Nepal, another Qatar, a third Sydney. Nearly all brought heartfelt tributes and expressions of love and admiration.
"Madam Tita Cory," said Jv Sayo, "you will always be in the hearts of every Filipino."
"We will never forget you," vowed Charito del Carmen.
"Ma'am Cory, thanks for the freedom we are enjoying today. It is now in our hands to continue the legacy you left us," wrote Tolits Garado.
The outpouring of grief and affection took place online, through the Cory Aquino tribute page set up by GMANews.TV. The page combined live streaming video of the wake with Twitter feeds and Facebook Connect, a feature of the popular Web 2.0 service that allows users to comment publicly about a single topic. GMANews.TV first used the technology to cover President Gloria Macapagal Arroyo's State of the Nation Address, which elicited many tart and sarcastic remarks from visitors.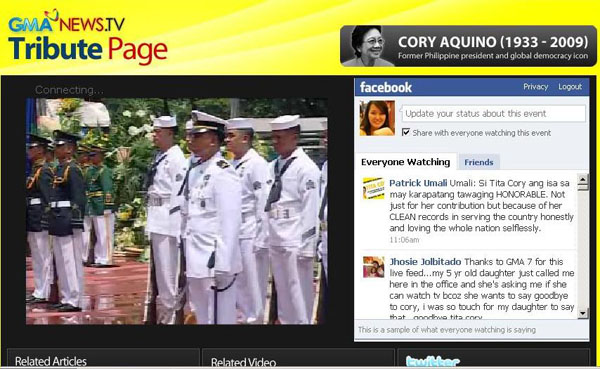 After GMANews.TV set up the tribute page on Saturday evening, it was clear right from the start that the mood of the visitors was warm and loving. The succession of messages that appeared in the FB panel was an online reflection of the reverence being shown by the rain-soaked crowds patiently standing in the streets outside La Salle Greenhills.
Rommel Nool wrote, "Our condolences to the AQUINO FAMILY... FROM ALL THE OFWs HERE IN SOUTH KOREA!"
And Ernie Soriano said, "President Cory, you will always be remembered... We love you."
Ling Aguilar posted: "You're just like my mom, loving unconditionally, the greatest mom in the world!"
Many were delighted they were able to join the wake through their computers. Kellah Joy Yocogco said, "This is a great idea to have a live video of Cory's wake. It (allows) Filipinos abroad to connect and join the grief of the rest of the Filipinos who lost 'a living epitome of democracy.' "
Some of the visitors wrote about how Cory had touched their hearts and lives. According to Evelyn Gorospe: "President Cory is a hero to every Filipino aspiring for peace in our country. She made me remember my late father (an Ilocano) who defied fellow Ilocanos and rallied for Cory, who brought me to Libis to witness the 1986 revolution and said Cory will set the Filipinos free."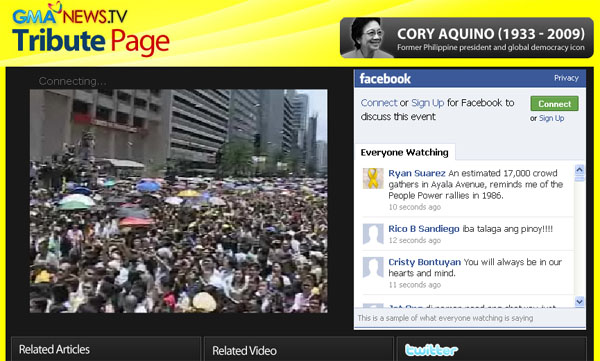 Perhaps the most surprising thing was that, although people were posting tributes on their computers, many acted as if they really were physically present at the wake. When someone questioned Cory's achievements, and another visitor praised the dictator Ferdinand Marcos, they were quickly hushed up by the others.
"Guys," one of them said, "this is not a debate forum, this is a tribute site... Let us give some respect, thank u and god bless."
Another told the posters: "Why don't u just pray for our beloved tita. We are all aware of her greatness. Just pray while letting others give their respect. PLEASE."
A mourner wrote, as if muttering: "
Sana may
ignore button dito."
When the camera focused on one of the visitors, former president Joseph Estrada, some visitors became agitated.
"Bakit puro Erap nasa video?"
asked someone.
Although some started a few arguments, or posted pointless comments, generally the visitors got into the mood of the occasion. In fact, somebody joked: "
Wala bang kape
?" (What, no coffee?)
- GMANews.TV