Panlilio, Padaca offer full support for Noynoy in 2010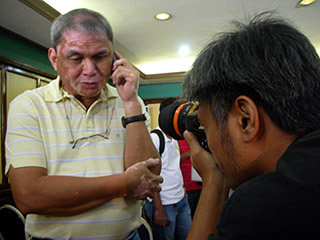 FOR UNITY. To answer what he called "the call of love for the country," Gov. Ed Panlilio says he will no longer run for president in the upcoming 2010 elections and instead support Sen. Noynoy Aquino. Mark D. Merueñas
(Updated: 1:30 PM)
Throwing their support behind Senator Benigno "Noynoy" Aquino III, Pampanga Governor Ed Panlilio and Isabela Governor Grace Padaca on Friday announced that they will no longer join the 2010 presidential race.
"
Pagkatapos ng aming pagdarasal, pakikilahok sa mga kaganapan sa ating lipunan at pag-iisip at pagkonsulta sa aming mga taga-suporta, nagpasya kaming lahat na tugunan ang tawag ng pagmamahal sa bayan, sakripisyo at pagkakaisa na pinangunahan na ni Senator Mar Roxas noong Martes
," Panlilio read from their joint statement at a press conference in Club Filipino in Greenhills, San Juan City.
(After much prayer, contemplation, and consultations, we have decided to respond to the call for love of country, sacrifice, and unity initiated by Senator Mar Roxas on Tuesday)
"Nagpasya kami na hindi tumuloy sa aming planong pagtakbo sa pagkapangulo sa nalalapit na halalan (We have decided not to pursue our plan to run for president in the upcoming elections)," he said.
Panlilio said they were pulling out of the race so they could support a single candidate who they believe can win against the administration bet. Padaca was reportedly sick and was not present in the press conference.
---

Noynoy may not be the best for the presidency but... he could be the right person.

– Pampanga Gov. Ed Panlilio
---
The Pampanga governor urged other presidential aspirants to follow in their footsteps and give up the race for Noynoy. The two officials said they hope their decision could ensure that the legacy of Noynoy's parents, former President Corazon Aquino and Sen. Benigno "Ninoy" Aquino Jr., would be continued. To show his support, Panlilio wore yellow, the Aquinos' signature color.
"Noynoy may not be the best for the presidency but at this point in time we need to unite as a country and he could be the right person," said Panlilio.
As one of his considerations for dropping out from the race, Panlilio admitted that unlike Noynoy, he could not unite what he called as "reformists" to form a strong opposition rival of the administration party.
"I am not that type of person who could unify the reform candidates.
Mas malaki ang tsansa na kay Noynoy, mangyayari iyon
(Noynoy has a bigger chance of doing that)… Perhaps another person can do it better and that could be Noynoy," Panlilio said.
But a more important factor that he took into consideration was the public's strong belief in good governance and persistent search for an alternative candidate. "And I am sure many will go for Noynoy," he said.
Panlilio, a priest on-leave because of his gubernatorial duties, is known for his campaign against corruption in Pampanga. He is however, facing a
vote recount
after his political opponent, Lilia Pineda, accused him of cheating in the 2007 elections.
Panlilio said that after giving up the presidential race he could now focus on the "more pressing" issue of the recount of votes in the Pampanga 2007 elections. He added that his remaining options were to return to the priesthood, run for a second term as Pampanga governor, or run for another position in government.
Padaca, meanwhile, has been hailed for defeating then-Governor Faustino Dy Jr. and managed to wrestle the post that various members of the Dy family had monopolized for 34 years.
Noynoy's VP?
Apart from Panlilio and Padaca, three mayors, who previously belonged to the administration party, also attended the San Juan press conference to express support for Noynoy.
San Isidro, Nueva Ecija mayor Sonia Lorenzo, Isabela mayor Florante Herdan, and Ilocos Sur mayor Jun Verzosa all belonged to the Lakas-CMD party but earlier jumped to the other side of the fence to join Panlilio.
"We believe Sen. Noynoy embodies the democratic reform we are pushing for in Nueva Ecija," said Isidro. "We feel that supporting Sen. Noynoy for president is but a natural tendency and a logical consequence of our work."
Noynoy has yet to categorically announce his presidential bid despite Liberal Party president Senator Manuel "Mar" Roxas' announcement on Tuesday that he would be abandoning his own intention to seek the presidency to support his "friend." [See:
Mar gives way to Noynoy as Liberal Party standard bearer
]
Noynoy is currently in Zamboanga City to undergo a spiritual retreat to decide whether he would take up the cudgels for the LP and run for president. [See:
Noynoy in Zamboanga City for 'spiritual retreat'
]
Asked who Panlilio and Padaca would be supporting as Noynoy's vice presidential partner, the Pampanga governor said, "We do not want to limit the choice of Noynoy to a single person," adding they would support whoever Noynoy selects as his vice president in case the senator runs.
No effect
But former President Joseph Estrada said Panlilio's decision to back out of his presidential bid hardly has any effect on the race.
"
E mabuti naman, mabuti hindi siya maghihirap. Sa Pampanga pa lang mahirap siyang manalo, pano pa sa buong Pilipinas
(That's good, at least he won't have a hard time. In Pampanga alone he's having a hard time winning, how much more if we're talking about the whole Philippines)," Estrada said in a radio dzBB interview.
Estrada said Panlilio's presidential aspiration was hardly counted. "
Sa survey hindi naman lumalabas yung pangalan nya sa presidential e. Wag natin lokohin ang ating mga sarili
(His name doesn't even appear in presidential surveys. Let's not fool ourselves)."
---

His name doesn't even appear in presidential surveys. Let's not fool ourselves.

– Former president Estrada
---
Estrada had earlier announced he is 99.9 percent certain that he will again seek the presidency in 2010. Estrada's hesitation to back down from the 2010 polls is fueled by the recent Pulse Asia survey showing the deposed leader placing second to Sen. Manuel Villar Jr. should the presidential elections be held now.
Vice President Manuel "Noli" de Castro was in third place at 16 percent, while Senators Roxas and Francis Escudero also scored double-digit presidential voter preferences (12 percent and 11 percent, respectively). Others included in the presidential survey, including Panlilio, obtained voter preferences of 6 percent or less.
On Thursday, opposition senator Panfilo Lacson said Estrada should back out of the presidential race to unify the opposition. Lacson also said he is willing to express support for Aquino's possible presidential bid. [See:
Ping goes for Noynoy, urges Erap to drop presidential bid
]
Lito Anzures, spokesman of Makati City Mayor and United Opposition president Jejomar Binay, said the mayor might also forgo his possible bid for the presidency to rally the opposition around Aquino. [See:
Binay may also give up presidential bid for Noynoy - spokesman
]
Earlier, Bro. Mike Velarde, leader of the Catholic charismatic group El Shaddai, distanced himself from the presidential race after hinting at a possible bid for the 2010 polls.
With Panlilio and Velarde out of the presidential race, Bro. Eduardo "Eddie" Villanueva, of the Jesus Is Lord leader, is the only religious personality eyeing the country's highest post.
Villanueva earlier said he will not abandon his renewed quest for the presidency.
"Bangon Pilipinas respects the decision of Senator Mar Roxas to give way to his fellow Liberal to take on the torch of the party's leadership for the 2010 elections. But the Liberal Party's move does not influence Bangon Pilipinas' own plans," he said.
Villanueva ran and lost during the 2004 presidential polls, placing fifth and last in the race.
But Panlilio appealed to Villanueva to join them in stepping out of the race.
"I just hope Bro. Eddie will [consider] endorsing just one reform candidate.
Ang winnability, mas nakikita natin kay Noynoy iyon
," Panlilio said.
- GMANews.TV