Convict in Chiong rape-murders to be transferred to Spain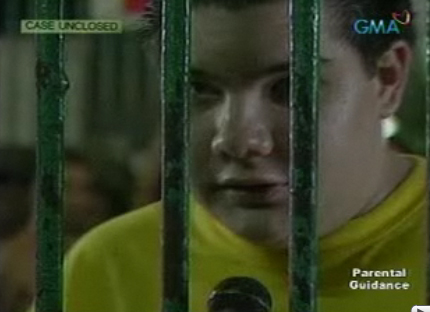 'I DON'T EVEN KNOW HER.' In a 1998 interview, Paco Larrañaga denied having known any of the Chiong sisters who were raped then killed in Cebu City. Video grab courtesy of Case Unclosed
Using an obscure agreement between the RP and Spanish governments, lawyers for rape-murder convict Francisco Juan "Paco" Larrañaga won approval to transfer him to a Spanish prison, raising suspicions that their well-connected client is getting special treatment. Larrañaga is a dual citizen of both countries.
Malacañang denied having any hand in the impending transfer of Larrañaga to Spain, even as the mother of the victims vowed to question the move.
Press Secretary Cerge Remonde said the Palace will leave it to the Department of Justice (DOJ) and the courts to explain the overseas transfer of the convict. The 32-year-old Larrañaga and six others were convicted of kidnapping, illegal detention, rape and homicide in connection with the rape and death of the sisters Jacqueline and Marijoy Chiong.
"We cannot interfere in cases like this. The Justice Department and the courts are handling it," Remonde said in Filipino on government-run dzRB radio.
According to Remonde, Malacañang can only call on all concerned in the case to "observe proper justice and follow the justice system."
Thelma Chiong, the mother of the victims, said she was shocked over the DOJ's sudden approval of the transfer of Larrañaga.
"
Wala. Wala silang sulat, walang contact eh ... Nabigla kami bakit naaprubahan
(We were never informed. We were never told. We were surprised to learn about it just now)," Chiong said in an interview on dzRH radio. [Watch video below to learn more about the Chiong sisters' murder case]
Criminal-friendly administration
She also said the development showed the present administration is "criminal-friendly."
"
Natural ang kanyang sentimento ng isang ina ng biktima ... Again dapat 'di maghihimasok ang Malacañang sa usaping 'yan because ang usaping iyan sa hukuman na
(It is a natural sentiment of a mother of the victims. But again, Malacañang will not step into the picture because the case is in court)," Remonde said.
The DOJ approved the transfer of Larrañaga to a penal facility in Spain to serve the remainder of his life sentence for the rape and murder of the Chiong sisters in Cebu in 1997.
Larrañaga is a scion of Cebu's Osmeña clan and a citizen of Spain by virtue of his father's citizenship.
---

If you committed a crime in the Philippines, you are jailed in the Philippines.

– Thelma Chiong
---
Justice Secretary Agnes Devanadera was quoted in earlier reports as saying it would only be "a matter of time" for him to be transferred to a Spanish prison under the RP-Spain Transfer of Sentenced Persons Agreement.
"
Na-shock kami bakit ang DOJ ang pumirma. 'Di ba ang gumawa ng treaty ang Senate? 'Di ba presidente at Senate mag-approve niyan kung i-transfer talaga si Paco? I heard also ipasa ito sa Congress at ipagawa ng budget. Sinong gagastos para dito, ang mga Larrañaga at Osmeña
(We were shocked to learn the DOJ approved it. Was it not supposed to go through the President and the Senate, as the Senate approved the treaty? I also heard there will be a budget for his transfer. Who will spend for it, the Larrañaga and Osmeña families)?" Mrs. Chiong said.
She said she plans to write the DOJ and question its action.
"
Dapat sulatan ang DOJ. Ang alam ko di dapat siya pumirma ng treaty na yan, di ba doon sa Senate 'yan
(I should write the DOJ. DOJ Secretary Agnes Devanadera should not be the one to approve it. Is it not supposed to go through the Senate)?" she said.
Mrs. Chiong also questioned Larrañaga's status as a dual citizen. But she said that even if he were a Spanish citizen, the crime was committed in the Philippines.
"If you committed a crime in the Philippines you are in jail in the Philippines. 'Di ba marami na tayong Hapon, Korean, American na napreso dito (If you committed a crime in the Philippines, you are jailed in the Philippines. Do we not have Japanese, Korean and American offenders jailed here for crimes committed here)?" she added.
Larrañaga still had to serve 14 years, nine months and 28 days in prison, taking into account his good conduct time allowance.
The Yorac Arroyo Chua Caedo and Coronel law firm, Larrañaga's legal counsel, filed the application for his transfer to a Spanish prison.
- GMANews.TV