Help pours in for stranded OFWs in Saudi Arabia
A HELPING HAND. A concerned member of the Filipino community in Jeddah gives the child of a stranded Filipino worker some food and water. - Ronaldo Concha
JEDDAH, Saudi Arabia -
Help has been arriving nonstop for the swelling number of stranded overseas Filipino workers (OFW) in Jeddah.
"
Nakakataba ng puso na makita ko ang ating mga kababayan na nagbibigay ng oras para lamang makatulong sa amin. Salamat po talaga
(It fills my heart to see our fellow Filipinos use their time just to help us. Thank you very much.)," said Benjamin Infuesto, one of the almost 200 stranded OFWs in Jeddah awaiting repatriation.
Conrado Soriano, or "chairman" as he is fondly called by his fellow stranded OFWs, said that even people who just happen to pass by the consulate eventually return with some kind of help for them.
The workers have set up camp outside the consulate, refusing to get inside the compound, apparently to force consulate officials to act urgently on their request to be sent home.
Workers who escaped from their employers often find it difficult to leave the kingdom because their employers refuse to issue them exit papers.
Jaime Sta. Ana, a Filipina cook at the Baytotee Chinese Restaurant, said she first found out about the stranded Filipinos when she had her passport registered at the Consulate.
Upon seeing their condition, she said she couldn't help but pity the workers and their children, prompting her to ask her colleagues that they do something for them. She and her fellow employees gave the OFWs a sack of rice and some meat.
Another Filipino worker, Reslick Tanjilun, said he first noticed the workers when he registered for the elections at the consulate. He said he was so moved that he e-mailed his colleagues and convinced them to also help the distressed workers.
Among those who have offered help were the Jeddah chapter of the Philippine Institute of Certified Public Accountants (PICPA), some members of the Alhekma International School community, and employees of Hyper Panda department store.
Soriano said an anonymous group of Filipinos gave foams for the women and children to use as temporary bedding and tents as shelter from the scorching heat of the desert sun.
"
Meron nga din nagbigay ng mga sariwang isda kaya kahit nakakahiya na ay wala naman kami magawa kundi tanggapin ang kanilang mga ibinibigay
(Some also gave us fresh fish. However embarrassing, we have no recourse but to receive help)," he said.
BACK from 'HELL'
---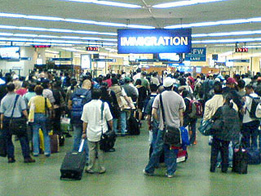 ---
They paid fixers operating around the Philippine Consulate in Jeddah to be able to go back home but were instead made to live under a bridge. They asked the assistance of the consulate but were taken to the police. They endured cramped cells with very little food and water in two deportation centers. And now, some of them are back to describe their harrowing experiences, of dreams turning into nightmares.
An overseas Filipino worker (OFW), who has experienced his darkest moments being stranded in Jeddah, cried his heart out saying the hardships they have experienced in Saudi Arabia were not lies as alleged by Philippine officials and the media.
Read more
Soriano said they are very much grateful for the help that they have been receiving but that they would be happier if they could just go home to the Philippines.
Backdoor exit
According to Anthony Basil, administration staff of the Overseas Workers Welfare Administration, most of the stranded workers are runaways from Riyadh and the Eastern Province. Instead of seeking help from the Philippine Embassy in Riyadh or the Philippine Overseas Labor Office (POLO in Alkhobar, many of the workers opted to travel to Jeddah in hopes of being sent home for free by Saudi authorities.
Some of them even lived under the Khandara Overpass, along with other nationals such as Indians, Pakistanis, and Bangladeshis who are also trying to attract the attention of police so that they would be deported to their countries.[See:
Distressed OFWs under Jeddah overpass swells again
]
Such is the fate of 35-year-old John Lloyd Constantino who arrived in Saudi Arabia last January 8 to work as a welder, but ended up running away from his employer on April 18 because of unjust working conditions.
"
Hindi na ako nakapunta ng konsulada dahil di ko alam kung anong gagawin. Mabuti na lang at may umampon sa aking Pinoy din at natulungan nya akong mabigyan ng trabaho
(I didn't go to the Philippine Consulate because I really had no idea what I should do, I was just lucky that a fellow Filipino took me in and got me a job)," he said.
But upon deciding that he finally wanted to go home, his employer refused return his passport and provide him exit papers. Still, he said he was luckier than other OFWs who were duped by fixers offering deportation in exchange for money.
Liza, another stranded Filipino worker, is a testament to these bogus offers.
Liza arrived in Riyadh in 2005 to work as a secretary. She was forced to run away in 2008 after her manager sexually harassed her.
"
Sinubukan ko kasing magtiis lang muna sa kanyang (manager) ginagawa sa akin pero nitong huli ay hindi ko na kaya dahil hindi lang pambabastos ang ginagawa sa akin kundi pati ang paninira
(I tried to let go of his advances but I was not able to take it anymore when he started to spread false rumors about me)," she said.
KSA's 'backdoor exit'
Jeddah has a systematic deportation system to deal with the perennial problem of overstaying foreigners who go on pilgrimage to the nearby Muslim holy cities of Makkah (Mecca) and Madinah (Medina).
To encourage overstayers to leave, The Immigration and Passport Department accepts those who wish to be deported by waiving required travel documents and accrued fines and providing plane tickets.
Jeddah officials, however, often extend the favor to runaway workers if they are in groups. To take advantage of this exit option, runaways and other overstayers of different nationalities — notably Indians, Pakistanis, Bangladeshis, Sri Lankans and Filipinos — camp under the Khandara Overpass in central Jeddah to make themselves conspicuous. When their numbers swell, immigration police begin to round them up and deport them to their respective countries.
This system has often resulted in workers who have committed crimes to escape, although Saudi authorities often catch those who try to flee the kingdom using this escape route.
- GMANews.TV
This, she said, prompted her to look for an easy way out. She paid for the services of a fixer who promised to have her deported for 1,200 Saudi riyal or more than P15,000. The promise never materialized.
"
Pinakikiusapan ko ang fixer na ibalik nya sa akin ang ibinayad ko pero puro lang pangako ang inaabot ko
(I kept asking my fixer to just return the money but all I get were promises)," she said.
Consulate's help
Consul General Ezzedin Tago assured the workers that his office will not stop looking for a way to send home the stranded workers legally.
In the meantime, Saudi authorities have agreed to move the OFWs to a safe house near the deportation area while their documents are being processed. Vice Consul Lorenzo Jungco explained that the stranded workers have to stay there because the deportation area is full.
Some of the OFWs were happy with the development.
"At least we have a place to sleep comfortably and we can also do now our bathroom thing just not like before that we still have to go the comfort room in the shopping mall to do those things," said Josephine Quitua, one of the stranded workers.
- GMANews.TV