Sen. Noynoy eyes giving up family's rights over Luisita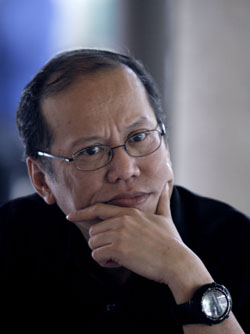 LETTING GO?
Sen. Benigno "Noynoy" Aquino III is considering giving up his family's rights over the Cojuangco-owned Hacienda Luisita.-
File photo by Keith Bacongco
To spare himself from political tirades, Benigno Simeon "Noynoy" Aquino III may have to give up his family's rights over Hacienda Luisita, the 6,435-hectare sugar plantation in Tarlac province owned by the Cojuangco family that was spared from actual distribution to farmer-beneficiaries of the Comprehensive Agrarian Reform Program (CARP) during the presidency of the senator's mother, Corazon Aquino.
"
Sa aking palagay, dapat siguro umalis na ang pamilya ko doon. Hangga't nakikihalo kami diyan, lalagyan at lalagyan lang ng pulitika
(In my opinion, perhaps our family should get out of Hacienda Luisita. For as long as we are involved there, they will always put political color on the issue)," Noynoy told reporters in an interview on Saturday during his visit to a poor community living under a bridge along Araneta Avenue in Brgy. Doña Imelda, Quezon City.
The senator said that he had been consulting his family on the possibility of freeing up their land for the benefit of thousands of hacienda farm workers, even before he announced his bid for the presidency last September 9.
Peping on Noynoy's plan: It's his opinion
---

---
Former Tarlac Rep. Jose "Peping" Cojuangco, Jr. was mum when asked about his position on nephew Noynoy Aquino's intention of giving up his rights over Hacienda Luisita.
"That's his opinion eh.
Hindi ko alam kung ano ang ibig niyang sabihin
(I do not know what he means)," Cojuangco told GMANews.TV in a telephone interview on Saturday.
Cojuangco also said that he did not understand the issues being raised by some groups on his family's 6,435-hectare hacienda, one of the biggest sugar plantations in the country.
The hacienda became controversial after it was placed under the stock distribution option agreement, a non-redistributive scheme under the Comprehensive Agrarian Reform Program implemented during the Aquino administration.
"
Ewan ko kung ano'ng
issue
nila
(I don't what their issue is)," he said.
When further asked to elaborate on his reply, Cojuangco got irked and said, "There is a case in the Supreme Court already. We should not make any more comments."
The Cojuangcos are known for owning vast lands in the country, most notably in the provinces of Negros Occidental and Tarlac.
Peping, who was Tarlac representative when Republic Act 6657 or the Comprehensive Agrarian Reform Law took effect in 1988, is one of the incorporators of Hacienda Luisita Inc., which has 70 percent control over the estate.
- ANDREO C. CALONZO, GMANews.TV
"I had discussed this with my family even before the 2004 dispersal of the farm workers. I believe that this is a business enterprise that can be profitable if it is divorced from politics. Whatever my decision will be, I want to help the farm workers improve their condition," Noynoy said in a separate interview with GMANews.TV on Saturday.
"I owe a lot to them. They are the same people who helped my father when he ran for a post in the Interim Batasang Pambansa elections in 1978, the same people who were there during the wake and burial of my father and my mother," he added.
The senator, however, could not immediately give out details, saying he would release an official statement about his plans for the hacienda in the coming days.
"The question here is how to disengage," Noynoy said, adding that carrying out the plan would not be that easy because it is not just his immediate family who owns Hacienda Luisita Inc. (HLI).
HLI, incorporated on Aug. 23, 1988, controls 70 percent of Luisita's shares of stocks. The firm's incorporators are Noynoy's uncles and aunts: Pedro Cojuangco, Josephine Reyes, Jose Cojuangco Jr., Teresita A. Lopa, and Paz Teopaco, all brothers and sisters of the late President Aquino.
It was Jose Cojuangco Sr. who bought the hacienda and the majority shares of the Central Azucarera de Tarlac from the Spanish Compania General de Tabacos de Filipinas in 1957. The landholding and the sugar refinery were later on transferred to Cojuangco's Tarlac Development Corporation before its spin-off company HLI was registered with the Securities and Exchange Commission.
HLI has been operating in the red, according to the senator.
Noynoy said only 1/32 of HLI's stock shares belongs to him, while the share of his father, martyred senator Benigno "Ninoy" Aquino Jr., had been given away when the latter was still mayor of Concepcion, Tarlac.
The senator declared in his 2001 Statements of Assets, Liabilities, and Net worth that he is a stockholder of Central Azucarera de Tarlac.
The remaining 30-percent stock share was given to farm workers under the CARP's stock option distribution (SDO) scheme, which is being criticized by farmer-activists for allegedly skewing the land-to-the-tiller principle of the program, and for causing widespread poverty among hacienda workers.
The November 14, 2004 violent dispersal of hacienda farm workers clamoring for actual land distribution led to the death of at least seven people.
Learn from Cory's experience
Anakpawis party-list Rep. Rafael Mariano said Noynoy's motivation for giving up his family's rights over the land should not just be based on political and business considerations.
"This is a social justice issue. This has become a life-and-death struggle of farm workers wanting to own the land they till. This is justice for those who died fighting for their rights to the land," said Mariano in an interview with GMANews.TV Saturday night.
"I hope Sen. Noynoy will learn from the lessons during the presidency of his mother when leadership by example became a failure because the CARP was watered down so that the hacienda of the family of President Aquino could be exempted from actual distribution to its tillers," he said.
"He should learn from his mother's experience if he wants to become the nation's leader. His family, including his uncles and aunts who have control over the hacienda should not just support the senator's presidential bid. They should also be ready to give up their rights over the land and give the estate to the farm workers for free if they want to give social justice its true meaning," added Mariano, leader of the militant peasant organization, Kilusang Magbubukid ng Pilipinas.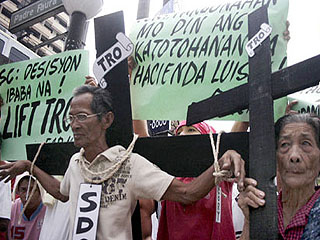 A group of Hacienda Luisita farmers marched to the Supreme Court in March 2008 to demand the lifting of a TRO over the distribution of the hacienda to CARP beneficiaries. GMANews.TV file photo
In December 2005, Agrarian Reform Secretary Nasser Pangandaman and the Presidential Agrarian Reform Council (PARC) issued an order revoking the SDO agreement between HLI and the farm workers. The same directive ordered that the property be parceled out among the workers.
In 2006, however, the Supreme Court stopped Pangandaman and the PARC from distributing the land to the workers after it granted the Cojuangco family's petition for a temporary restraining order. The case remains pending at the high tribunal.
Noynoy said on Saturday that he wanted his family to let go of the land so that he could free himself from any perceived "vested interests."
"
Kapag umalis kami dun, magiging malayang-malaya na ako sa mga sinasabing
vested interests (If we get out of Hacienda Luisita, I will be very free from perceived vested interests)," he said.
- GMANews.TV