'Nando' moves closer to extreme northern Luzon
State weather forecasters have placed more provinces under Storm Signal No. 1 as tropical depression "Nando" continued to move toward northern Luzon.
In its weather bulletin issued at 10:45 p.m, Saturday, the Philippine Atmospheric Geophysical and Astronomical Services Administration (Pagasa) said Nando was last spotted 30 kilometers southeast of Tuguegarao City in Cagayan.
Pagasa said the tropical depression maintained its strength as it packed maximum winds of 55 kilometers per hour near the center. Nando also picked up speed and was moving west-northwest at 19 kilometers per hour.
By Sunday evening, Nando is expected to be 250 kilometers northwest of Laoag City, and 680 km. west northwest of Laoag City by Monday evening.
The following areas were placed under public storm signal no.1: Babuyan Group of Islands, Ilocos Norte, Ilocos Sur, Apayao, Cagayan, Abra, Kalinga Mt. Province, Ifugao, and Isabela
Most of the areas under storm alert experienced heavy rains or stormy weather Saturday, reports said.
"It's raining very hard here. It could cause heavy flooding again," public school teacher Loida T. Hernaez said in a text message Saturday afternoon from Tabuk in Kalinga.
The storm warning in Aurora province has already been lifted.
"This disturbance is expected to enhance the Southwest Monsoon and bring occasional to frequent rains over Western Visayas and the rest of Luzon," Pagasa said.
The weather bureau also advised people living in low-lying areas and near slopes to watch out for possible flashfloods and landslides.
Nando is the third tropical cyclone to hit the country in September and the 14th for 2009, according to Pagasa. Around five to six more typhoons are expected to visit the country till yearend. The Philippines is hit by an average of 20 tropical cyclones every year. [See:
Prepare for more typhoons, possible El Niňo, agencies told
]
3rd in a row
Tropical depression "Labuyo" (Dujuan), the first to hit the country in September, approached the Philippines early last week but changed course days later toward Japan, ultimately leaving Philippine territory by Sunday.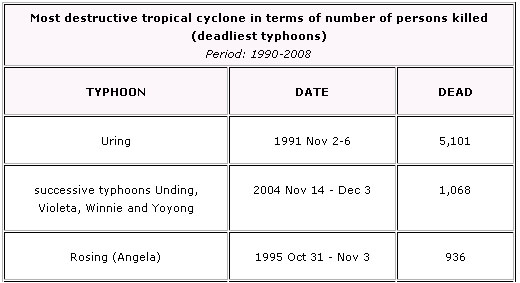 Click on the table to find out more about the most destructive tropical cyclones ever to hit the Philippines in the last two decades.
Three days later, on Wednesday, Labuyo was followed by tropical depression "Maring" (Mujigae), which along with the southwest monsoon submerged several provinces in central Luzon in raging floods.
The government said that the
death toll
from Maring was placed at 11 as of Friday night: eight of them were from central Luzon, two from southern Luzon, and one from Ilocos.
At least three remained missing, including two from the Ilocos region and one from Metro Manila.
The National Disaster Coordinating Center said "Maring" affected at least 81,186 families or 364,953 people in 347 villages in 31 towns and two cities in Zambales, Pampanga, Bulacan, Bataan, and Laguna.
Damage to property rose to P300.041 million, including P63.353 million in damage to infrastructure and P236.688 million in damage to agriculture.
- A. CALONZO, GMANews.TV