Disgruntled Barroca drops out of FEU team, says manager
Far Eastern U will no longer have Andy Barroca for its Final Four campaign in UAAP Season 72.
According to Barroca's manager, Ed Ponceja, the wily guard decided to drop out of the Tamaraws' lineup, disgruntled over what he felt were baseless accusations of game-fixing thrown at him by team officials.
"
Wala na, ayaw na niya maglaro kasi may lamat na yung samahan nila ni
coach (Glen Capacio)," Ponceja said in a telephone interview.
"
Syempre masama loob niya dahil napapagbintangan siya.
So,
para hindi na siya pagdudahan,
he will no longer play
na lang
for FEU. He will just concentrate on his studies and his other team, Smart Gilas," he added.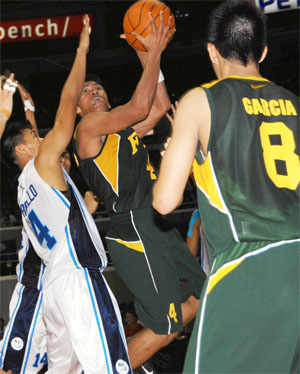 Andy Barroca, center, drives to the basket in an earlier game between FEU and Adamson.
Jeff Venancio
Barroca, a sports recreation management student, is one of the premier point guards in the UAAP. He is also a member of the Smart Gilas national team that is tasked to earn a slot to the 2012 Olympics.
Signs of trouble over at the FEU camp sprouted lately after a disgruntled Barroca skipped the last practice sessions of the Tamaraws.
Ponceja said the "accusations" had a great psychological impact on the pride of Zamboanga. Barroca, he said, opted to make himself scarce as he pondered on his tough decision to stop playing for his collegiate squad.
"
Hindi makatulog
and
hindi makakain yung bata
," said Ponceja. "
Si
Andy is one of those players who dreamed of making big and earn a career playing basketball.
Mahirap lang ang pamilya niyan
. But his family was devastated as well upon hearing such accusations."
Asked whether his ward would consider transferring to other schools, Ponceja said it would not be an option.
"
Sayang naman kasi
30 units
na lang yata
and
kaya na niya tapusin ito
in one-and-a-half year's time," Ponceja said.
According to Ponceja, Barroca was signed to a three-year contract by Smart Gilas. As such, his ward would now devote his time playing for the amateur squad tasked to represent the country in major international tournaments.
He is also expected to be included in the Gilas lineup which would play as guest squad in the Philippine Basketball Association (PBA).
Calls made by GMANews.TV to coach Capacio weren't answered as of posting time.
Barroca's absence in the Final Four will likely affect the Tamaraws' playoffs campaign. FEU finished No. 2 at the end of the elimination round to earn a twice-to-beat advantage against University of the East.
- GMANews.TV