Unstoppable Stags post record—breaking 15th straight win
San Sebastian coach Ato Agustin likes what he sees at the bench and on the court. Despite facing an already-eliminated guest team in Arellano, his wards were all business in crushing the Chiefs, 100-66, for the Stags' 15th straight win in the 85th NCAA seniors basketball tournament.
A lot of it had to do with pride for by going 15-0 Monday at The Arena in San Juan, the San Sebastian cagers rewrote history and notched the longest winning streak in the NCAA vice the 14 strung up by San Beda in 2006.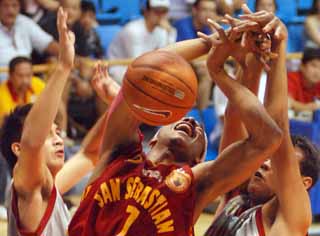 San Sebastian's Calvin Abueva, center, gets shackled by Arellano's Ed Rivera and Jerry Miranda during Monday's 85th NCAA at the Arena in San Juan. GMANews.TV
"Satisfied
ako kasi nakuha namin ang
record
ngayon
," said Agustin, whose squad also moved a win away from the twice-to-beat incentive in the Final Four and three W's from completing a rare sweep that would net an outright finals berth.
"
Siyempre tuwang-tuwa ako dahil naging
aggressive
sila
and they played as a team.
Nakita ko rin sa kanila na gustong-gusto talaga nilang manalo hindi lamang ngayon kundi pati na noong
practice," he added.
Showing such intense desire to win, 6'6 rookie Ian Sangalang pumped in a career-high 28 points along with three rebounds and three blocks; MVP contender Jimbo Aquino fired 21 points and grabbed 15 boards; and rookie Calvin Abueva helped out with 14 markers and 11 caroms.
The Stags will seek that important win-once bonus in the semis via a win over Letran on Friday.
Two more victories after that – against last year's runner-up Jose Rizal on Sept. 30 and reigning three-peat champion San Beda in a sneak preview of this year's finale on Oct. 7 - will complete a sweep and send San Sebastian straight to the best-of-three championship.
The Chiefs, who also lost to the Stags, 49-80, in the first round last July 20, fell to their ninth setback against seven wins but still remained at fifth place.
In the first seniors' game, Mapua whipped up a big third quarter storm as it smashed Emilio Aguinaldo, 87-69, to improve to 4-12.
Mark Acosta paced the Cardinals with 22 points while Erwin Cornejo, Rodel Ranises, Allan Mangahas and TG Guillermo chipped in 14, 11, 10 and 10 points, respectively.
The Generals absorbed their 11th loss against five triumphs.
In juniors' action, four-peat champion San Sebastian walloped Arellano U, 91-34, to barge into the Final Four along with Letran and San Beda.
Mapua slammed EAC, 90-79, in the other juniors' match.
- GMANews.TV
Scores:

1st game (Srs.)

Mapua 87 - Acosta 22, Cornejo 14, Raneses 11, Mangahas 10, Guillermo 10, Sarangay 8, Pascual 3, Stevens 3, Parala 2, Equipolog 2, Maniego 2, Soriano 0, Espinosa 0, Cinco 0, Magat 0

EAC 69 - Mendoza 22, Cubo 14, Santos 9, R. Yaya 8, Chiong 5, Diolanto 4, Jabaybay 4, L. Yaya 3, Liwag 0, del Rosario 0

Quarterscores: 18-17; 48-42; 69-53; 87-69


2nd Game (Srs.)

San Sebastian 100 - Sangalang 28, Aquino 21, Maconocido 14, Abueva 14, Maiquez 7, del Rio 5, Raymundo 4, Najorda 4, Semira 2, Bulawan 1, Gatchalian 0

Arellano U 66 - G. Ciriacruz 21, Rivera 14, Celada 11, I. Ciriacruz 8, Tayongtong 3, Miranda 3, Salcedo 2, Dimla 2, Anquilo 2, Reducto 0, Apostol 0, Agustin 0

Quarterscores: 25-15; 52-32; 75-44; 100-66