UE beats FEU a 2nd time, faces Ateneo in UAAP finals
The hottest teams in the league, Ateneo and University of the East, will figure in the best-of-three finals of UAAP Season 72.
Sustaining the fiery from that enabled it to win its last seven games dating back from the second round of eliminations, University of the East outclassed Far Eastern U for a second time, 78-72, to nail the second finals slot Thursday at the Araneta Coliseum.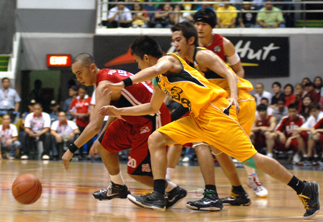 UE's Paul Lee chases the loose ball against the defense of FEU teamates RR Garcia and Aldrech Ramos during their game in the 72nd UAAP men's basketball tournament Thursday at the Araneta Colsieum. - GMANews.TV
Veterans Paul Lee and Pari Llagas presided over a 10-4 windup that allowed the Red Warriors to repeat over the twice-to-beat Tams, whom they defeated, 84-74, in their first game last Saturday.
Lee, hero of the Warriors' previous win that extinguished the Tams' twice-to-beat semis edge, nailed two freethrows that gave UE a 74-70 lead and another pair that handed the Recto-based squad a 78-72 cushion.
For his part, Llagas touched off UE's telling run with back-to-back baskets that put the Warriors ahead by two entering the final 3:52, 72-70.
The Warriors, who went down by as many as 12, at 15-27 in the first period and even faced a 39-49 deficit in the second, thus stretched their win streak to eight games, arranging a title showdown with Ateneo beginning Sunday at 3:30 p.m. also at the Big Dome.
The Blue Eagles are themselves enjoying a big win run since the elims, 11 to be exact, including an 81-64 demolition of No. 4 Santo Tomas last Sunday.
It was a sorry loss for the No. 2 Tams, who sorely missed the leadership of the controversial Andy Mark Barroca. The Tams had dropped Barroca from their lineup since the start of the Final Four amid accusations of game-fixing.
- GMANews.TV