Ateneo, UE aces lead special awardees
Players from this year's finalists Ateneo de Manila University and University of the East carted away with most of the special awards given by the UAAP.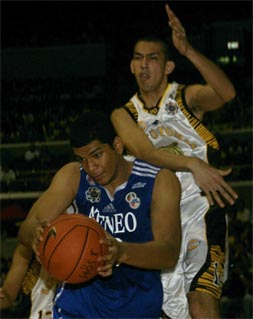 Ateneo's Rabeh Al-Hussaini, left, draws a foul from UST's Khasim Mirza during one of their elimination encounters. Mike Taboy
The awards were handed before Thursday's start of Game 1 of the best-of-three title series between the defending champions Blue Eagles and the underdog Red Warriors at the Araneta Coliseum.
Leading the list was Season 71 most valuable player (MVP) Rabeh Al-Hussaini of Ateneo who was joined by Eric Salamat to claim the "Duo of the Season".
Al-Hussaini averaged 16.3 points and 7.0 rebounds this season while Salamat logged in 12.8 points, 2.6 rebounds, 3.7 assists and 2.3 steals per game to also grab the Most Reliable Player.
Nico Salva won for the Eagles their third individual award when he was named as the league's Sixth Man with per game averages of 7.5 points and four rebounds coming off the bench.
UE also won three individual awards with Elmer Espiritu bagging two with the Highlight Player of the Year and the Defensive Player trophies while prolific guard Paul Lee was named the Most Improved Player this season.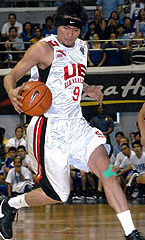 Elmer Espiritu
Espiritu, the Warriors' high-flying forward finished the season with 13.9 points, 7.5 rebounds and 2.6 blocks per game averages while Lee upped his numbers to 15.3 points, 5.9 rebounds and 5.0 assists.
UST won the other two individual awards with Dylan Ababou taking the scoring title (Champ of the Season) while Jeric Fortuna was the Star Shooter after posting a 46 per cent clip from the three-point zone.
Ababou, who will formally receive the season MVP trophy before Sunday's Game 2, had per game averages of 18.9 points, 7.1 rebounds and 2.1 assists while Fortuna shot 21-of-46 from beyond the arc aside from posting 8 points, 3.3 rebounds, four assists and 1.6 steals the entire season.
– GMANews.TV