Pasig, Taguig floods may remain for one more month
Residents of Pasig and Taguig cities will have to endure one more month of floods due to Laguna de Bay's elevated water level, officials said.
In an interview with GMANews.TV on Thursday, Metropolitan Manila Development Authority (MMDA) chairman Bayani Fernando said pumping stations could do nothing to lower the floodwater level in parts of Pasig City.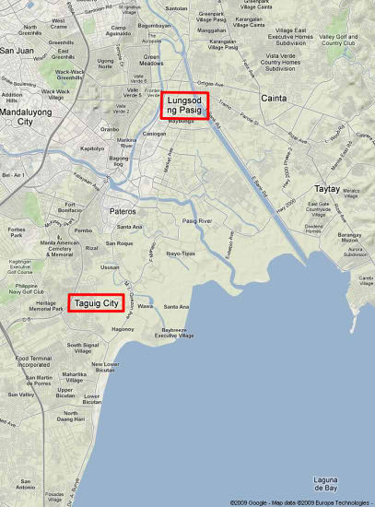 Image grabbed from Google Maps
"
Wala tayong magagawa dito dahil lebel na ng
Laguna de Bay yan (We can't do anything about the floodwater level here because that is already the Laguna de Bay's level)," he said, adding that he expects the floods to subside in no less than a month.
According to Fernando's technical consultant Martin Ongpin, the level at the mouth of the Napindan Channel, which connects Laguna de Bay to the Pasig River, is now 13.3 meters, almost two meters higher than the normal 11.5 meters.
Pasig City Mayor Bobby Eusebio said at least seven out of the city's 30 barangays still suffer from floods that can sometimes reach waist-level. These barangays include Pinagbuhatan, Bambang, Palatiw, Santo Tomas, Sagad, Kalawaan, and Sumilang.
Eusebio dismissed speculation that drainage problems prevent the floods caused by tropical storm "Ondoy" from subsiding.
"
Kung
drainage problems
ang pag-uusapan, bumagyo
last year
at sa iba pang
years
pero sa amin
two hours, three hours
lang humuhupa na
(If the floods were caused by drainage problems, well there were storms last year and the years before, but the waters then would subside after two or three hours)," he told GMANews.TV in an interview.
Overflow to blame for Taguig floods, too
Taguig City Mayor Freddie Tinga likewise said the barangays most affected by "Ondoy" in his city are those situated near Laguna de Bay, such as Wawa, Napindan, Ibayo, and Lower Bicutan.
He said 15 out of the 28 barangays in the area still experience ankle-deep to chest-deep floods which may not subside for two weeks to a month.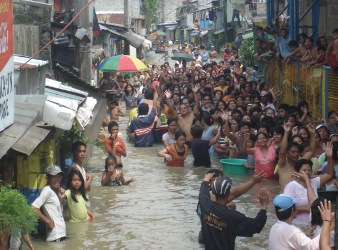 Residents of Brgy. Kalawaan in Pasig City line up in the murky water to get relief goods from city officials.
Photo by Jam Sisante
"We expect this to be a long flood. Taguig is a low-lying city. It may take a month before the flood subsides," he said in a phone interview with GMANews.TV on Wednesday.
"Flooding is really bad in those areas because it is an overflow of the lake," he added.
Tinga said rescue teams need to go from house to house in these areas to deliver relief goods since residents could not go to evacuation centers anymore due to heavy floods.
The mayor also said there were even reports of looting in Bay Breeze Executive Subdivision.
"We already making sure the area is guarded," he said, adding that those who want to help relief efforts in Taguig can contact the hotline 1623.
'Only water'
In Brgy. Pinagbuhatan in Pasig City, hungry residents' scrambling for relief goods on Wednesday nearly caused a riot.
The situation was not nearly as chaotic when Pasig City officials delivered relief goods to Brgy. Kalawaan on Thursday morning, but residents in the area, where floodwater is waist-deep, lamented their sorry state.
Richard, a 29-year-old jeepney driver, said he, his pregnant wife, and their eight-year-old child have been sleeping on their roof since "Ondoy" struck Saturday. Their electricity and phone lines have also been cut off since the storm. Only the water supply is available.
"
Mapalad lang yung iba, may
second floor. Pero yung iba sa kisame, sa bubong (Others are lucky because their houses have second floors. But others sleep on the roof)," he said. "Yung inaalala ko yung baby e. Tapos malamok pa sa gabi (I'm worried about the baby. Plus there are mosquitoes at night)."
Richard said he and his companions wade through the flood to purchase food. "
Puro alipunga na paa namin, pero wala, tinatiyaga na lang kasi wala kaming makain
(We're getting athlete's foot but we have to do it, otherwise we won't have anything to eat)," he said.
"
Sabi ko nga sa kanila, inumin niyong lahat ng tubig para kahit papano mabawas-bawasan, bumabaw
(I told them, drink the water from the flood so it will go down somehow)," Richard joked.
According to the National Disaster Coordinating Council (NDCC), "Ondoy" caused an estimated P4.8 billion in damage across the Metro Manila, Central Luzon and Calabarzon regions.
In its latest report
, the NDCC also pegged the number of fatalities to 277. The death toll is expected to rise pending reports from local government officials.
- GMANews.TV