'Pepeng' to hit N. Luzon Saturday as 'super typhoon'
While state weather forecasters have yet to declare 'Pepeng' (international name Parma) a super typhoon, US meteorologists project that it will reach a speed that will qualify it as one as it heads for Northern Luzon to make landfall by early Saturday afternoon.
PAGASA'S CLASSIFICATION
OF TROPICAL CYCLONES
The Philippine Atmospheric, Geophysical and Astronomical Services Administration classifies tropical cyclones according to their degrees of intensity.
TROPICAL DISTURBANCE
: A discrete weather system with an apparent circulation. It is characterized by a poorly developed wind circulation of weak velocities and with one or no closed isobars (
isobars
are lines of equal pressures). This is commonly observed throughout the wet tropics and sub-tropics.
TROPICAL DEPRESSION
: A weak low pressure disturbance with a definite surface circulation having maximum wind speed of up to 63 kilometers per hour (kph). It has one or more closed isobars and is most common in the equatorial regions or intertropical convergence and less frequent in the trades.
TROPICAL STORM
: A moderate tropical cyclone with maximum wind speed of 64 to 118 kph and with closed isobars.
TYPHOON:
An intense tropical cyclone with maximum wind speed exceeding 118 kph.
SUPER TYPHOON:
A more intense tropical cyclone with maximum wind speed exceeding 220 kph.
Sources: Pagasa weather bureau chief Nathaniel Cruz and Pagasa's article.
In its 11 a.m. bulletin, the Philippine Atmospheric Geophysical and Astronomical Services Administration (Pagasa) said 'Pepeng' packs maximum sustained winds of 195 kilometers per hour near the center and gustiness of up to 230 kph. It is currently moving west northwest at 19 kph.
At this strength and speed, Pagasa has categorized 'Pepeng' as a typhoon. (See sidebar for Pagasa's classification)
But according to the US-based Naval Research Laboratory Monterey Marine Meteorology Division, 'Pepeng's wind speed will reach 232 kph and gustiness of up to 269 kph by Thursday afternoon, which places it in the super typhoon category, which includes any wind speed above 220 kph. The US Navy expects the Pepeng to slow slightly to 222 kph when the eye of the storm hits Cagayan province at around 2 p.m. Saturday afternoon.
Pagasa weather bureau chief Nathaniel Cruz told GMANews.TV that the last time a super typhoon hit the country was in 2006, when 'Reming' battered the Bicol region. It was also the last time that Storm Signal No. 4 was declared in the Philippines. [See:
RP's worst tropical cyclones
]
32 areas threatened by 'Pepeng'
With Pepeng approaching, Pagasa placed 32 areas under storm alert signals, prompting the government to alert officials to prepare for preemptive evacuation.
AREAS with STORM SIGNALS DUE TO 'PEPENG'
---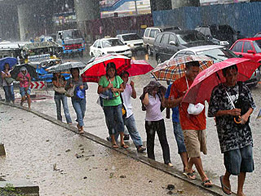 ---
AREAS UNDERSTORM SIGNAL NO. 1
LUZON
Ilocos Norte
Ilocos Sur
Abra
Apayao
Kalinga
Cagayan
Babuyan Islands
Mt. Province
Ifugao
Benguet
La Union
Nueva Vizcaya
Quirino
Pangasinan
Nueva Ecija
Tarlac
Zambales
Pampanga
Bulacan
Rizal
Southern Quezon
Camarines Sur
Albay
Sorsogon

VISAYAS
Burias Island
Northern Samar
AREAS UNDER STORM SIGNAL NO. 2
LUZON
Isabela
Catanduanes
Camarines Norte
Northern Quezon
Aurora
Polillo Islands
The National Disaster Coordinating Council (NDCC) said its provincial counterparts in Aurora, Nueva Vizcaya, Tarlac, Bataan, Zambales, Pampanga, and Bulacan should "undertake close monitoring, precautionary measures and implement preemptive evacuation as situation warrants."
During the NDCC meeting on Friday in Cainta, Rizal, President Gloria Macapagal Arroyo called up various local officials to ensure that their constituents are prepared to evacuate when necessary. [See:
RP under state of calamity as 'Pepeng' approaches
]
Among them was Quezon governor Rafael Nantes, who said residents of Polillo islands are already evacuating their homes.
In a phone interview with GMANews.TV, Aurora Rep. Juan Edgardo Angara said residents of the province are also prepared to evacuate once they get the signal from authorities. [See:
Evacuation of 100,000 residents near Laguna lake recommended
]
"
Winarn na yung mga tao na i-pack na yung things nila para madali nang maka-
evacuate (The people have been warned to pack up their things so it'll be easy to evacuate)," he said, adding that local officials are now on standby.
Schools and covered courts which will serve as evacuation centers have also been prepared, said the congressman. [See:
CHED suspends classes in seven Luzon regions
]
Pagasa advised residents in low-lying areas and near mountain slopes under both storm alert signals to "take all the necessary precautionary measures against possible flashfloods and landslides."
Areas under Signal No. 2 are also advised to be on alert against big waves generated by the typhoon, even on Luzon's western coast, the weather bureau said.
Last week tropical storm 'Ondoy' unleashed record-level rainfall in Luzon, including Metro Manila, causing massive floods and damage to property. The NDCC pegged the death toll at 293, but this figure is expected to rise as more bodies are found in areas still submerged in water.
- with Joseph Holandes Ubalde, Howie Severino and Odi de Guzman, GMANews.TV