State of calamity declared nationwide due to 'Pepeng'
The government on Friday placed the country under a state of national calamity in preparation for the expected onslaught on Saturday afternoon of typhoon 'Pepeng' (international name 'Parma'). The expected landfall is in Cagayan province in northern Luzon.
In a radio interview, Press Secretary Cerge Remonde said the decision was arrived at with the concurrence of President Gloria Macapagal Arroyo and the National Disaster Coordinating Council (NDCC).
"
Nagkasaundo ang NDCC with the approval of President Arroyo na ideklara ang state of calamity sa buong bansa
," Remonde said after emerging from a Cabinet meeting led by Arroyo in Cainta, Rizal Friday morning.
(President Arroyo approved the NDCC recommendation to declare a state of calamity in the entire country.)
Remonde said the government decided to declare a state of calamity "so that all government officials could already use or be prepared for the five percent calamity fund." Local governments are required by law to set aside five percent of their annual budgets for calamities.
"Second [reason], para mas epektibo ang implementasyon ng price control of basic commodities (This will alo allow for the effective implementation of price control of basic price commodity)," Remonde added.
Defense Secretary Gilbert Teodoro, who is NDCC chairman, said the calamity fund, taken from the annual budget, would be used to finance relief, reconstruction, and rehabilitation.
Sharing of calamity funds among local governments
Deputy presidential spokeswoman Lorelei Fajardo said Mrs. Arroyo does not want a repeat of the "Ondoy" tragedy where many local governments were caught flatfooted.
"
Gusto (ni presidente), maging proactive tayo para sa preparation pa lang, kung sa tingin nila may kailangan na equipment for preparedness pwede nila gawin ngayon
(The President wants us to be proactive in preparing. If the local governments think they need funds for this or that, they are empowered to do so now)," Fajardo said in an interview on dzBB radio.
In a telephone interview with GMANews.TV, Fajardo also explained that a state of national calamity could pave the way for rich cities to easily use their calamity funds to help poor areas that were devastated by tropical storm "Ondoy" last Sept. 26 to 27.
AREAS with STORM SIGNALS DUE TO 'PEPENG'
---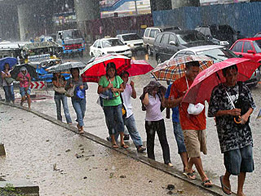 ---
(Data from Pagasa as of 5 p.m. Oct. 2 weather bulletin)
AREAS UNDERSTORM SIGNAL NO. 3
LUZON
Catanduanes
AREAS UNDER STORM SIGNAL NO. 2
LUZON
Cagayan
Isabela
Aurora
Quirino
Northern Quezon
Polilio Islands
Camarines Norte
Camarines Sur
continue
"Other municipalities, local government units which are not affected can use their calamity funds by donating to affected areas," she said.
She also allayed fears that the declaration could be abused by areas that would not be affected by typhoon "Pepeng."
Fajardo said even though there was a national declaration, LGUs are still required to come up with a resolution, which would be subject to the approval of the Sangguniangbayan, on how the funds would be utilized.
Possible price controls
Remonde said the declaration was also made
"para mas epektibo ang implementasyon ng
price control of basic commodities (The declaration will also allow for the effective implementation of price control of basic price commodity)."
During the Cabinet meeting, Trade Secretary Peter said market administrators have been ordered to ensure that proper prices on basic goods are in place.
Favila said they are also looking into the possibility of including under price control some non-basic commodities like construction materials and funeral services.
In its 5 p.m. bulletin, the Philippine Atmospheric Geophysical and Astronomical Services Administration (Pagasa) said 'Pepeng' packs maximum sustained winds of 195 kilometers per hour near the center and gustiness of up to 230 kph. It is currently over the western Pacific Ocean and moving west northwest towards the Philippines at a speed of 13 kph.
At this strength and speed, Pagasa has classified 'Pepeng' as a typhoon. Storm warnings have already been hoisted over 39 areas in Luzon and Visayas. So far, Catanduanes is the only province under SIgnal No. 2. The remaining affected areas are under Signals No. 1 and 2.
Signal No. 1 was placed over Metro Manila late Friday afternoon.
According to the US-based Naval Research Laboratory Monterey Marine Meteorology Division, 'Pepeng' has already reached wind speed of up to 222 kph and gustiness of up to 269 kph as of Thursday morning, which places it in the super typhoon category. But US Navy data shows the typhoon to be slowing down and is projected to hit Luzon at below 200 kph.
Fear of rain
Pagasa weather bureau chief Nathaniel Cruz told GMANews.TV that the last time a super typhoon hit the country was in 2006, when 'Reming' battered the Bicol region. It was also the last time that Storm Signal No. 4 was declared in the Philippines.
Canceled flights
So far, twenty-six domestic flights have been canceled Friday as airlines braced for Pepeng, which is expected to bring less rains but more "destructive" winds, according to Pagasa.
In terms of sea travel, almost 1,100 people were stranded in various ports in Bicol after the Philippine Coast Guard ordered a sea travel ban in areas where storm signal warning were placed.
In Quezon province, a total of 160 people were stranded at the ports of Lucena City and Real town, also due to the sea travel ban.
The Coast Guard bans travel for vessels weighing less than 1,000 tons during Signal No. 1, but bans sea travel altogether during Signal No. 2 and higher.
Residents in Polillio Islands in Quezon have already fled their homes, while the local governments in other Luzon provinces like Aurora and Laguna said they were prepared to implement preemptive evacuation.
Pagasa said major water reservoirs in Luzon continue its gradual releasing of water to make room for the rains that Pepeng is expected to bring into the country.
"Continuous na po ang pagpapalabas hanggang dumating si [Pepeng]… Ito ay ititigil lang kapag nag-normalize na ang levels ng dam," said Susan Villanueva, chief of Pagasa's flood control unit.
Angat Dam in Bulacan, Caliraya Dam in Laguna, and Magat Dam in Isabela have all earlier released water from their reservoirs to prevent an overflow of water.
- GMANews.TV