(UPDATE) 26 domestic flights canceled as Manila braces for 'Pepeng'
(Updated 6:30 pm)
Twenty-six flights were canceled Friday as airlines braced for typhoon Pepeng, which continued to gain strength as it roared towards Northern Luzon.
The Manila International Airport Authority said Cebu Pacific canceled twelve flights, Philippine Airlines canceled eight flights, while Zest Air canceled four of its scheduled flights Friday, including return flights.
Four of the canceled trips are flights originating from the Centennial Terminal 2 of the Ninoy Aquino International Airport (NAIA), 16 flights from the NAIA Terminal 3, and six flights from the Manila Domestic Airport.
Below is a list of canceled flights as of Friday afternoon: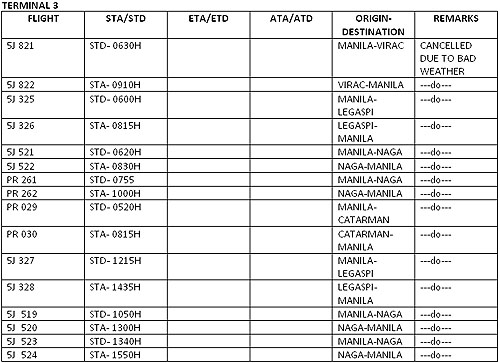 According to the US-based Naval Research Laboratory Monterey Marine Meteorology Division, 'Pepeng' had reached wind speeds of up to 222 kph and gustiness of up to 269 kph, which places it in the
super typhoon category when it makes landfall
in the northern Philippines on Saturday.
Six areas in northern and eastern Luzon have been placed under Signal No. 2 while 24 areas in Luzon and two areas in the Visayas are under Signal No. 1.
On Friday, a radio report said about 60 people were stranded at the Lucena City port in Quezon province after the Philippine Coast Guard prevented sea craft from traveling to areas where storm alerts have been raised. Three cargo trucks were also stranded at the same port.
In Real town in Quezon, 100 passengers bound for the Polillo Islands were also stranded due to the sea travel ban. -
Mark Merueñas, GMANews.TV