'Pepeng' downs power and cell services in NE Luzon
(UPDATE 5 - 09:38 a.m.)
In many areas in northeastern Luzon, power and cell phone services were gone with the wind, leaving many affected communities without communication. Typhoon "Pepeng" arrived on Saturday afternoon and also brought enough rain and destruction to render major roads impassable.
The conditions and locations of some of these damaged roads are described
here.
GMANews.TV is updating its
Pepeng disaster map
with the latest information on roads, waterways, and evacuations gathered from various sources.
In its 6 a.m. report on Sunday, the National Disaster Coordinating Council (DCC) only confirmed two fatalities. Another two were confirmed dead earlier by local officials in Isabela.
The NDCC identified the two fatalities as Roger Moreno of Naga, Camarines Sur; and Edwin Domagsang, 20, of Baao, Camarines Sur.
Domagsang reportedly died after strong currents brought by Pepeng swept him away. Moreno fell off the roof of his house as the typhoon passed through the Bicol Region, blowing down structures in the area.
Another man in Isabela man died from drowning and another was killed after being exposed to the cold and wet weather, Lt. Col. Loreto Magundayao of an army division based in the province, told the Associated Press earlier.
At least one person - Jun Paga, 54, of Tabuk in Kalinga - was injured while repairing his house's roof, while Amadeo de Vera, 13, of Calasiao in Pangasinan was reported missing.
'Pepeng's landfall
On late Saturday evening in Cagayan province, at least 6,036 people in 39 barangays (villages) were affected, while an estimated P20.33 million worth of agricultural produce was destroyed by Pepeng, the 16th weather disturbance that hit the country made landfall in the province at 3 p.m. Saturday, the information came from Cagayan police chief Moro Virgilio Lazo.
Pepeng packed maximum sustained winds of 175 kilometers per hour and gustiness of up to 210 kph, making it the strongest typhoon that battered the country in three years. It later weakened and slowed down hours after it struck northeastern Luzon.
(SEE: Pepeng weakens, slows down after battering NE Luzon)
AREAS with STORM SIGNALS DUE TO 'PEPENG'
---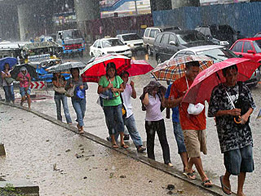 ---
(Data from Pagasa as of 11 a.m., Oct. 4 weather bulletin)
UNDER STORM SIGNAL NO. 3
* Batanes
* Northern Cagayan
* Babuyan Island
* Calayan Islands
* Ilocos Norte
* Apayao
UNDER STORM SIGNAL NO. 2
* Ilocos Sur
* Abra
* Kalinga
* Rest of Cagayan
UNDER STORM SIGNAL NO. 1
* La Union
* Benguet
* Mt. Province
* Northern Isabela
It was "chaos" in Cagayan, according to Aileen Torres, provincial administrator of the Philippine National Red Cross. "The winds and rains are so strong. Power is out and we are relying on generators," she said Saturday.
Power outages, impassable roads
In the Cordillera mountain range, the Chico River swelled due to the typhoon, making the Maguilling Overflow Bridge along the Cagayan-Apayao Road impassable, the National Disaster Coordinating Council said in its situation report as of 4 p.m.
Also, the Maharlika Highway in Ilagan, Isabela to Cagayan became hardly passable due to the trees and electric posts that fell when Pepeng battered the area.
Total power interruption also crippled the provinces of Kalinga, Apayao, and the northern towns of Isabela, according to a report from the Office of the Civil Defense.
In Kalinga, landslides were reported on roads linking the provincial capital, Tabuk, to upland towns.
In Zambales, at least 2,100 families were evacuated as Pepeng brought heavy rains causing the Bucao River to swell. The Carael section of the Zambales highway became impassable due to rising flood waters.
Weather bureau chief Prisco Nilo warned that the heavy rain could trigger landslides and flooding, and strong winds could create tidal surges "similar to a tsunami" along the eastern coast.
After the storm changed course, officials began moving back tens of thousands of people who had been evacuated from coastal areas that might have been in the path of the storm.
Taiwan issued a storm warning and began moving people out of villages in the southern county of Kaohsiung, local official Lin Chun-chieh said. Flash floods from the last typhoon to hit the Kaohsiung area killed about 700 people in August.
The earlier storm to hit the Philippines, "Ondoy" (Ketsana), that killed close to 300 people, went on to hit other Southeast Asian countries, killing 99 in Vietnam, 14 in Cambodia and 16 in Laos.
It was part of more than a week of destruction in the Asia-Pacific region that has claimed more than 1,500 lives so far: an earthquake Wednesday in Indonesia; a tsunami Tuesday in the Samoan islands; and Typhoon Ketsana across Southeast Asia.
Another typhoon, "Melor," was churning in the Philippine Sea, 1,600 miles (2,575 kilometers) to the east, threatening the U.S. territory of the Northern Mariana Islands.
Most businesses there were closed Saturday morning, and residents of the island of Saipan who don't live in concrete homes moved to typhoon shelters, said Charles Reyes, Northern Marianas Gov. Benigno Fitial's press secretary.
- GMANews.TV with reports from AP