Mendoza's MVP-like performance lifts Generals to triumph
Emilio Aguinaldo leaned on Argel Mendoza's strong effort as it repulsed fellow guest team Arellano U, 86-81, to avenge its first round defeat and close in on a respectable campaign the 85th NCAA basketball tournament at The Arena in San Juan City.
Mendoza, a cinch in the first Mythical Team, spewed 29 points as the Generals exacted revenge on the Chiefs, who whitewashed them, 62-80, in the first round, while inching closer to a respectable sixth place finish with a 6-11 (win-loss) record.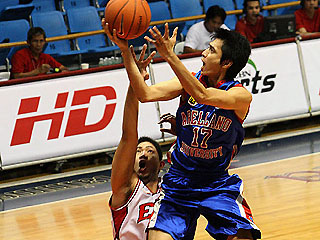 Arellano's Jerry Miranda goes for a basket over Emilio Aguinaldo's Lowell Yaya Monday during the 85th NCAA game at The Arena in San Juan. GMANews.TV
EAC hopes to put a seal to the No. 6 spot with a win over last year's losing finalist Jose Rizal on Friday. The Bombers, though, are not expected to give it to the guest team, being in the thick of the hunt for the twice-to-beat bonus in the Final Four along with reigning three-peat champion San Beda and current leader San Sebastian.
Playing like a real MVP for his team, Mendoza delivered when it mattered the most, sneaking past Giorgio Ciriacruz for a basket that gave the Generals an 83-79 cushion with 24.7 seconds to go.
It turned out that was enough to zap the fight out of Arellano.
"If we are still in contention for the Final Four, Argel (Mendoza) is a shoo-in as a MVP candidate. He played an MVP-like performance game today," EAC coach Nomar Isla said.
Isla said he's happy with the Generals' showing this season, being a guest team and all.
"We pray that we can extend another year of competing in the NCAA. We complied with our requirements in our participation, not only in basketball but in other sports. I'm just keeping our fingers crossed on what will happen next," said Isla, who is also EAC's athletic moderator.
The scores:

First game (Srs)

Aguinaldo 86 – Mendoza 29, Santos 16, Chiong 13, Yaya L. 7, Yaya R. 7, Cubo 5, Jabaybay 5, Diolanto 4, Del Rosario 0, Liwag 0.

Arellano 81 – Ciriacruz G. 28, Celada 13, Rivera 10, Apostol 9, Miranda 9, Ciriacruz I. 8, Agustin 2, Virtudazo 2, Anquilo 0, Catapang 0, Reducto 0, Tayongtong 0.

Quarterscores: 16-17; 38-37; 61-61; 86-81

Second Game (Srs)

Angeles 73 – Santos 16, Fuertez 14, Carney 13, Manarang 13, Gigante 6, Nacu 5, Dumlao 2, Henson 2, Musni 2, Cayanan 0, Maniago 0, Perez 0, Sazon 0.

Perpetual Help 66 – Carrullo 19, Elopre 19, Roño 8, Ynion 4, Sicat 4, Liaz 3, Salvado 3, Hainga 2, Salanga 2, Vivero 2, Galabin 0.

Quarterscores: 17-24; 30-34; 45-50; 73-66

Jay Santos added 16 points and five rebounds while Franz Chiong chipped in 13 points to help the cause of the Generals.
Ciriacruz, who also has a strong chance of making it to the elite Mythical Five, bulldozed his way to 28 points, 10 boards, four assists and two steals while Adrian Celada had 13 points, five caroms and two steals but they couldn't prevent the Chiefs from falling to their 10th defeat against eight triumphs.
Arellano U, a former NCRAA and Fr. Martin Cup champion, nonetheless finished fifth, the strongest among the three guest teams that entered this year, with an 8-10 mark.
In the second game, Aaron Santos uncorked 16 points, including a back-breaking triple with 29 ticks to go, as Angeles U Foundation stunned Perpetual Help, 73-66, to finish the tournament with a 2-16 card.
The Altas fell to their 14 setback against three wins.
In juniors' action, Joseph Eriobu fired 23 points while Justine Alano scattered 19 points and 11 caroms as Perpetual Help smashed Angeles U Foundation, 115-33, to close in on idle Jose Rizal with a 10-7 mark.
Arellano, meanwhile, downed EAC, 70-59, to finish the season with a 5-13 slate.
- GMANews.TV