Pumaren, Dandan part ways with UAAP teams
De La Salle University and National University will have new coaches next year as both schools aim for a better finish in UAAP Season 73.
La Salle announced Wednesday that they already parted ways with long-time Green Archers coach Franz Pumaren, who decided to resign as head coach effective December 2009.
Also tendering his resignation is La Salle team manager Agapito "Terry" Capistrano.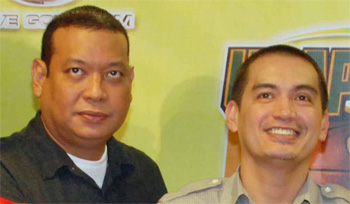 Manny Dandan, left, and Franz Pumaren pose for photographers in this photo taken during the press conference of UAAP Season 72 last July. GMANews.TV
La Salle UAAP board representative Bro. Bernard Oca, in a statement, confirmed Pumaren and Capistrano's resignation and thanked both men for their contribution in the Green Archers' basketball program.
"We would like to thank coach Pumaren for his hard work, dedication, and invaluable service to De La Salle University. We wish him and Terry Capistrano the best in their new pursuits," said Oca.
Oca said Pumaren expressed to pursue other endeavors aside from coaching while Capistrano would concentrate on his business.
"(Capistrano) wants to give others a chance to manage such a prestigious team," said Oca on the long-serving La Salle team manager, who managed the Archers for nine years.
Taking over as La Salle's coach is Pumaren's assistant and younger brother Dindo, who will sit as the Taft-based dribblers' bench tactician starting January 2010.
The older Pumaren will still serve La Salle as its basketball consultant and will also coach the Green Archers' title defense bid in the Philippine Collegiate Championship League (PCCL). He will officially turn over the coaching reins to Dindo in December.
Pumaren replaced La Salle coach Jong Uichico in 1998 where he steered the Archers to one of their five UAAP titles in his rookie year.
In his 11 years as La Salle coach, Pumaren also steered the Archers to nine UAAP finals appearances.
La Salle, which has not missed the Final Four bus since the league used the format in 1994, failed to earn a slot this season ending up tied with Adamson from fifth to sixth places with similar 5-9 cards.
La Salle also won titles in the PCCL (2008), FilOil Flying V MVP Cup (2006 and 2007), Nike Summer League (2007), Fr. Martin Cup (2004) and NCRAA (1998 and 1999). He was also voted as the 2007 coach of the year by the UAAP and NCAA Press Corps.
A new face will also be seen in the Bulldogs' bench next year after the NU board decided to terminate the contract of coach Manny Dandan, who steered the Sampaloc-based squad to its first Final Four appearance in 2001.
"The NU board decided to terminate the coaching services of Manny Dandan. We are now in search for a new coach but there are no specifics yet," said NU athletic director and multi-titled coach Junel Baculi in a telephone interview.
After 2001, NU went back to its losing ways with a sixth place finish in 2007 its highest after six years. The Bulldogs finished tied from seventh to eighth places with the UP Fighting Maroons this season with similar 3-8 slates.
One of NU's victories in Season 71 was a 63-61 upset over La Salle that ended the Archers' Final Four hopes.
Baculi said that they are also talking to a number of applicants but chose not to divulge their names. "We are currently in exploratory talks with a number of applicants but management told me to be quiet and not to divulge their names. As soon as we chose a new coach we will announce it."
"Our criteria for a new coach are, first he should have made a name in the local basketball scene and also achieved something," added Baculi.
– Jonathan Perez, GMANews.TV