Trapped Pangasinan residents look to sky for help
Residents in the flooded town of Urbiztondo in Pangasinan have been looking up at the sky. Aside from divine intervention, they are looking for helicopters to arrive and lift them from their rooftops. With roads impassable all around them, that may be their only hope of quick salvation.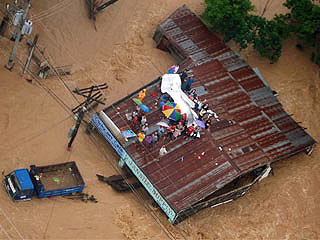 Trapped residents stay on top of a roof in Rosales town Friday as lingering typhoon 'Pepeng' turned portions of Pangasinan into 'one big river.' AP-PCG
After the Bayambang dike was breached on Friday, flood waters swept through many homes in Urbiztondo, causing residents to settle on their rooftops. Reports said some 150 people in Barangay Baug remain stranded on the rooftops of their homes.
Despite their repeated calls for choppers, none have arrived. Pangasinan authorities said they have no other recourse but pray for the victims of tropical depression "Pepeng."
"
Humingi kami ng chopper pero walang dumadating. [Kaya] Idinadaan na lang naming sa prayers
(We asked for choppers but none arrived. That is why we are just left to pray for the safety of the victims)," said Urbiztondo mayor Ernesto Balolong on Saturday over ANC.
According to Balolong, rescue efforts have been hampered by having only two rubber boats. Worse, rescuers manning these seacraft are exhausted from rescue operations that began Friday.
"
Marami tayong taong naiwan doon sa riverside. Sa bawat bahay kasi nag-iiwan sila ng isang lalaki [para bantayan]. Hindi namin mapilit
(We have a lot of people still by the river side. In every household they leave a man to guard the house. We can't force them)," Balolong said.
The situation in Urbiztondo illustrates how the provincial governments in northern Luzon have been struggling to save lives and property ravaged by the widespread floods. [See:
Churning floods toy with rubber boats, delay rescues
]
The death toll in northern Luzon has surged to 184, with most victims killed by landslides and floods. [See:
'Pepeng' moves out of RP, rains loom over western Luzon
]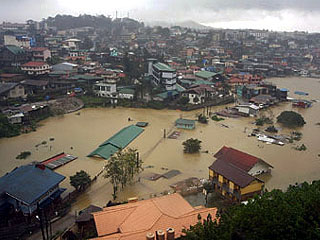 Floodwaters submerged most parts of City Camp Lagoon in Baguio City as typhoon 'Pepeng' continues to dump rain Friday. GMANews.TV
In Pangasinan, only a small fraction of the province remained dry after record levels of flooding submerged over 30 towns and cities starting Friday, including Dagupan City and Urbiztondo town.
The floods were triggered by the heavy downpour from Pepeng, and further aggravated by the release of water from the San Roque Dam.
The National Disaster Coordinating Council said the other Pangasinan towns where dikes collapsed due to heavy flooding include Rosales, Bued, Tayug, and San Fabian towns. [See:
No truth to text messages that San Roque dam is collapsing - NDCC
]
Damage
A total of 2,992 families or 13,763 people are currently staying in 51 evacuation centers in the Ilocos Region. "The figures may continue to go up as reports are still coming from Regions I, II, III, and CAR," the NDCC report said.
The NDCC that national roads going to the affected regions are reportedly with "cuts due to landslides debris and washed-out debris rendering some areas non-passable."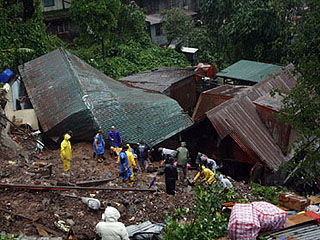 Rescuers look for people believed to have been buried in a landslide on Bokawkan Road Friday at the height of typhoon 'Pepeng.' GMANews.TV
More than 20,200 houses have been damaged, 1,794 of these totally damaged and 18,459 of these partially damaged.
Power has been cut in La Union, as well as parts of Ilocos Norte and Pangasinan. "Government offices in (Ilocos) continue to be operational using generator sets," the NDCC said. Communication landlines are also down and people only use mobile phones.
Meanwhile, water being pumped into 26 villages in Bacarra, Ilocos Norte has turned slightly brownish.
Floodwaters have already started to recede in some parts of Ilocos Region and portions of Pangasinan. The NDCC also expects flooding in other parts of central Luzon to subside. Residents watching the skies are praying help comes sooner than that.
- GMANews.TV