Razon quits peace post to vie for Manila mayoral race
Presidential Adviser on the Peace Process Avelino "Sonny" Razon Jr. has resigned from his post to prepare for his mayoral bid in Manila in May 2010.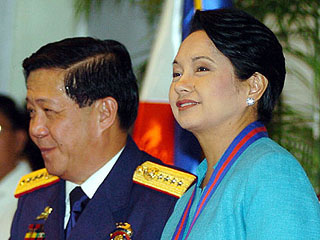 Former National Police chief Avelino Razon Jr., seen in this file photo with President Arroyo during the 17th PNP anniversary, gave up his Cabinet post to focus on his mayoral bid in 2010. PCPO
Razon said President Gloria Macapagal Arroyo has accepted his resignation, which takes effect Monday. He said Undersecretary Nabil Tan, his deputy, will sit as officer-in-charge.
A turnover ceremony will be held on Monday at 10 a.m. at the OPAPP main office at the Ortigas Center in Pasig City.
Razon, a former Philippine National Police chief, said he decided to give up his post after months of convincing by several civic groups for him to run for mayor in the national capital.
He would be up against seasoned politicians, notably incumbent Mayor Alfredo Lim, who is expected to seek another term, and Environment Secretary Lito Atienza, who is reportedly planning to try to retake the post he held for three terms.
Razon assumed the post as OPPAP chief on January 29 from Secretary Hermogenes Esperon Jr., who was named head of the Presidential Management Staff.
Both were classmates at the Philippine Military Academy in 1974.
It was during his eight-month tenure as OPPAP chief that the government and rebel group Moro Islamic Liberation Front (MILF) agreed to create an International Contact Group, paving the way for the resumption of peace talks.
The government is expecting Malaysia, acting as mediator, to set a date for the resumption of the negotiations.
While peace talks with the communist-led National Democratic Front are still in the drawing table, Razon said he continued "to explore parallel channels of engagement in the pursuit of the peace process."
OPAPP data showed that under Razon's term, the government was able to convince 329 rebels, mostly members of the New People's Army (NPA), to return to the fold of the law and avail of themselves of livelihood assistance.
- Mark Merueñas, GMANews.TV