JRU to keenly watch San Sebastian-San Beda game
Now, all Jose Rizal University needs to do is wait.
The Heavy Bombers' bid of earning one of the top two Final Four spots in the NCAA men's basketball tournament is now on the hands of league-leading San Sebastian (16-1) and three-time defending champion San Beda (15-2).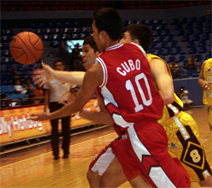 EAC's Claude Cubo, 10, chases the ball after JRU's John Wilson looses possession during their game in the 85th NCAA men's basketball tournament on Friday at The Arena in San Juan City. GMANews.TV
The Bombers remain in the hunt for one of the top two semis berths that carry a twice-to-beat bonus but it all depends on the final elimination round game between the Golden Stags and the Red Lions on Monday.
JRU ended the elimination with a 15-3 record after a 97-61 crushing of guest team Emilio Aguinaldo College on Friday. A San Beda loss on Monday will force a two-way tie for the No. 2 spot with JRU.
If ever San Beda loses on Monday, the Bombers and the Lions will face in a one-game playoff for the No. 2 seeding that enjoys a twice-to-beat bonus in the Final Four on Oct. 14.

Games Monday
(The Arena, San Juan City)
2 p.m.- SSC vs SBC (Junior)
4 p.m.- SSC vs SBC (Senior)
A San Sebastian loss will force a playoff match between the Stags and the Lions with the top spot and the right of facing the Rey Guevarra-less Letran Knights in the Final Four at stake.
The top two teams in the semis phase of the men's basketball tournament only need to win once in order to enter the best-of-three championship series.
JRU coach Ariel Vanguardia said winning 15 games this season is already an accomplishment for his Mandaluyong-based crew. "It's an accomplishment for Jose Rizal to have won 15 games, it's a school record and this makes it special for everyone of us."