40 landslides in the Cordillera claim over 250 lives
(Update 2 - 9:20 p.m.)
BAGUIO CITY - Over 40 landslides have decimated communities across the western half of the rugged Cordillera mountain range, claiming at least 250 lives with many more missing, after relentless rains brought by Typhoon Pepeng, according to the Office of Civil Defense-Cordillera Administrative Region (OCD-CAR).
Provincial governors, however, are claiming even higher numbers, as rescue and recovery teams are finding more bodies in mud and debris.
While much of the current media coverage has been on the catastrophes in Puguis, La Trinidad in Benguet and Tadian, Mt. Province, most of the other landslides have escaped public attention, occurring in areas without power and communication, and isolated by sections of roads that have given way.
Of the 250 officially recorded fatalities, OCD regional director Olive Luces said 164 were in Benguet, 50 in Baguio City and 29 in Mt. Province.
However, Mt. Province Governor Maximo Dalog, interviewed today on GMA News, said his province has already recorded 40 dead with 10 missing. He was appealing for dogs that could sniff out bodies buried in the mud and choppers for evacuating the wounded, including one survivor who needed a foot amputation to save his life.
"The magnitude of these landslides is the first time in recent memory," said Dalog. Hampering emergency operations in his province was the loss of electricity.
Benguet Governor Nestor Fongwan said that as of Sunday morning around 175 bodies were recovered from landslide areas in Benguet, most of which were recovered from Sitio Little Kibungan in Barangay Puguis in La Trinidad town, while the rest came from the municipalities of Mankayan, Itogon, Atok, and Tublay.
Little Kibungan tragedy

At least 50 bodies were retrieved from Little Kibungan alone, where 100 residents were reported missing after loose soil slipped down the slopes covering 36 houses on hillsides Thursday evening.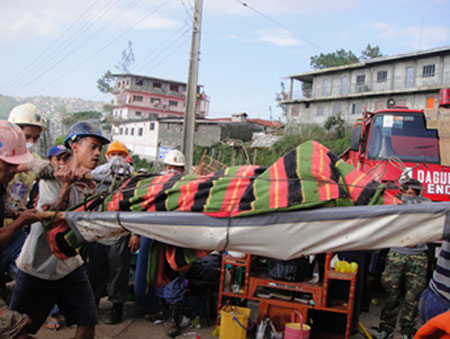 Rescue workers retrieve a body from landslide-hit barangay Crescencia of Baguio City. More than 200 bodies have already been recovered from Baguio City and Benguet province. nordis.net
Local officials of La Trinidad claimed that there are at least 150 residents in the village. Residents and volunteers were conducting rescue operations as of posting time.
The recorded casualties in nearby Buyagan, La Trinidad are seven dead; Itogon, six dead; Mankayan, 17 dead, 28 injured, and 21 missing; Tublay, seven dead, six injured and one missing; and Atok, two dead, according to the CRDCC's Saturday night report.
In densely populated Baguio City, where communities of shanties appear stacked on steep hillsides, 53 people were killed when landslides toppled homes in 10 barangays.
In Barangay Crescencia, located near the city's downtown district, 12 were killed when a section of Bokawkan Road collapsed on Thursday. In Barangay Irisan, 11 bodies were recovered and one reported missing. Eight more bodies were retrieved in Lower Kitma along Marcos highway.
Killer slide in Mt. Province

In Mountain Province, 38 bodies were recovered on Sunday in Sitio Bulala, Barangay Kayan East in Tadian town, as an entire mountain slope gave way. Ten more are reportedly missing while the three injured were brought to the Luis Hora General Hospital in the nearby town of Bauko.
A hill in Sitio Bulala collapsed at 6 p.m. on Thursday due to continuous and heavy rains brought by typhoon Pepeng. Of the 32 houses, 18 were damaged totally while five damaged partially. Able-bodied residents shown their traditional unity when they took the frontline of the rescue operations, local officials said.
Meanwhile, in the nearby village of Bunga in Tadian town, a residential house was also buried in a separate landslide on Thursday afternoon, killing three family members while two survived.
Reportedly killed were Michael Galad and his children Miko and Michelle. Nelly Galad, wife of Michael, survived while her mother Julia Altatis who sought refuge in her daughter's home was injured.
In Kalinga, the Provincial Disaster Coordinating Council (PDCC) recorded two dead from drowning in Lubuagan and Pinukpuk towns, according to the PDCC on Saturday. Two were reported injured in the towns of Tabuk and Rizal.
One was reported dead in Abra due to the typhoon by the PDCC while no casualty was reported in the province of Ifugao and Apayao.
Extensive infra and agri damage
Typhoon Pepeng brought extensive damage to agriculture and infrastructure in the various Cordillera provinces and in Baguio City.
The worst damage reported so far is in Apayao, where combined partial damage to agriculture and infrastructure amounted to around P1 billion, Governor Elias Bulut reported to media earlier.
Kalinga province incurred partial damage to infrastructure worth P86.9 million, and crops worth P78 million, according to the PDCC.
Earlier, Mountain Province reported infrastructure and agricultural damage worth more than P11 million, while Benguet reported infrastructure and agriculture damage worth P1.246 million, reported the CRDCC.
Baguio City registered infrastructure damage worth P10.5 million while Abra registered damage to crops worth P1.32 million.
The Cordillera remains isolated as the CRDCC reported Saturday morning that all national roads linking to the provinces of Abra, Ifugao, Mountain Province, Benguet, Apayao and Baguio City remain closed due to severe landslides and washouts.
The Ileb Bridge which connects Kalinga to Cagayan is reportedly destroyed, forcing travelers to take a longer route.
Meanwhile, CRDCC reported a total power blackout in Mountain Province while partial power interruptions were occurring in Benguet, Abra and Mountain Province. CRDCC has no report on the status of power in Apayao, Kalinga, and Ifugao.
- with a report from Arthur L. Allad-iw, GMANews.TV