Legarda says she will run as veep under NPC in 2010
After a long wait by a public that widely expected her to run for the presidency, Senator Loren Legarda on Friday announced she will run for vice president instead, under the banner of the Nationalist People's Coalition (NPC).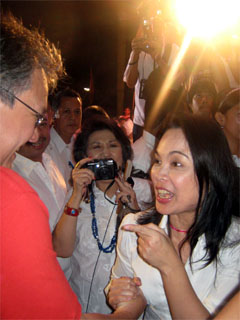 Senator Loren Legarda greets and holds the hand of partymate, Rep. Mark Cojuangco.
Amita Legaspi
She made the confirmation during the early-evening launch of her outreach program at the Rizal Park in the heart of Manila.
"I decided that I will run for vice president," Legarda said in Filipino in an interview with reporters after her speech at the Rizal Park program, adding that she would continue her humanitarian missions and her advocacy related to climate change if elected to the office.
"Although it's not easy to go on the campaign trail again and though I could perform my duties as a senator, the demand is for me to run for a higher position," she added.
Legarda, in a separate interview with GMA News' Mike Enriquez, said that she will run under the NPC banner.
"
Ako po ay
(I am with) NPC, Nationalist People's Coalition," the senator said with emphasis when asked under what party she will run in the coming polls.
Her announcement came hours after the administration party's expected vice presidential bet, Interior Secretary Ronaldo Puno, withdrew his bid for the vice presidency.
She declined to confirm, however, if she would team up with Sen. Francis "Chiz" Escudero who is widely seen as NPC's top-ranked choice of presidential candidate.
Escudero, who was expected to announce his political plans last October 10, decided to postpone his declaration, saying that he and the NPC wanted to focus on helping in urgent relief efforts as the country reeled from the effects of two consecutive cyclones "Ondoy" and "Pepeng."
In earlier statements, Legarda had said she would not run for any position other than the presidency in 2010.
Legarda had said that she will run for higher office under her party, the Nationalist People's Coalition, and will stay with the opposition amid calls for her to be the running mate of Defense Secretary Gilberto Teodoro Jr. [See:
Legarda sticking with NPC in 2010 polls
]
In the vice presidential race next year, she will expect to compete with Sen. Manuel Roxas II of the Liberal Party and Makati Mayor Jejomar Binay of the merged United Opposition and Pwersa ng Masang Pilipino.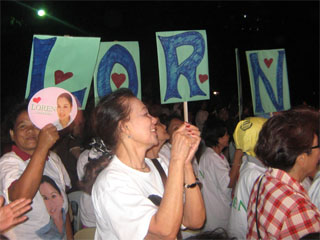 Legarda supporters greet the senator with their placards showing her name.
Amita Legaspi
Danding not present
NPC stalwarts led by its president Frisco San Juan and Danding's son, Pangasinan Rep. Mark Cojuangco were seen attending the program. Others present were Antique governor Sally Perez, former Nueva Ecija governor Tomas Joson, Avelino Razon Jr., and Nathaniel Santiago.
Business tycoon and NPC founder Eduardo "Danding" Cojuangco Jr. was however a no show during the event.
Rep. Mark Cojuangco explained that his father is definitely keeping a close watch on NPC's 2010 plans even if he did not attend the event.
"He is a senior statesman. He is just keeping watch. My father has done his part in society," Rep. Cojuangco said.
In an interview with GMANews.TV, Rep. Cojuangco said even though Escudero and Legarda have not yet announced their team-up, he believes the NPC already considers the two senators as its tandem for 2010.
"We in the NPC will support Chiz-Loren or Loren-Chiz, but I think this time, it is clear which tandem it will be. Let us just wait for their further announcements," he said.
Environment-focused platform
Wearing her trademark casual white shirt and denims, Legarda set an environmental and good governance theme during the program, held beside the fountain area and Chinese Garden near the back of the Rizal Monument.
The senator laid her platform of governance anchored on "a strong anti-corruption stance, honest-to-goodness public service, and a strong commitment to help mitigate the effects of climate change" and a "multi-pronged approach in helping the Philippines prosper economically, achieve lasting peace including in war-torn Mindanao, and to improve the quality of life Filipinos."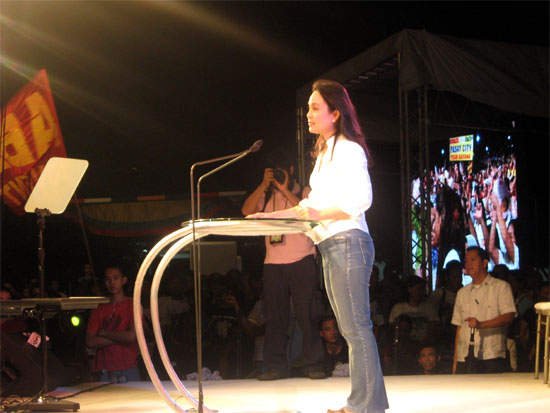 Senator Loren Legarda gives her speech before tellling reporters in Manila she will be running for vice president.
Amita Legaspi
Legarda identified seven "must-do" for the new administration that would come out of the 2010 elections:
• Gear public resources towards providing social services that all Filipinos can afford.
• Ensure the welfare of overseas Filipino workers (OFWs).
• Crack down on corruption.
• Protect the environment and address the problems relating to climate change.
• Forge genuine peace, especially in Mindanao, by addressing the root causes of the conflict and seeking dialogue with armed groups.
• Rejuvenate Filipino culture.
Elated supporters
Legarda's supporters who attended the event said they were very happy with the senator's decision. Some were seen enthusiastically learning Legarda's campaign jingle which went,
"Loren loren sinta, kelan pa ba kundi now na."
Josefita San Luis of Sampaloc, Manila, danced with joy as she heard the news. "
Naniniwala ako na kayang-kaya niya ang pagiging bise presidente
(I believe that she is really capable of serving as vice president)," San Luis told GMANews.TV.
San Luis and her neighbors said they went to the Rizal Park to support the senator even though they have not met her in person.
Ivy Cunanan of the "We are the Reason" movement, which also took part in the launch, said she would not let anyone steal the vice presidency again from Legarda.
"
Nasayang ang boto namin noong 2004 dahil dinaya si Loren. Kaya ngayon, ipaglalaban na namin siya. Alam naming nanalo siya noon at mananalo siya ngayon
," Cunanan said.
(Our votes were wasted in 2004 because Loren was cheated. So now we will fight for her. We know that she won then and that she will win now.)
Legarda ran for vice president in the 2004 national elections, but was defeated by then Senator Manuel "Noli" de Castro. Citing fraud, Legarda filed an election protest, which was later dismissed by the Supreme Court due to lack of legal and factual basis. –
with Aie Balagtas See and Andreo C. Calonzo, GMANews.TV