Free legal aid assured for victims of illegal recruitment
Victims of illegal recruitment may now be assured of free legal aid from the Integrated Bar of the Philippines (IBP) Quezon City Chapter after the group inked a memorandum of agreement (MOA) with the Task Force Against Illegal Recruitment (Tfair) under the Office of the Vice President.
"This is indeed good news to all victims of illegal recruitment. Now we have a partner, the IBP-QC chapter, in our campaign against illegal recruitment," said Tfair chairman and Vice President Noli De Castro in a statement.
STOP ILLEGAL RECRUITERS
---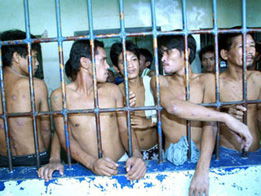 ---
To stop illegal recruiters from victimizing more aspiring OFWs, government agencies and non-government organizations suggested to:
• Conduct
pre-employment seminars
to prevent OFWs from falling prey to illegal recruiters.
• Verify the
status of the agency
first with the Philippine Overseas Employment Administration.
• Seek
help
from proper authorities.
• Post
photographs of top illegal recruiters
in government offices and other strategic places, similar to the police's "most wanted" posters.
- GMANews.TV
De Castro, who is also presidential adviser on overseas Filipino workers (OFW), said the Tfair will evaluate and refer to IBP-QC "high priority" large scale illegal recruitment cases.
He said the IBP-QC will help qualified OFW victims in the prosecution of their individual or collective administrative, civil or criminal claims and actions against illegal recruiters.
As stated in the MOA, De Castro said the IBP-QC shall provide these legal services for free. "No acceptance and appearance fees shall be charged to the OFW victims and no fee shall be charged for drafting pleadings."
Appeal to other chapters
De Castro also urged other IBP chapters and other professional lawyers' groups to do the same.
"(They should) join in the fight against illegal recruitment by giving free legal aid services as
mandated by the Supreme Court's rule requiring all practicing lawyers to render a minimum of sixty (60) hours of free legal aid services to indigent litigants in a year," he said.
Earlier, Tfair operations chief Senior Superintendent Gilbert Sosa said that at least 276 Filipinos have a total of more than 20,000
unserved warrants
of arrest for large-scale illegal recruitment.
Of the 276 suspects, 68 have double digit warrants of arrests.
Sosa, who is also from the Philippine National Police's Criminal Investigation and Detection Group (CIDG), said they plan to come up with a list of the top 50 most wanted persons in large-scale illegal recruitment and seek public help in rounding them up.
POEA warning
The POEA had also earlier
warned
OFWs against agencies which continue to operate despite having suspended or cancelled licenses.
From 2008 until the first eight months of 2009 alone, the POEA had canceled 74 operating licenses and suspended or fined 22 agencies due to recruitment violations.
To verify the status of a certain agency, click
here
.
Based on statistics supplied by the non-government organization Initiatives for Dialogue and Empowerment through Alternative Legal Services (Ideals), there were 1,662 confirmed victims of illegal recruitment from January to November 2008, an increase of four percent from 1,539 during the same period in 2007.
According to the POEA, a total of 1,236,013 Filipinos were deployed in 2008.
- Kimberly Jane Tan, GMANews.TV