Italian comfort food—an offer you can't refuse
If you're in the mood for some Italian comfort food that's relatively easy on the pocket, swing by Friuli on 79 Maginhawa Street in UP Teachers Village. This cozy little restaurant, which set up shop around three years ago, has easily become a neighborhood favorite.
You'll get a clue about Friuli's offerings from its no-nonsense interiors. The sight of warm beige walls, blackboards with specials written in colored chalk, and tables decked in classic checkered cloth recalls many mom-and-pop eateries of years past. The place—with its dog-eared magazines and charmingly worn chairs—looks like people love keep coming back to it. Nothing fancy, but its homey vibe more than makes up for the lack of décor.
Friuli's tastebud-friendly menu boasts of dishes that Pinoys are already familiar with. There's something for everyone from the resto's assortment of pizzas, pastas, soups, and sweets. There are, of course, some culinary standouts from the bunch.
Start off your meal with a bowl of hot
Minestrone
(P50), a rich tomato soup with cubed beef, potatoes, and carrots. The
Zuppa di Cippolle
(P80), a classic onion soup topped with bread and a coat of mozzarella cheese, is also a great starter.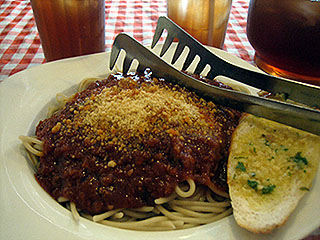 Share the spaghetti.
Two can enjoy the tart goodness of the
Spaghetti Meatsauce
.
TJ Dimacali
You can order a serving of
Spaghetti Meat Sauce
(P110). With the pasta liberally soaked in the herbed tomato meat sauce, this dish-for-two has a tart, tasty flavor. However, this may be an acquired taste for those who are used to sweet-tasting fastfood spaghetti meals.
If you don't like red sauce, you can opt to share a plateful of
Tuna and Mushroom Pasta
(P100). Its creamy white sauce is infused with a hint of spiciness that enhances the taste of tuna flakes and sliced button mushrooms.
But, of course, the very best that Friuli has to offer are its delicious 10-inch thin-crust pizzas.
Those on a no-meat diet will love
Antonio's Pizza
(P170). Covered in gooey mozzarella and topped with fresh tomato and mushroom slices, this pizza is one of the healthier options at Friuli.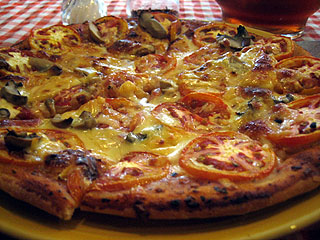 No-meat delight.
Antonio's Pizza
is a healthy pick for those on a diet.
TJ Dimacali
In any case, those who'd like to live a little sinfully can pick the
BBQ Chicken Pizza
(P220). It's got smoked barbeque chicken bits, onion rings, and herbs.
If you want to literally fire up your palate, there's the
Hot Sausage and Pepper Pizza
(P195). This one's a super spicy blend of Italian sausage and bell peppers.
For dessert, Friuli offers a selection of gelato-based delights. One of their bestsellers is called
After Eight
(P85), a wedge of mint-infused ice cream sandwiched between two light layers of mildly bitter chocolate. But if you've got an appetite for more chocolate, then you'll be thrilled with
Tartufo Nero
(P100), which is an absolute bombshell of a chocolate dessert. It has a crunchy cocoa exterior and holds a frozen cherry surprise in the center.
Overall, one can say that Friuli is a bargain Italianni's or a less-expensive Sbarro that's found its niche crowd. On any given day, many students from the University of the Philippines and residents of the village flock to the resto. They come for the familiar, friendly cuisine and the down-home vibe.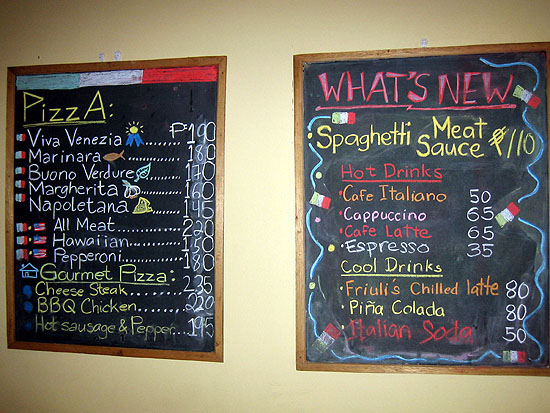 Looks familiar.
Friuli's interiors recall mom-and-pop shops.
TJ Dimacali
Friuli is far from being a posh Italian resto—but nobody can say no to the homemade goodness of its reasonably priced dishes. As a quip from an iconic Mafia movie goes, "It's an offer you can't refuse." –
with a report from TJ Dimacali, GMANews.TV
Friuli is open everyday from 11 a.m. to 10 p.m. and delivers to selected areas. Call 434-1416.