Pantabangan Dam releases water as 'Santi' nears
As foreseen by weather forecasters, another dam in Luzon has started releasing water ahead of Typhoon Santi's expected landfall on Saturday.
Nathaniel Cruz, weather sciences bureau chief, said in a press briefing Friday morning that the Pantabangan Dam in Nueva Ecija opened one of its gates by 1.1 meter to let water out at a rate of 60 cubic meters per second (cms).
The gates were opened at 4 a.m.
The other dam currently discharging water is the Ambuklao Dam in Benguet province, which had not yet stopped releasing water in the last few days.
The Ambuklao Dam is still releasing water through its four gates at a rate of 22 cms.
Water levels in both dams have not yet reached their respective spilling levels, but dam administrators decided to open their gates to give room to the rains expected to be brought by Santi.
On Thursday morning, the Philippine Atmospheric Geophysical Astronomical Services Administration said only the Ambuklao Dam was discharging water, while all the remaining dams were not.
But weather forecasters at the time said it would not be unlikely if other dams would follow suit, especially those that are directly on Santi's path.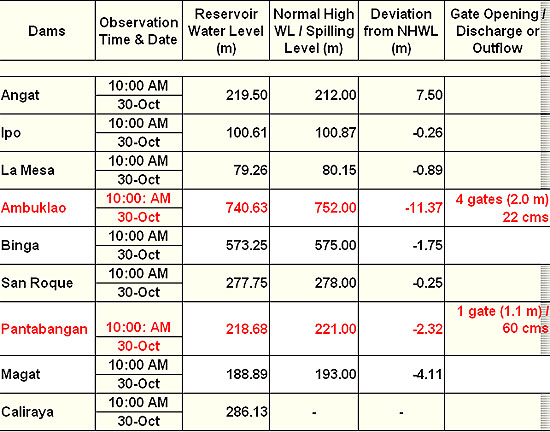 Source: Pagasa
On Friday, Pagasa spotted Santi 350 kilometers east northeast of Infanta, Quezon, traveling at a speed of 22 kph to the west.
By Sunday morning, Santi is forecast to be 600 kilometers west of Metro Manila or over the South China Sea.
"Maliit na ang tsansa na lumihis pa ang direksyon ni Santi (There is little possibility that the storm's path will change)," Cruz said Friday.
The Philippine Coast Guard had earlier banned sea travel in areas under Signal No. 2. Classes in elementary and high school levels in the same areas had likewise been suspended.
- Mark Merueñas, GMANews.TV