Typhoon Santi speeds up, expected to hit Quezon Friday
"Santi," the nineteenth weather disturbance to hit the Philippines this year, has gained speed and is expected to make landfall over Quezon province on Friday evening, the state weather bureau said in its 1:30 p.m. bulletin.
STORM SIGNAL WATCH
---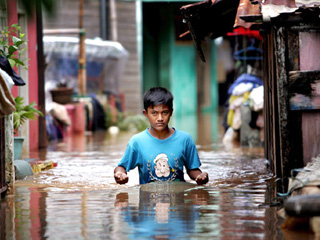 ---
As Santi speeds up, Pagasa hoisted at 1:30 p.m. Storm Signal warnings in at least 33 areas in Luzon and Visayas.
Storm Signal No. 3
[100-185 kph winds]
Quezon
Polillo Islands
Camarines Norte
Camarines Sur
Catanduanes
Storm Signal No. 2
[60-100 kph winds]
Aurora
Quirino
Nueva Ecija
Bulacan
Tarlac
Zambales
Pampanga
Bataan
Rizal
Cavite
Laguna
Batangas
Lubang Island
Oriental Mindoro
Marinduque
Albay
Burias Island
Metro Manila
Storm Signal No. 1
[30-60 kph winds]
Isabela
Ifugao
Nueva Vizcaya
Benguet
La Union
Pangasinan
Sorsogon
Occidental Mindoro
Calamian Group
Northern Samar
It was spotted 240 kilometers east of Infanta town in Quezon, moving west at 28 km per hour, packing maximum sustained winds of 150 kilometers per hour near the center and gustiness of up to 185 kph.
By Saturday morning, Santi is expected to be 280 km west southwest of Metro Manila. By Sunday, the typhoon will be 600 km west northwest of Puerto Princesa City in Palawan province.
As part of government preparations, the Philippine Army said its units "are on full standby" for any emergencies that may occur due to Santi. Companies of the Multi-Role Force (MRF) or the Army Contingent for Emergency (ACE) Battalion are ready to be deployed to any locality when necessary.
"Two companies of MRF Battalion are ready to be dispatched on a very short notice. With them are life-saving device and other floating assets like two rubber boats and two motorized boats," said Army spokesman Lt. Col. Arnulfo Burgos Jr., adding that the troops recently underwent special training on disaster rescue.
A company is composed of roughly 100 men while a battalion, of 500 personnel.
As Santi nears, local officials have suspended commercial boat travel, stranding scores of passengers hoping to be in their hometowns for Undas, or All Souls' Day. But bus travel should still be safe until Friday afternoon, according to Cruz.
The fourth cyclone to enter the Philippine area of responsibility since the last week of September, Santi is packing maximum winds of 150 kilometers per hour. It is expected to bring rains to Metro Manila and surrounding provinces, still reeling from the havoc brought by past typhoons.
Santi,'s predecessor, "Ramil," shifted directions several times and kept much of Luzon on edge for over a week before veering away towards Taiwan and eventually Japan.
On weather maps, Santi's eye is charging like a bowling ball towards a sure strike on Aurora province. It is expected to barrel across Nueva Ecija and Pampanga, provinces hit hard by flooding caused by "Ondoy"'s epic rainfall a month ago.
Local governments have set up alarm systems, packed relief goods, and started preparing for mass evacuations in case Santi causes further injury to typhoon victims.
Various weather agencies forecast Santi to move across central Luzon and out to the South China Sea.
Dams release water
As foreseen by weather forecasters, another dam in Luzon has started releasing water ahead of Typhoon Santi's expected landfall.
The Pantabangan Dam in Nueva Ecija opened one of its gates by 1.1 meter to let water out at a rate of 60 cubic meters per second (cms).
The gates were opened at 4 a.m.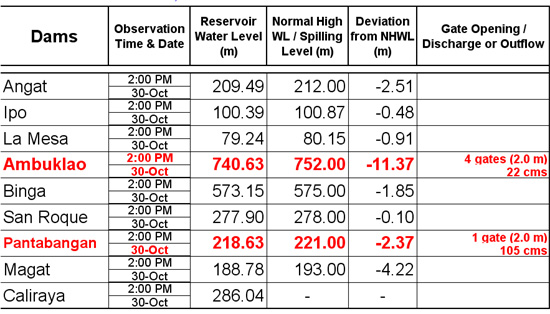 Pagasa's 2 p.m. update
The other dam currently discharging water is the Ambuklao Dam in Benguet province, which had not yet stopped releasing water in the last few days.
The Ambuklao Dam is still releasing water through its four gates at a rate of 22 cms.
Water levels in both dams have not yet reached their respective spilling levels, but dam administrators decided to open their gates to give room to the rains expected to be brought by Santi.
- GMANews.TV