With signal no. 3, Typhoon Santi wrecks holiday plans
The typhoon this time will arrive with a bang. Packing winds powerful enough to merit a rare signal no. 3 in Metro Manila, "Santi" will blow through Central Luzon starting late Friday evening. But Pagasa predicts less rain than wind, lessening the chances of a repeat of the flooding that traumatized millions barely a month ago.
Metro Manila is bracing for another tropical cyclone, barely a month after Storm Ondoy's epic floods claimed over 400 lives.
According to Pagasa forecaster Romel Yutuc, "There will be more wind than rain (in Metro Manila) because there is no southwest monsoon, unlike 'Ondoy' that triggered heavy rains."
On the eve of one of the busiest holidays of the year for travelers, commercial boat transportation has been suspended by the Philippine Coast Guard since Friday morning in provinces from Aurora to Camarines Sur, including Manila's North harbor. Thousands have been stranded, ruining plans for family reunions and visits to the dead.
Storm Signal No. 3 was hoisted over the National Capital Region and 14 other areas in Luzon Friday afternoon after Typhoon Santi gained speed and rapidly approached Quezon province, where rampant logging and the occupation of hazardous areas have made the province vulnerable to devastating landslides.
The last time signal no. 3 was hoisted over Metro Manila was in June 2008 during Typhoon Frank, when MV Princess of the Stars capsized off Sibuyan Island, in Romblon province killing about 800. A total of 1,300 died because of the typhoon.
STORM SIGNAL WATCH
---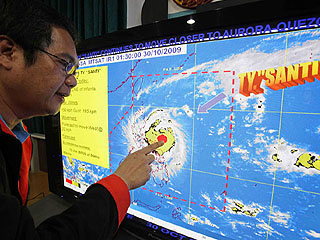 ---
As Santi speeds up, Pagasa hoisted at 5 p.m. Storm Signal warnings in at least 36 areas in Luzon and Visayas.
Storm Signal No. 3
[100-185 kph winds]
Metro Manila
Quezon
Polillo island
Bulacan
Bataan
Rizal
Cavite
Laguna
Batangas
Oriental Mindoro
Lubang Island
Marinduque
Camarines Norte
Camarines Sur
Catanduanes
Storm Signal No. 2
[60-100 kph winds]
Aurora
Quirino
Nueva Ecija
Tarlac
Pampanga
Zambales
Occidental Mindoro
Albay
Burias Island
Storm Signal No. 1
[30-60 kph winds]
Isabela
Ifugao
Nueva Vizcaya
Benguet
La Union
Pangasinan
Sorsogon
Masbate
Romblon
Calamian Group
Northern Samar
Northern Panay
As part of government preparations, the Philippine Army said its units "are on full standby" for any emergencies that may occur due to Santi. Companies of the Multi-Role Force (MRF) or the Army Contingent for Emergency (ACE) Battalion are ready to be deployed to any locality when necessary.
"Two companies of MRF Battalion are ready to be dispatched on a very short notice. With them are life-saving device and other floating assets like two rubber boats and two motorized boats," said Army spokesman Lt. Col. Arnulfo Burgos Jr., adding that the troops recently underwent special training on disaster rescue.
Local officials have suspended commercial boat travel, stranding scores of passengers hoping to be in their hometowns for Undas, or All Souls' Day.
Twenty other areas will be hit by Santi, which was located 230 kilometers east of Infanta, Quezon as of 4 p.m., Friday, packing maximum sustained winds of 150 kilometers per hour near the center and gustiness of up to 185 kph. It is moving 24 km west southwest at 24 kph.
Some areas in Rizal and Laguna provinces where Storm Signal No. 3 is now hoisted remain inundated.
These are Jala Jala, Pililia, Tanay, Morong, Cardona, Binangonan, Taytay and Cainta all in Rizal and Santa Cruz, Santa Rosa, Los Baños, Bay, Cabuyao, Pakil, Paete, Biñan, Calamba, Victoria, San Pedro, Lumban, Pangil and Pila, all in Laguna.
Strong winds start to be felt
Santi is forecast to cross Metro Manila, as well as the provinces of Rizal, Laguna, and Cavite, and Batangas before exiting to the South China Sea.
Nathaniel Cruz, weather sciences bureau chief, said rains and 90-kph winds were already being experienced in Virac, Catanduanes.
He said by Sunday afternoon (November 1), Santi would have been 760 kms west southwest of Metro Manila, over the South China Sea.
He however said people in affected areas could still experience a wet All Saints' Day.
"By November 1 papalayo na ang bagyo pero may posible pa ring pag-uulan lalo na sa kanlurang bahagi ng southern and central Luzon," Cruz said.
Luzon dams release water
The Ambuklao Dam in Benguet and the Pantabangan Dam in Nueva Ecija are so far the only dams that continue to discharge water.
The dam is releasing water through its four gates at a rate of 22 cubic meter per second. Pantabangan, meanwhile, is discharging water at 105 cms.
"Ang Angat Dam (in Bulacan) ay binabantayan na po namin. Nag-issue na kami ng annoucnement for preparation of flood warning ooperations," said Susan Espinueva of the hydro-meteorological division.
Various weather agencies forecast Santi to move across southern Luzon and out to the South China Sea.
She said that rains present 209.5 might rise to 212 meters which is still within the nirmal high water level
She said the Magat Dam in Isabela and the Binga Dam in Benguet remain in "normal condition."
- GMANews.TV