Typhoon Santi slightly veers south, Metro still threatened
(Update 1, 5:50 a.m.)
Typhoon Santi, veering southward and hitting Bicol Friday night, continued to traverse through the Southern Tagalog region early Saturday morning even as it weakened slightly at maximum sustained winds of 130 kph and gustiness of 160 kph.
According to the 5:00 a.m. Saturday weather bulletin by the Philippine Atmospheric, Geophysical and Astronomical Services Administration (Pagasa), Santi was last spotted 60 kms south southeast of Metro Manila, in the vicinity of Batangas and Cavite provinces, and moving west southwest at 24 kph.
Pagasa said the typhoon had made landfall 50 km south of Infanta, Quezon at around 12:30 a.m. Saturday.
Asked earlier if Metro Manila remained along Santi's path, Pagasa administrator Dr. Prisco Nilo said that although there was still that possibility, the more likely scenario is that the center of Santi would pass south of Manila.
Although the state weather bureau expects Santi's center winds to spare Metro Manila, foreign weather agencies tracking Santi (international name: Mirinae), such as the Japan Meteorological Agency and the US Navy Joint Typhoon Warning Center, forecast the typhoon's center to still directly pass over the National Capital Region on Saturday morning.
---
A comparison of Santi's possible paths predicted by Pagasa, the US Navy's Joint Typhoon Warning Center, the Japan Meteorological Agency, as of late evening of October 30. Note the difference between Pagasa's forecast (top) with those of the JTWC's (center) and the JMA's (bottom).
STORM WATCH
---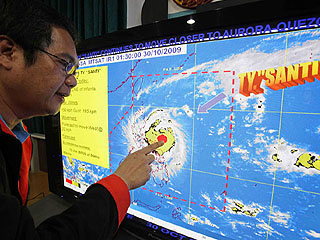 ---
As Santi continued to traverse through the Southern Tagalog region, Pagasa adjusted the coverage of its storm signals.
Storm Signal No. 3
[100-185 kph winds]
Bataan
Rizal
Laguna
Cavite
Batangas
Oriental Mindoro
Occidental Mindoro
Lubang Island
Metro Manila
Storm Signal No. 2
[60-100 kph winds]
Pampanga
Bulacan
Quezon
Polillo Island
Camarines Norte
Camarines Sur
Catanduanes
Marinduque
Romblon
Calamian islands
Storm Signal No. 1
[30-60 kph winds]
Zambales
Tarlac
Nueva Ecija
Aurora
Albay
Burias island
Northern Palawan
Northern Panay
Pagasa said Santi's path through the southern half of Luzon from Friday night through early Saturday morning brought strong winds, heavy rains, storm surges and big waves, resulting in extensive power failures, flooding, and damage to property in the Bicol and Southern Tagalog regions.
According to initial reports aired over dzBB radio, coastal towns in Quezon province such as Real and Infanta suffered from extensive damage to houses. Major roads to Bicol were blocked by uprooted trees and fallen electric posts.
At the Port of Batangas, more than 800 passengers bound for Mindoro island remained stranded as of 1 a.m. Saturday due to the order to ground all shipping vessels. Passengers were huddled sleeping on benches, on the floor and along stairs. Vice Governor Mark Leviste said Philippine Port Authority officials promised to bring food and provide toilet facilities to the said passengers.
In Metro Manila, flooding was reported in some low-lying areas but quickly subsided.
Only a small number of people were observed trooping to the Manila North, La Loma, Chinese and Manila South cemeteries, as well as the Manila Memorial Park due to the strong winds and rains that toppled trees, ripped off tents, and flooded approaches, reports over dzBB said.
The few cemetery visitors said the strong winds and rains prevented them from even lighting candles and setting up flower bouquets properly.
A spokesperson of the Manila Electric Company (Meralco) said various areas in the metropolis have been suffering intermittent power interruptions due to downed power lines.
Santi is forecast to be 510 kms west southwest of Metro Manila by Sunday morning, and by Sunday afternoon is expected to exit from the Philippine area of responsibility.
The typhoon is also forecast to leave the country by Sunday, November 1, giving Filipinos hope that they can still troop safely to cemeteries to commemorate All Saints' Day. [See:
With signal no. 3, Typhoon Santi wrecks holiday plans
]
– GMANews.TV