'The worst is over'; Santi now over South China Sea
(Update 2, 12:28 p.m.)
Despite power outages and flooding in several parts of Luzon, including Metro Manila, state weather sciences bureau chief Nathaniel Cruz said the worst might be over as Tropical Cyclone Santi (Mirinae) continued on a straight path out of the country.
In an 11 a.m. press briefing, Cruz said that Santi is now on its way out of the Philippine area of responsibility and is now over the South China Sea.
STORM SIGNAL WATCH
---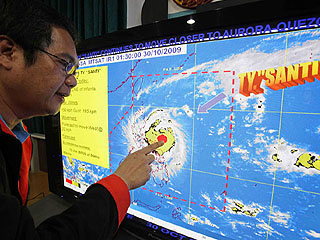 ---
As Santi exits the country, only 17 areas in Luzon remain under a storm signal warning.
Storm Signal No. 3
[100-185 kph winds]
Lubang Island
Northern parts of Mindoro (Oriental and Occidental)
Storm Signal No. 2
[60-100 kph winds]
Metro Manila
Bataan
Cavite
Batangas
Calamian Group of Islands
Rest of the Mindoro Island
Storm Signal No. 1
[30-60 kph winds]
Zambales
Pampanga
Tarlac
Bulacan
Rizal
Laguna
Quezon
Marinduque
Northern Palawan.
He also said Storm Signal warnings in several areas in Luzon have been lifted.
"The worst is over for Metro Manila," Cruz said in an early Saturday interview over radio dzBB.
"
Halos napakababa ng posibilidad o wala nang posibilidad na bumalik pa si Santi. Asahan natin ang unti-unting pagganda ng panahon sa Metro Manila at iba pang lugar na dinaanan ni Santi
," he added.
[There is very little possibility or no possibility at all that Santi will return to the country. Expect the gradual improvement of weather conditions in Metro Manila and other areas where Santi passed through.]
Typhoon Santi threatened to ruin the All Souls' Day weekend for many Filipinos planning for family reunions and visits to the dead.
But Philippine Atmospheric, Geophysical and Astronomical Services Administration (Pagasa) chief Prisco Nilo assured that Santi would have already been too far away from land by Sunday or All Souls' Day to cause any more downpour.
"Puwede nang magsindi ng kandila (We can finally light our candles for All Souls' Day)," Cruz said.
"Kung uulan man hindi na dahil kay Santi iyan, baka localized na [If there will still be rains in Luzon, Santi no longer has anything to do with it. Those rains will probably be just localized]," Cruz added.
The Pagasa said Santi is expected to be out of the Philippine area of responsibility on Sunday morning.
Well-behaved typhoon
Nilo has earlier been quoted in a television report as saying that Santi was a "well-behaved typhoon" compared to its predecessor, Typhoon Ramil (Lupit).
After keeping much of Luzon on edge for over a week, Ramil finally moved out of the country on Oct. 24, following an erratic path toward Luzon. [See:
After scare, 'Ramil' spares Luzon, heads for Japan
]
On Saturday morning, rains have stopped in Quezon City and several parts of Metro Manila. But over at Quezon province, where Santi made landfall on Friday evening, strong winds and scattered rains still prevail, according to a television report.
Santi caused floods and massive power outages as it charged through parts of Metro Manila and southern Luzon Saturday morning.
Parts of Manila, including España Boulevard in Sampaloc and parts of Taft Avenue were swamped with floodwaters early Saturday after incessant rains from the typhoon.
In San Juan City, dzBB's Sam Nielsen reported that floodwaters neared knee-high in Salapan village.
Brownouts
Meanwhile, the strong winds brought by Santi have caused massive brownouts in parts of Luzon, including Metro Manila.
In Quezon province, radio dzBB's Carlo Mateo reported that power went out as early as 11 p.m.
The Manila Electric Co. (Meralco) gave the public two cell phone numbers to send in their reports or complaints through text messages. These are 0920-9292824 and 0917-5592824.
"
Binabaha ng tawag ang call center namin
(Our call centers are swamped)," Meralco External Communications Manager Joe Zaldarriaga said on dzBB radio, referring to their 16211 hotline.
He said the power outages were mainly due to winds from Santi affecting Meralco's power lines.
But the power outage in some parts of southern Metro Manila was due to five Meralco posts toppled by winds.
The toppled posts at the corner of Buendia and Taft Avenue Extension caused heavy traffic.
Airport
Meanwhile, flight schedules of the Philippine Airlines and Cebu Pacific at the NAIA have all resumed by 10 a.m.
"Actually, 10:40 a.m. may nag-landing na from Los Angeles," said Jonathan Escundo, PAL officer in charge for departure in a dzBB interview.
He said after the arrival of the LA flight, other international flights from South Korea and Singapore, as well as a number of domestic flights of the PAL have started arriving at the NAIA.
Escundo also said they have begun dispatching replacement flights to accomodate their passengers affected by delayed flights.
Candice Iyog, vice president for corporate affairs of the Cebu Pacific, said operations have gone back to normal, but said some passengers might still wait a little longer before they can get on board their respective flights.
"I-expect po natin na may delays tayo dahil nagbabalikan na ang flights pero ang pasahero natin they may be delayed," she told radio dzBB.
She said the delays were not only due to bad weather triggered by Santi but also to the power outage that struck Terminal 3 of the NAIA.
Moving out
The eye of Santi is currently hovering over Lubang Island in the northern end of Mindoro, or some 120 kilometers southwest of Metro Manila.
Cruz said the typhoon is expected to be out of Philippine territory by Sunday morning, or about 630 kms away from the Philippine capital.
Santi's speed slowed down to 22 kilometers per hour and it packed maximum winds of 120 kms per hour, based on the latest advisory from Pagasa.
The highest volume of rainfall from Santi was recorded in Alabat town in Quezon province, where 350 mm of rains fell starting Friday night until 8 a.m. of Saturday.
Winds were strongest at the Sangley Point in Cavite with a speed of 125 kph. At the Ninoy Aquino International Airport (NAIA) in Metro Manila, which experienced power outages, wind speed was recorded at 105 kph.
- GMANews.TV