Nabbed German pleads guilty to smuggling RP corals to the US
A German national charged for violating US, Philippine and international laws on the protection of exotic corals pleaded guilty last month to smuggling 40 tons of the prized sea treasure from the Philippines into the US.
Gunther Wenzek, who had eluded authorities since 2007, was arrested in February at the Washington-Dulles International Airport before boarding a plane for Florida, where he was set to attend a trade show.
Wenzek pleaded guilty to smuggling the corals last Oct. 14, and could face a sentence of probation for three years and payment of about $35,000 (roughly Php1.6 million) in fines. Of this amount, almost $9,000 will go to the endangered species fund set up by the Oregon Zoo.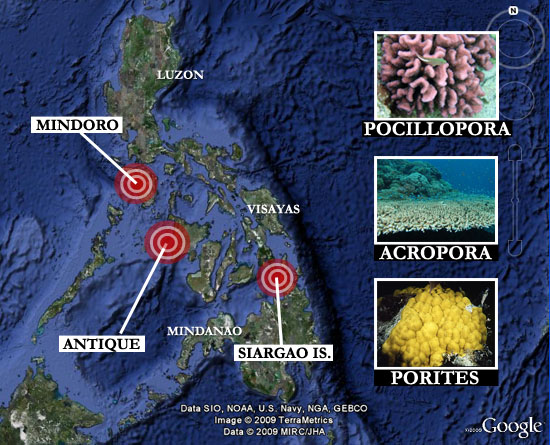 Wenzek reportedly harvested the three species of corals from the reefs of Mindoro, Antique and Siargao island. Map from Google Earth, Photos from coexploration.org, Albert Kok, Mila Zinkova. Artwork by Mark Merueñas, GMANews.TV
The case started in September 2007 when a Portland, Oregon customs official discovered two shipping containers full of coral fragments bound for an aquarium supplier in the US. Officials later found out that the fragments were endangered coral species from the Philippines.
Under Philippine laws, Wenzek violated the Endangered Species Act by transporting corals out of the country.
Authorities had a hard time apprehending Wenzek, who had fled back to his hometown, since the US does not have an extradition agreement with Germany.
Marlito Nolledo Guidote II, Policy and Enforcement Advisor of the Fisheries Improved for Sustainable Harvest Project-USAID, told GMANews.TV on Friday that Wenzek was known to have showcased Philippine corals abroad.
"He is involved in an aquarium business that supplies customers in the US and Europe," he said.
The US Department of Justice in Oregon, which handled the case, said Wenzek owns a company named CoraPet based in Essen, Germany.
Guidote said the corals, which had been identified from the scientific order
Porites, Acropora
, and
Pocillopora
, were collected from Siargao, Antique and Mindoro.
Stony corals such as those seized from Wenzek are protected by Philippine and international laws particularly the Convention on International Endangered Species.
According to the Justice department, the removal of dead coral and live rock is of major concern for coral reefs, including those reefs protecting coastal communities from storms.
"Unsustainable collection of coral frequently results in the loss of important nursery areas, feeding grounds, refuge for fish and invertebrates, and increased erosion of reef systems," it added.
Guidote said Wenzek's arrest is a landmark case proving that the Lacey Act is in full effect.
The US Lacey Act prohibits import, export, transportation, sale, receipt, acquisition or purchase of fish, wildlife, or plants that are taken, possessed, transported or sold in violation of any federal, state, tribal or foreign law.
International marine scientists have hailed the Philippines, particularly central Visayas, as the "center of marine biodiversity" in the world, surpassing even the Great Barrier Reef of Australia.
Dr. Kent E. Carpenter, an American ichthyologist, discovered in 2004 that the Philippines (not Indonesia or the Caribbean Sea) has the greatest concentration of marine biodiversity.
- GMANews.TV