Cotto needs to hurdle weigh-in before facing Pacquiao
LAS VEGAS –
Miguel Cotto has one battle to be won first before finally facing Manny Pacquiao at the MGM Grand Garden Arena on Saturday (Sunday, Manila time).
The reigning World Boxing Organization (WBO) champion is expected to go under the microscope as the official weigh-in for the "Firepower" boxing match is scheduled on Friday.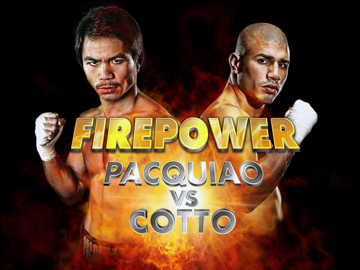 Manny Pacquiao, left, and Miguel Cotto clash on Saturday with the WBO welterweight championship belt at stake.
Words circulating within the "Entertainment Capital of the World" had it that Cotto is having a hard time losing the extra weight and meeting the 145-pound limit set for the match.
A source bared Thursday that Cotto trained at the Top Rank gym here under a temperature of "100 degrees."
Issues regarding Cotto's weight leaked out a week ago during his media workout in Los Angeles, California. Before the mid-afternoon workout, Bill Kaplan of Top Rank Promotions asked members of the working press to bear out the heat at the Pound4Pound gym as Cotto's camp requested not once, but thrice, to keep in-check the air-conditioning inside the fitness center.
The weigh-in is set at 3 p.m. (11 a.m. Manila time), about an hour behind similar weigh-in activities held in the past.
"
Kung gusto nila maski alas-singko ang
weigh-in,
payag kami
," said Pacquiao's Filipino trainer Buboy Fernandez in obvious mockery of the slight change in the weigh-in schedule.
Cotto's camp understandably, downplayed the situation.
His strength and conditioning coach Phil Landman said the Puerto Rican star will definitely tip the scale at 145, although he still refused to say how Cotto weighs in at the moment.
"He has come in twice at 146, so we have no concern with that," said Cotto's fitness coach from South Africa.
Landman did admit Cotto is a natural welterweight.
"One forty-seven is Miguel's natural weight, so he has no trouble getting to that weight," he added.
Under the fight contract, Cotto is bound to be penalized for $1 million for every pound over the agreed catch weight.
Cotto has not fought below 147 since 2006 when he decided to move up to welterweight also owing to weight issue.
Meanwhile, Cotto said he has already moved on following that devastating loss to Antonio Margarito a year ago.
"He's a past chapter in my book. Pacquiao is the new chapter in my career," he said.
Since that 11th round technical knockout against the rugged Mexican that cost Cotto his World Boxing Association (WBA) welterweight belt, Cotto has already fought twice and won both over Michael Jennings and Joshua Clottey.
But somehow, boxing experts saw a different Cotto in the ring in the post-Margarito fights.
Cotto, who represented Puerto Rico in the 2000 Sydney Olympics, admitted he had a hard time handling the first ever loss of his boxing career.
"But when you finally think things over and begin to understand it, it only makes you a better fighter," he added.
– GMANews.TV