After 'bittersweet' victory, Pacman rules violent sport
As a victorious Manny Pacquiao was hoisted into the air last Saturday night in Las Vegas (Sunday in Manila), the image sent waves of jubilation throughout a global Filipino community.
But the bloodied face of his vanquished opponent Miguel Cotto elicited more mixed emotions, reminding many that the one international sport that a Filipino has conquered in recent years is a violent spectacle where the object is to inflict pain and to "knock out" the opponent.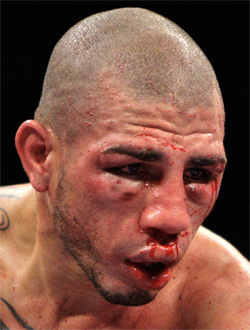 Miguel Cotto's face is left bloodied and swollen by the constant pounding of Manny Pacquiao. AP
"I'm happy Manny won," said Lissa Romero on Facebook, "but I really, really hate boxing and how it hurts people."
Just the day before the title bout, a Pacquiao protégé and fellow Filipino boxer, Z Gorres, collapsed in a Las Vegas ring after being declared victorious. While already considered stable, Gorres, who is a rising star in the boxing world, is still in a medically-induced coma after surgery to relieve swelling in the brain.
That's why boxing commentator Chino Trinidad, a friend of Pacquiao who covered the Las Vegas fights and broke the story of Gorres' condition, declared the next day's hammering of Cotto a "bittersweet victory."
"Maybe the story of Mr. Gorres will somehow temper this misplaced euphoria," wrote Ping Galang on Facebook.
For sure, the more common sentiment in cyberspace was one of smug nationalism, and a sense of relief at triumphant news after a season of destructive storms. There were also numerous taunts and jokes at the expense of the defeated Cotto, like this one on Twitter:
#cottosface looks like he asked jay z if he could borrow his lips for a night.
The preponderance of that kind of remark provoked this tweet from Karen Lumbo:
#cottosface is a trending topic. Theres gotta be something wrong with that.
Among the last to taunt Cotto or any boxer for getting hurt would be the new welterweight champion himself.
Pacquiao grows pensive when the subject of inflicting serious injury comes up. "We always talk about the danger of boxing," says Trinidad.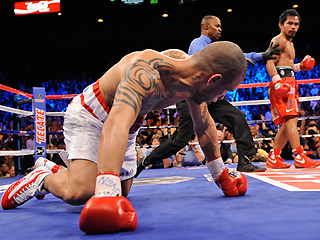 Referee Kenny Bayless directs Manny Pacquiao to his corner after knocking down Miguel Cotto in the 4th round of their WBO welterweight title fight in Las Vegas. AP
Pacquiao has told American reporters about his friend Eugene Barutag, a fellow General Santos boxer who went to Manila with Pacquiao to make their fortune. Barutag's dream died with him when he fell unconscious in the ring in 1995 and never woke up.
Pacquiao was little known then and was Barutag's only close friend in Manila.
"Tatlong araw 'di natulog si Manny kasi siya lang ang nasa lamay ni Barutag sa Malabon,"
(Manny did not sleep for three nights because he was the only one at Barutag's wake in Malabon) Trinidad recalls.
Seeing death in the ring may help explain why Pacquiao seemed to back off near the end of the Cotto fight from inflicting even more pain on his wounded adversary.
With cuts around his eyes and bleeding during much of the fight, Cotto could have been seriously hurt if the referee didn't stop the bout in the 12th and last round. Ringside observers said a trainer more experienced than the 30-year-old Joe Santiago in Cotto's corner would have thrown in the towel three rounds earlier.
In the ninth round, the wife and one of the children of Miguel Cotto were conspicuously seen exiting the arena. They had seen enough.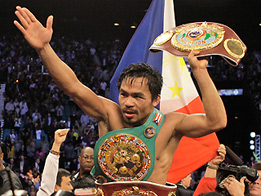 Manny Pacquiao hoists his newly-won WBO welterweight belt after literally beating up Miguel Cotto Saturday in Las Vegas (Sunday in Manila.) AP
The predominantly Filipino crowd cheered on Pacquiao to inflict more punishment. However, some Pacquiao partisans, while savoring the victory, were also repulsed by the bloody spectacle of an obviously defeated opponent willing to accept more punches.
Child education expert Feny de los Angeles-Bautista makes sure that this communal joy at seeing a foreign opponent bloodied is properly explained to the students at her school, Community of Learners.
"I take great pains to discuss the pros and cons and the contradictions with kids," she explains, "just to make it a point that they understand that it is such a physical sport and the risks to life are tremendous."
"What I pointed out to my family tonight," she said hours after the title fight, "is that I was impressed by Pacquiao's restraint in those final moments when he did not move in for the kill and overdo things." -
GMANews.TV