'Twas all over when Pacquiao knocked down Cotto
LAS VEGAS –
The second knock down Manny Pacquiao scored against Miguel Cotto spelled the difference in their 12-round welterweight title fight Saturday at the MGM Grand Garden Arena (Sunday in Manila).
"That changed the game right there," said master tactician Freddie Roach, recalling the solid left hand Pacquiao planted on Cotto's cheek that sent the Puerto Rican reeling down to the canvas for a second time.
Cotto stood wobbly as referee Kenny Bayless gave him the 10-count, 12 seconds into the fourth round of their World Boxing Organization (WBO) championship showdown.
As Bayless signaled for the fight to resume, Pacquiao rushed towards Cotto and swarmed all over him, the sound of the bell the only factor that saved the Puerto Rican from getting knocked down again.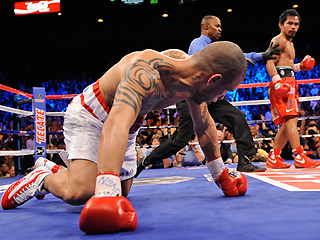 Referee Kenny Bayless directs Manny Pacquiao to his corner after knocking down Miguel Cotto in the 4th round of their WBO welterweight title fight in Las Vegas. AP
From that moment, Roach said it was only a matter of time.
"I don't think the fight would continue very long," he said.
Eight rounds later and the fight was over.
"Manny can punch with any 147 pounds (welterweight fighter) in the world. He has great power and speed and I think he proved everything tonight," said Roach.
Pacquiao readily dominated his stronger and bigger opponent that two of the judges had Cotto winning only two rounds, while the other had the Puerto Rican only taking the opening round in his scorecard.
At the time of the stoppage in the 55th second of the 12th round, Pacquiao was way ahead in all three scorecards, with Adelaide Byrd scoring it 109-99, Duane Ford 108-99, and Dave Moretti 108-100.
"Manny Pacquiao is just unbelievable," said Roach, even referring to Pacquiao as someone "not ordinary."
"I'm just very proud of him. We will just enjoy this moment."
- GMANews.TV