'Emperor of the World' aspirant is first presidential wannabe to file COC
(UPDATE- 1:30 p.m.)
The first person to formalize his bid for the presidency in 2010 wants to ultimately become the "Emperor of the World."
Rigoberto Madera Jr., a 61-year-old who claims to be a "six-star general," was the first person to file his certificate of candidacy at the Commission on Elections (Comelec) Friday at 8:40 a.m.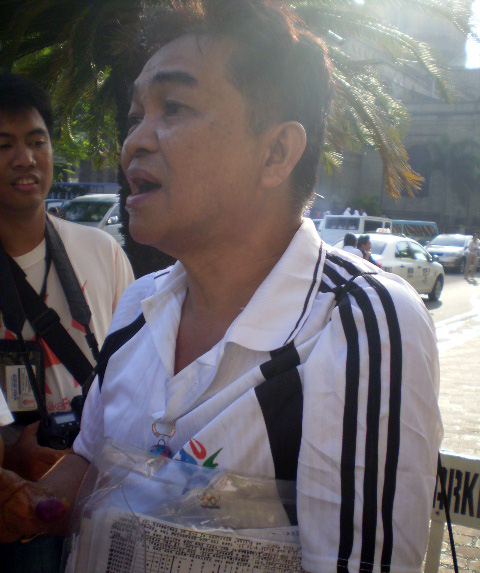 THE 'EMPEROR' ARRIVES. Rigoberto Madera Jr., who claims to be winning in the latest surveys, says God will back him up to the nation's top post. Kimberly Tan
Madera, who introduced himself as N.N.N.--short for "Najananan," which he said means "God the name above all"-- told reporters that he will be running for president to solve the economic problems of the Philippines.
With God as his "backer," Madera said he would not have any problem in funding his campaign.
"
Mananalo ako, si God na ang bahala
(I will win, God will take care of it)," Madera said in an interview with GMANews.TV before he filed his COC. "I will push for more education, I will build economic programs."
Moreover, he said he was confident that he would win because, according to him, he is number one in the surveys.
After winning the presidency, Madera said he plans to become president of the United States, United Nations secretary-general, and later on "emperor of the world."
Another presidential aspirant, 40-year-old Gilbert Garcia, successfully filed his certificate of candidacy. The quantum physics instructor from Laguna, however, refused to be interviewed.
Another two unknown presidential aspirants who filed their COCs on Friday are Wendell Lope and Vicente Fabella. Three unpopular others eyeing senatorial seats also filed their COCs the same day: Victoriano Inte, Micomi-I La-lawquero; and Eduardo Sion.
Like Madera and Garcia, the five claim they are not nuisance candidates, saying they have the means to launch a nationwide campaign for next year's polls.
---

Mananalo ako, si God na ang bahala.

– Rigoberto Madera Jr.
---
Four others who attempted to formalize their presidential bids failed to do so due to insufficient documents.
Lawyer Oliver Lozano's bid for president was junked by the Comelec because he only sent an emissary to file his COC. Lozano, a known Marcos loyalist, ran for the Senate in 2007 under the Kilusang Bagong Lipunan party. He lost in his bid.
There are no screenings of individuals who want to file their COCs, according to Comelec spokesperson James Jimenez.
"Anybody can file his or her candidacy. That's the procedure. If their applications are incomplete we return the documents to them for completion. The screening is done only after the filing of COCs," Jimenez said in Filipino in an interview with dzBB on Friday.
After the period of the filing of COCs ends on December 1, the Comelec will deliberate and determine nuisance candidates who will be subject to disqualification.
- with Jam Sisante, GMANews.TV