Ampatuan detained at NBI, blames MILF for massacre
(Updated 11:11 p.m.)
Andal Ampatuan Jr., the prime suspect in last Monday's grisly massacre in Maguindanao province, was flown to Manila and brought to the National Bureau of Investigation (NBI) office Thursday night to be detained pending investigation.
Ampatuan, who arrived without handcuffs at the NBI compound around 7:45 p.m., denied masterminding the mass killing that victimized at least 57 people, including women, lawyers, and journalists.
"
Napakadali para magbintang. Dapat may ebidensya. Wala akong kasalanan. Ang may kasalanan ay
MILF Umbra Kato (It's so easy to accuse someone. There should be evidence. I'm innocent. The culprits are with MILF's Umbra Kato)," he told newsmen in a short interview while inside the NBI detention facility.
Ampatuan, mayor of Datu Unsay town in Maguindanao, was referring to the leader of the Moro Islamic Liberation Front (MILF) faction that attacked several civilian communities in Central Mindanao last year.
"Mga terorista ang mga iyon e
(They are terrorists)," he said, adding that he was at the municipal hall when the massacre happened on Monday morning.
Ampatuan, whose powerful clan is allied with the Arroyo administration, arrived at the NBI compound on board a white Hyundai Starex van. He was escorted by NBI agents and Manila policemen on board more than two dozen vehicles.
The local official was flown to Manila hours after he surrendered to Presidential Adviser for Mindanao Affairs Jesus Dureza at the provincial capitol in Shariff Aguak. The two flew by helicopter to General Santos City around noon where Ampatuan was turned over to Justice Secretary Agnes Devanadera.
No special treatment
Devanadera, in Manila, said Ampatuan would not get any special treatment from the government.
"He will not be given special treatment. If you will see his jail, I don't know if you'd like to be there," Devanadera said at a press briefing following Ampatuan's arrival at the NBI headquarters.
She described Ampatuan's jail as "very, very ordinary."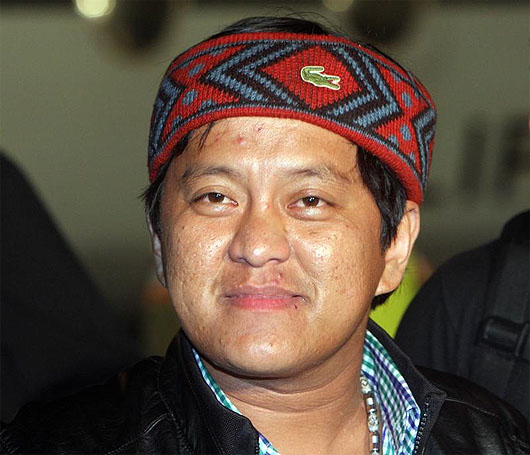 A seemingly cool massacre suspect Andal Ampatuan Jr. with his 'branded' head dress arrive at the Villamor Airbase Thursday from General Santos City.
Danny Pata
Among those killed in the massacre were relatives and supporters of Buluan town vice mayor Ismael "Toto" Mangudadatu.
The victims were in a six-vehicle convoy on its way to Shariff Aguak to file documents for Toto's gubernatorial candidacy in next year's elections when kidnapped and executed by men allegedly upon orders from Ampatuan.
The Mangudadatus and the Ampatuans have a long-standing rivalry for political domination in the adjacent provinces of Maguindanao and Sultan Kudarat.
Good case
Devanadera said the government has a "good case" against Ampatuan and is continuing to build the cases against several other suspects whom she did not name. She said the suspects are in the Immigration bureau's watch list.
"We have additional documents and statements. Those statements will be filed also.
Di pa ito tapos
(This is not over), this is the first. We have to complete our case buildup for the others," she said.
The Justice chief voiced confidence that charges against Ampatuan would be filed within 36 hours, the time period a suspect can be detained without a complaint filed against him.
Devanadera also said she had requested the Supreme Court to transfer the venue where the case would be tried from Cotabato to Manila due to security reasons.
- KBK, JV, GMANews.TV